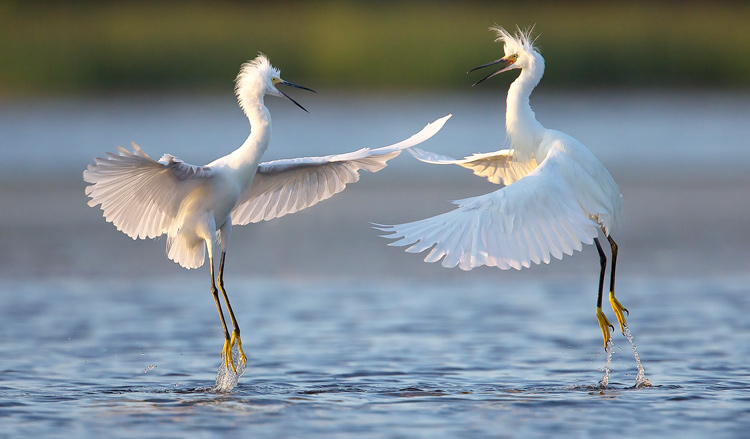 By Paul Silverfarb
Sentinel Editor
Photographer Melissa Groo is coming home again and while Audubon Greenwich couldn't be happier, it's the general public that are the big winners.
The award-winning Greenwich native has been taking photographs all over the world. And thanks to Groo, people don't need to travel to her great lengths to see some amazing wildlife.
Groo is taking her photos to Audubon Greenwich.
Courtesy of sponsors Peter and Eaddo Kiernan, Groo's photographs are currently on display inside Kiernan Hall and available for purchase at Audubon Greenwich throughout 2018.
"I feel incredibly honored and privileged," said Groo. "I was approached by Audubon Greenwich because they wanted to have a long-term gallery of the work of an artist who they really admired and whose work they thought expressed the conservation ethos that they had."
On Dec. 2, there will be an opening reception, where the public is welcome to stop by, meet the photographer and enjoy viewing wildlife in its natural habitat.
"I am completely overwhelmed with gratitude," Groo said. "It's a tough business to make a living in and to have somebody that would, so generously, sponsor my work and make it available for me to display at Audubon and to be able to share with Audubon members and visitors is great. I can't imagine a place where my work would be better featured and with an organization whose goals are so aligned with my own. For them to make this opportunity for me, in a place where I feel so connected to in my hometown, is sort of this full circle feeling. To be celebrated and to be able to share my work with people from my home town and people that are connected with Audubon is very fitting and perfect."
The event on Saturday runs from 5:30 to 7 p.m.
"We are really excited to have Melissa with an extended gallery here at Audubon Greenwich," said Eli Schaffer, Interim Center Manager at Audubon Greenwich. "Kiernan Hall is one of our large spaces in the building and the Kiernan family is actually making this gallery possible. They saw it as a renewal of the space. In place of three or four or more galleries a year, we will have Melissa Groo's gallery on display, and available for purchase, throughout 2018."
For Schaffer, housing Groo's photos was a no-brainer.
As soon as Groo set up her photos at Audubon Greenwich, Schaffer couldn't wait to sneak away from his desk for a few minutes and enter the hall to view the pictures on display. Schaffer said that he's taken several walkthroughs of the exhibit and every time he does, he sees the photos through a different perspective.
"I know that she's really excited to be here and it's such a perfect fit for us," Schaffer said. "Not only does she focus on some of the iconic birds in North America and throughout the world, but she also has truly breathtaking shots of animals in Africa, Brazil and other places. It's amazing to see the perspective that she can achieve when she is out there. The pictures really convey a love and appreciation that she has for the animals that she observes. She captures them in remarkable positions and expressions. There are so many great photos to see and I am so excited to have them here."
And Groo is no stranger to finding that magical shot that gets people to stop and admire. In addition to being a contributing editor to Audubon Magazine, her photos have been in Smithsonian Magazine. Her photo of a Great Egret displaying was the 2015 Grand Prize Winner of the National Audubon Society photo contest. Last year she was given the Conservation Award by Audubon Greenwich.
This year Groo was awarded the Katie O'Brien Lifetime Achievement Award by Audubon Connecticut and she also received the North American Nature Photography Association 2017 Vision Award.
The idea to have this year-long exhibit in Kiernan Hall at Audubon Greenwich started a few months back. Schaffer said that Audubon Greenwich wanted to have Groo's photography on display for a long time. When she was honored this past year at gala for Audubon Connecticut, that's when the conversations started to escalate between Groo and Audubon Greenwich.
"We were looking for ways to exercise our relationship in other ways, especially to help connect her extensive following and the work that she does with the center here in Greenwich," Schaffer said. "We wanted to give a physical space that could act as a hub for her work, where people can come here and see it. It also gives them an opportunity to bring it into their home or feature it in the lobby of their office."
"They thought we had similar aims," Groo said. "I consider myself a conservation photographer and a fellow with the International League of Conservation Photographers. There are about 100 of us all over the world and we try very hard to use our photos in a service of conservation of the wildlife that we photograph and the places that they live and need to live."
Groo has taken photos of different birds and animals from all over the world, but she still has two of her favorites, both of which will be on display at Audubon Greenwich.
"I love the Egret photo," Groo said. "I believe the logo for Audubon is a Great Egret, but it also sort of harks back to their conservation work. Egrets used to be killed for their feathers, which would adorn women's hats. Audubon was very instrumental in helping abolish that practice. I love that photo because of what it stands for and how it is connected and so symbolic of Audubon."
Then there's a photo of two bobcats. A couple of winters ago, Groo had the privilege of observing and photographing a mother bobcat and her kitten having a loving moment.
"I used that photo to try and educate people about co-existing with predators and sort of the need of animals like coyotes and bobcats and foxes in their ecosystem," Groo said. "That photo is one of my most popular ever and people find it very touching. Some people never really considered before that these animals have relationships and families and even emotions."
To get that perfect photo isn't something that happens with one click of the camera shutter. Groo said that it could take numerous hours or even days to get that one shot.
"It takes such a long time," Groo said. "Most of the time when I get to photograph wildlife, I get nothing. I would say that 85% of the time I am out there, I don't come away with any photos. Wildlife is elusive and they really don't want to have anything to do with us. I try to really photograph wildlife in their most natural way possible. I don't try to interfere or influence wildlife's behavior. I am looking for wildlife to feel comfortable with me or not take notice of me. I work a lot from blinds, work a lot in camouflage. I could take a very long time to get that one shot that I feel I'm really happy with. I am impatient with a lot facets of my life, but when it comes to sitting and observing wildlife, I have endless patience. I find wildlife absolutely fascinating and surprising. I feel like there's so much that we don't know and I think with my camera I am able to capture moments that aren't known."
And it's that patience while waiting for that perfect shot that Groo cherishes the most. She admits that the time outside with nature is what keeps her sane in this extremely fast-paced world.
"It's so amazing," Groo said. "It's really like my form of meditation. To be somewhere with no distractions, no connection to the Internet, no lists of tasks before me. It's just me out in nature. Some people feel that link when they might take a walk or through hunting or birding. For me, it's really about being out with my camera, being completely tuned into nature, blocking out everything else and really getting into this state of flow, which really does feel as close to meditation as I can feel."
Getting that amazing photo means that Groo hopefully gets some big-time airline points. Alaska and Montana are her favorite places to see and photograph wildlife in the United States, but she has been to Brazil, the Bahamas and has had many other adventures all over the globe.
Despite touring the world, it's the Great Bear Rain Forest in British Columbia, as well as traveling to Africa, that Groo loves going back to.
"Great Bear is a very special place to me," Groo said. "I did a story on assignment for Smithsonian Magazine on the Spirit Bear and I go every year. I lead workshops there. Africa also holds a special place in my heart. I used to study elephants and elephant communication in Central Africa. Now I go back once in a while to lead a photo workshop in Tanzania. There's nothing like Africa for unbelievable action in wildlife photography."
Groo has seen her share of bobcats, wolves, bears. She's been all over the world and seen her fair share of wildlife. However, of all the wildlife she has seen and taken photos of, it's a creature that is quite common — and tiny — that scares her the most.
"The one time that I am terrified continually, and the only creature that scares me, are ticks," Groo said. "Both my husband and daughter both had Lyme Disease and it's really at an epidemic level where I live in upstate New York, as well as parts of Connecticut. That little creature can cause more havoc and devastation in our lives than any animal I have photographed."
And while her daughter has not really caught the photography bug just yet, it's obvious that she takes after her mother when it comes to a love of nature.
"She's a real animal lover and that makes me so happy," Groo said. "I want her to feel a connection to the wild world and to have compassion and empathy for animals. I see her demonstrate that. We have 11 chickens that are like her children. We have a couple of baby turtles that we are fostering this winter and will release them to the wild. She has an amazing affinity for animals."
When the public stops by Audubon Greenwich to tour Groo's amazing photography, she said that she hopes people leave with a sense of wonder about the natural world.
"I want people to have a sense of empathy and compassion for these fellow inhabitance of the Earth," Groo said. "I also want them to have a renewed and enhanced sense of wonder for the natural world and a desire to protect it."