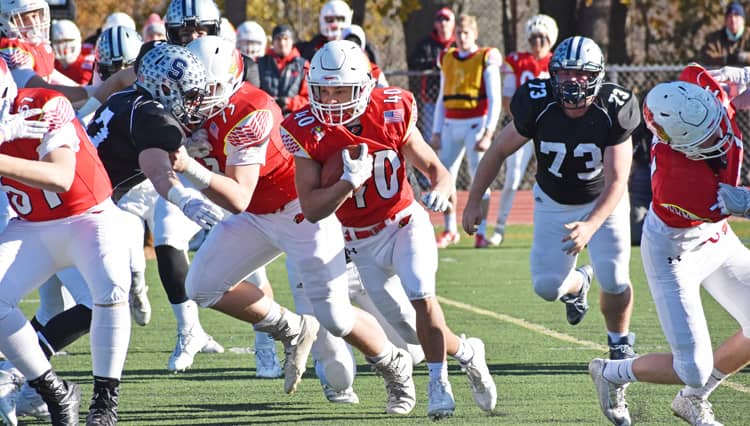 By Rob Adams
The food was in the oven. The question was: where would dinner be?
Greenwich High School set their table today for a playoff game next week at Cardinal Stadium with a 31-14 Thanksgiving Day win over the Staples Wreckers in Westport.
The Cardinals opened the game with a 12-play, 73-yard drive, capped by a one-yard Jack Warren plunge. Zach Moore – the All-FCIAC place kicker, split the uprights to give Greenwich a 7-0 lead.
The Wreckers answered on a 68-yard touchdown down the left sideline, as quarterback Daniel Thompson found Max Longergan. The game was knotted at 7 after one quarter of play.
In front of a large, albeit late-arriving crowd at Staples Stadium, the two teams continued to struggle to break the deadlock as the game climbed into the late stages of the second quarter.
With 1:05 remaining in the half, Thompson threw a high-arcing pass that hung in the air on the left sideline. Junior defensive back Hunter Cusimano brought the ball down for an interception.
Three plays later, junior All-FCIAC quarterback Gavin Muir launched a pass on the sideline towards junior Lance Large on third-and-seven at the Greenwich 46. Large grabbed the ball in stride and went in for the go-ahead score.
However, there was a price, as Muir (14 of 19 for 129 yards) left the game with an apparent leg injury. Senior Matt Circelli replaced him in the second half.
The extent of Muir's injury is not known.
A 32-yard field goal by Moore extended the Greenwich lead in the third quarter to 17-7. Moore would try a 49-yarder later in the game that demonstrated head coach John Marinelli's faith in his special teams crew. While the kick went slightly left, the statement was made that the Cardinals aren't afraid to send Moore out in that spot.
Big Red took over in the fourth quarter, as Circelli (9 of 13 for 86 yards) connected with Large for a 3-yard score, and Tysen Comizio (23 carries, 102 yards) ran in from 6 yards out. Comizio finished the regular season with 1,040 yards.
Thompson found senior Harris Levi for a 27-yard score in the quarter to round things out.
Next up is a Tuesday night CIAC Class LL quarterfinal playoff game at Cardinal Stadium, as Fairfield Prep comes to town. The Jesuits (8-2), from the SCC, knocked off West Haven, 21-14, to punch their ticket into the tournament.
The Cardinals finish the regular season at 10-0, with their goal accomplished of a perfect regular season. They now sit three wins away from the ultimate goal: a state championship on Dec. 9.
Staples finishes the year at 6-4.