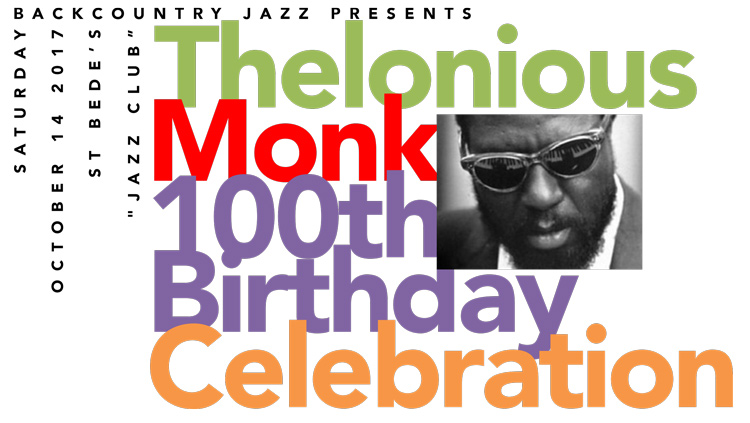 By Paul Silverfarb
Sentinel Editor
Jazz legend Thelonious Monk would have celebrated his 100th birthday this month and BackCountry Jazz will be celebrating in grand style next week.
And to say that Monk's music has been instrumental throughout BackCountry Jazz founder Bennie Wallace's career is a massive understatement.
"We've been working on a program of just his music for this event," Wallace said. "It's a lot of fun. It's very challenging. Thelonious Monk was actually the father of modern jazz and a colleague of Dizzy Gillespie and Charlie Parker. The things that Thelonious Monk did, as a player and as a composer, opened up all the doors for everybody that came after.
On Oct. 14, Wallace, along with BackCountry Jazz, will be celebrating the life of Monk, as St Bede's Chapel will be filled with the sound of the music icon.
Wallace said that there was always something about the spirit of the way that Monk played, like a mood, that was really infectious.
"It was happy and it was a little bit different than what you were used to hearing," Wallace said. "Some of his compositions are almost child-like and others are some of the most difficult music I tried to play. We have done quite a few concerts with children, playing Thelonious Monk. And they loved his music. His compositions really set the stage for everything that came later, including me. Giants of the industry, like Sonny Rollins, Ornette Coleman and John Coltrane, were very much influenced by Thelonious Monk."
Doors at St. Bede's on Oct. 14 will open at 7 p.m. and the music will begin at 7:30. In addition to the music, there will be some food and drinks.
Joining Wallace on the stage will be some familiar faces.
Godwin Louis, the group's alto saxophonist, has been featured on Broadway. In an earlier interview with the Sentinel, Wallace said that one time Madonna heard him play and invited Louis to California to record a song.
"In my opinion, he's the leading young saxophone player in jazz today," Wallace said. "When I play with him, it's such a challenge because his playing is so good that I have to really be on my toes to hang in there."
Playing drums will be Herlin Riley, while Donald Vega, who has captured the Great American Jazz Pianist Competition back in 2010, will be tickling the ivories.
Hartford-based Matt Dwonstick, a product of the Hartt School and also received his Master's degree from SUNY-Purchase, will be playing the bass guitar.
"Matt is really a great performer of Monk's music," Wallace said. "Overall we have a small band this time, but Monk's music usually calls for smaller groups.
And the reason for this type of concert for Wallace's BackCountry Jazz couldn't be simpler.
"I really love this music," Wallace said. "It's so much fun to play and to hear other people play. I think we are going to have a good time. I can't wait."
For more information on the event at St. Bede's on Oct. 14, or to donate to BackCountry Jazz, visit Backcountryjazz.org or call 203-561-3111.