September 15, 2017
Greenwich Girls' Swimmers/Divers Ready to Dominate Yet Again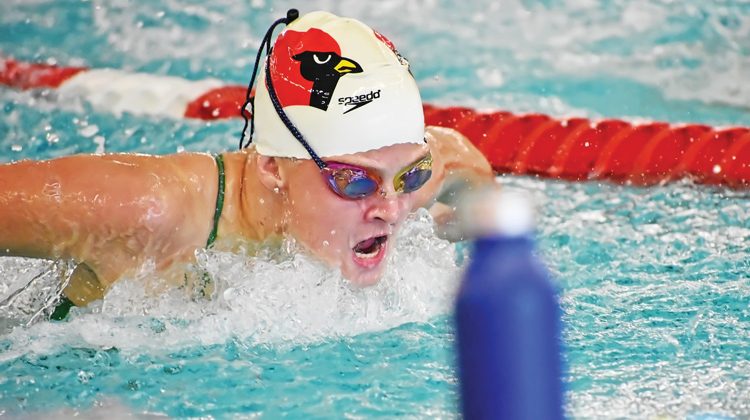 By Paul Silverfarb
Sentinel Editor
After a highly successful end to their fall season in 2016, the Greenwich High School girls' swimming and diving team is looking to keep the momentum rolling this year in its quest for the triple crown.
"We should definitely use last year as a motivator," said GHS senior captain Kelly Montesi. "We all know how it feels to be winners and that feeling is something that motivates the team. We need to support each other so that way we can reach our goals in the pool, which would be winning Opens, winning FCIACs, and going undefeated."
Last season, the Lady Cardinals finished the FCIAC championship meet a disappointing fourth place overall. However, during the state tournament season, Big Red exploded onto the scene and dominated. They captured the Connecticut Interscholastic Athletic Conference class LL crown by taking first with 854 points. The next closest team was Ridgefield, with 570.5 points.
A few days later it was onto the CIAC state open championships and Greenwich didn't back down, taking the state title with 510.5 points, over 100 points higher than the second-best team.
"It means a lot to be on this team and to be so successful," GHS senior captain Julia Merrill said. "It's really shaped my high school experience and shaped the person that I have become because I have been able to be so successful in my swimming career. My academic and social life has all been shaped around this team because of how meaningful it is and how hard we try and how much we work."
While the past has been quite kind to Greenwich High, GHS head coach Lorrie Hoyakem was incredibly eager to get back to work with this year's squad.
"It's so much fun," said Hoyakem. "I was literally counting down the days in the spring to be back with the girls. We did some conditioning over the summer and it's great to see them every day. It's my fourth year, so the seniors I have had since they were freshmen. I am just really excited and we have a great team dynamic."
With 14 seniors on the roster this season and a slew of talented juniors and underclassmen, the Cards are setting their sights high yet again.
"We have a lot of familiar faces and some strong newcomers coming in," Hokayem said. "We are very excited. We are trying to set the bar as high as we can for ourselves as far as our performance goes in meets, but also what we are doing in practice. We are pushing them harder than we ever have before. We are seeing even better results. It's so exciting to be here every day with a group that is as motivated as this."
This year, Big Red will be led by senior swimmers Merrill, Montesi and Lillian Clisham, as well as senior diver Catie McCarthy.
"Honestly, it's awesome and I am so glad to be with such an amazing group of girls," McCarthy said. "To be elected a leader and have them put in this much trust in me is just such a great honor. I want to be a leader and try to help the girls on the social and personal level as well. I need to do my best diving."
"It's great to lead the team," Montesi said. "I'm very excited for the season as well. I think the captains serve as role models and guide the underclassmen and show them what is right. It's a responsibility because the team is so talented."
Montesi was lights out for Big Red last season. At the class LL meet, Montesi took home the top time in the 100-yard butterfly (54.91 seconds) and the 200-yard individual medley (2:03.26). Both times were class LL records.
At the state open meet, Montesi was golden in the 100-yard butterfly (55.65) and second in the 200-yard IM (2:03.10).
Not to be outdone was Clisham. Competing in the class LL meet, Clisham took home fourth overall in the 200-yard freestyle (1:55.64) and seventh in the 500-yard freestyle, the longest event of the day, with a time of 5:11.96.
During the state open finals, Clisham finished two individual events in the top 15. She took 13th overall in the 200-yard freestyle (1:56.41) and 15th in the 500-yard freestyle (5:13.28).
"This is super exciting because we are really looking forward to this season," Clisham said. "We have a really strong team and a really fun team. So everybody was super excited to get back in the pool. We have a lot of talent in all the grades, and it's strong because of the team dynamic. We are all really close and all really excited to compete as a team."
Merrill also had a state tournament season to remember last season. In the class LL finals, Merrill took the silver in the 50-yard freestyle and the bronze in the 100-yard freestyle with a time of 52.23.
A few days later at the state open meet, Merrill was seventh in the 50-yard free (24.35) and fared better in the 100-yard free by taking fourth overall (52.28).
"It feels amazing to be here and I am so grateful to be a leader on such a special team," Merrill said. "It means so much to me and I am so happy that I get to lead these girls and show just how special this team is."
In addition to the trio, Greenwich High had some highly successful swims during last year's state tournament. Juniors Emily Warner and Kortney Knudsen were both top six finishers in the 200-yard freestyle. Sophomore Christina Flood also was a top-five finisher in the event.
Also returning this year will be seniors Kate Ennis, Ainsleigh Winget, Taylor Schinto and Louisa Bjerke. During last year's class LL meet, Schinto took home sixth in the 100-yard backstroke (59.21) and 11th in the 50-yard freestyle (24.78), while Winget finished fourth in the 50-yard free (24.44) and ninth in the 100-yard backstroke (58.61).
Ennis was 14th in the 100-yard backstroke (1:01.66) and fared better in the 200-yard individual medley, taking sixth overall with a time of 2:11.18.
While the swimmers have been competing at a top level, Hoyakam knows that they are only one piece to the puzzle. The other is the divers, who helped take Big Red to greater heights the past few seasons.
And it's obvious that Hoyakem couldn't be more excited for her divers. To see how much they mean to the program, you don't have to go far to understand their value and importance.
During the CIAC class LL diving finals, Big Red took home the top four spots, Annabelle Pollack was first overall, with Katherine Russack a close second. Less than a point away from Russack was Saylor Kirsch. Taking home fourth was Madeline Muldoon. In fact, all four divers were the only divers in class LL that scored over 400.
Their performance gave Big Red 108 point before the class LL swimming finals began.
A few days later at Opens, the divers dominated again, with Russack, Pollack and Kirsch taking the top three spots. Muldoon ended the day sixth overall. And as a team, the foursome tallied 106 points.
Hoyakem, along with GHS diving head coach Sergei Meshcherskiy, have plenty of reason to smile. In addition to captain McCarthy, all four of the divers that fared so well at the state level will be back this year. Pollack and Muldoon are juniors, while Russack is a senior and Kirsch is a sophomore.
"The divers were absolutely phenomenal for us last year," Hokayem said. "We have all but one back. They should be outstanding again, as long as we can stay healthy. We are very excited and expect nothing but the best from them. The feeling on our team is they are an incredibly important part of the team. We do everything with them and in terms of the team dynamic, they are an important piece to the puzzle.
"From a points perspective, they scored over 100 points at States last year and that's absolutely astounding," Hoyakem added. "They were dominant the whole season and are looking as good as ever this year. For us, it's fantastic to know that we can score that many points in one event and be that dominant as a diving team. We love watching them. Sergey does a great job with them and we are looking forward to seeing what they could do this year."
The Cardinals will have some solid freshmen on the roster as well, as Meghan Lynch, Sammy Ennis, Lexi De La Sierra, Julia Lucy and Anna Seward will log some key times for Greenwich in the pool this fall.
Helping the team chemistry was Big Red's recent trip to the Green Mountain State. While in upstate Vermont, the Lady Cardinals spent three days in the wilderness getting to know each other on a personal level. Former head coach Dick Hawks started the tradition over two decades ago.
"It's a great team building and leadership retreat every," Hokayem said. "It's a really great chance to get to know each other and gel as a team. The staff up there gives them a lot of challenges to work together and overcome. They did a fantastic job and we had a lot of fun."
Despite losing her voice on the retreat, due to all the singing and fun that was experienced, McCarthy said it was well worth it.
"The Vermont trip was great," McCarthy said. "We went through some challenges and I think that put ourselves out there a little more. We were able to get closer as a team. Although we were taking a break from actually practicing, we are improving as a team because we have that personal connection."
While there is a large amount of upperclassmen on the roster, Hokayem has some high expectations for the Lady Cardinals, not only for this year but down the road as well.
"We graduate a lot this year," Hokayem said. "For me, this entire grade means a lot. They were my first freshmen and now they are in this leadership position. It's such a strong class. I have been very impressed, not just by the captains, but by the senior class in general. They show such leadership and poise. You're really fortunate as a coach when you have that strong leadership to help you lead the way."
Tags:
Big Red
,
CIAC
,
ctdive
,
ctswim
,
FCIAC
,
GHS
,
greenwich
,
Greenwich Diving
,
Greenwich Swimming