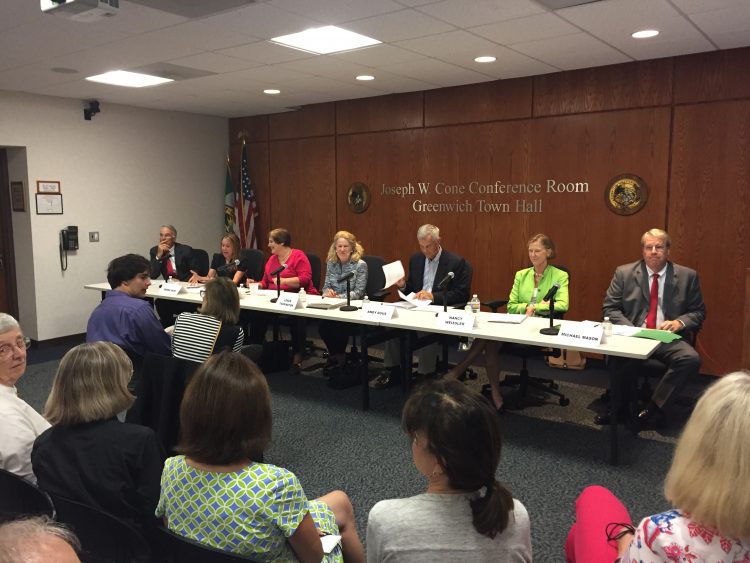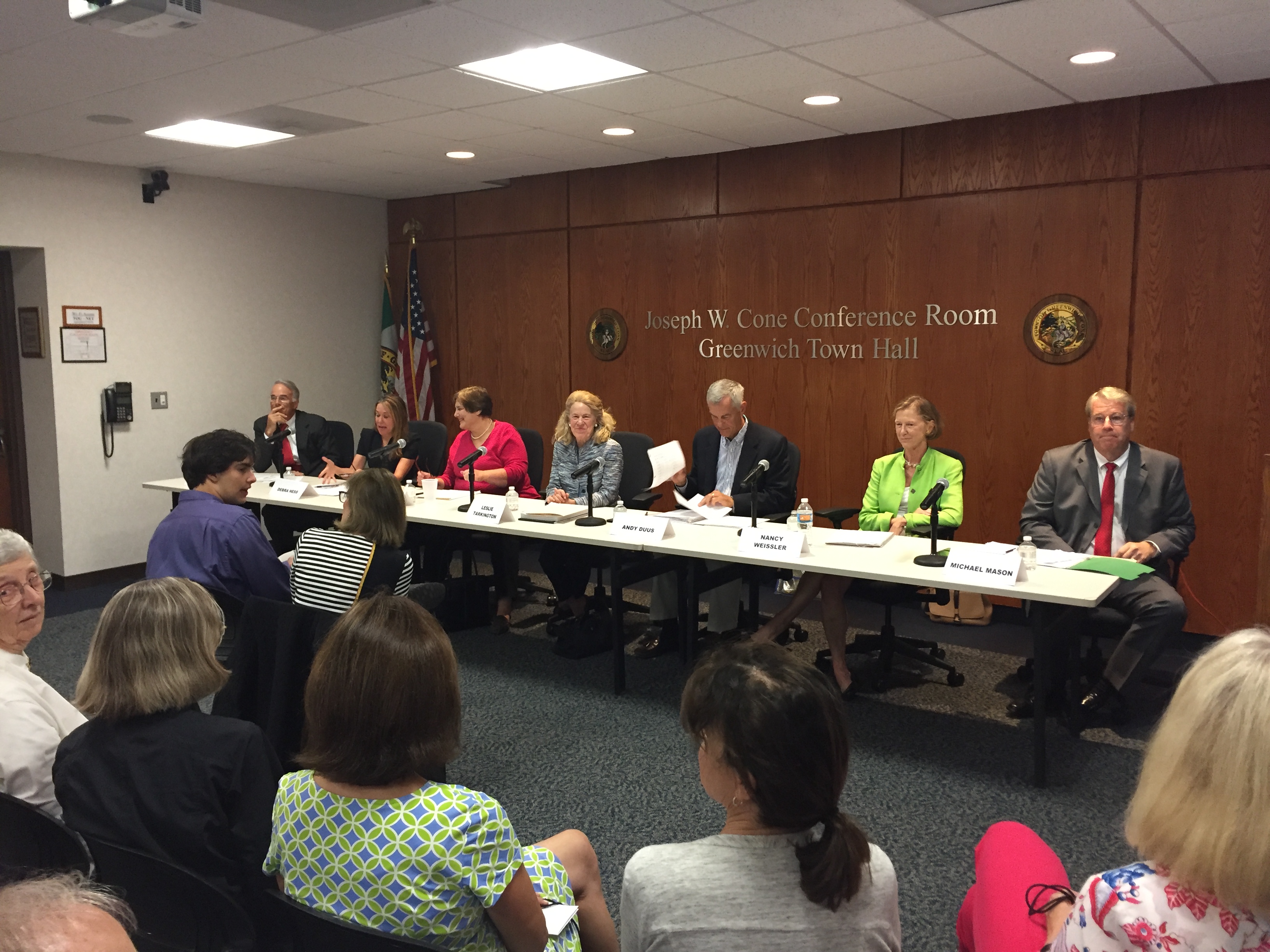 By Richard Kaufman
Sentinel Reporter
On Tuesday night at Town Hall in front of a standing-room only audience, the seven Republican Board of Estimate and Taxation candidates sat down for a forum held by the League of Women Voters of Greenwich.
Incumbents Michael Mason, Leslie Tarkington, Bill Drake and Nancy Weissler joined newcomers Karen Fassuliotis, Debra Hess and Andy Duus to present their views and opinions regarding BET-related topics and issues.
Over nearly 90 minutes, the candidates responded to submitted questions from the public as well as from the League. Kay Maxwell, a former Greenwich resident and current member of the Stamford League, moderated the forum.
The candidates spent perhaps the greatest amount of time addressing the question of what will be the most controversial issues the BET must face over the next several years.
The overwhelming consensus among the candidates was that dealing with remediation of fields throughout town will be especially challenging.
"We need to get pushing on [remediation]. We need to get our fields open, and we have three schools that need it. The BET has been planning for this for five years; we've been putting money away," Mason said, who has served on the BET since 2004. "That's going to be a very, very tough situation to get aligned with the state, so we can get our fields back looking like they should look in Greenwich."
Fassuliotis and Tarkington both pointed to their prior experiences and expertise in remediation and cleanup, which they said would be good assets to the board. "I would hope we have someone on the BET that could help navigate the complex issues that it will be facing," Fassuliotis said.
Drake and Duus brought up the future of Nathaniel Witherell and the issues it would bring. "There are 169 towns in the state of Connecticut and one of them takes the burden of a money-losing nursing home and places that burden on the taxpayer—that's Greenwich," Drake said. "That's probably not sustainable over the long term. It's a challenge."
Hess said the board will need to consider the issues at the state level and any further impact it could have on the community. She also discussed the challenge of retaining the town's grand list.
"What's going to happen with the values of our property? I think the BET is going to have a handful over the upcoming years," she said.
Tarkington said that in addition to the other issues, continued decline in school enrollment and the implications for schools around town and how they're managed will need to be looked at.
"That's a Board of Education issue, but these kind of topics become all of our topics working together," she said.
Weissler said that given the pressures the town is seeing at the state level and given the current economy, residents want to see mill rate increases below the rate of inflation. "We're going to have to reflect what services we really value," she added.
Candidates were asked: If they could change three things about how the BET operates, what would they be and what would be No. 1 on their list?
Mason said that the BET has changed many times over his tenure, and that it has entered the IT age. He pointed out that being a BET member entails answering a lot of emails and attending numerous meetings.
"I think the BET could use some more technology. I think there's a big need for change there," he said. "I'd like to see our toolbox change and make our job just a little bit easier going forward."
Weissler said she'd like to see the BET prioritize the key drivers of the budget more often, as well as analyze how the board is prioritizing projects. She also mentioned more community outreach, something that the primary process has brought into focus.
"I don't think any of us expected a primary, but we're in it and I think it's sort of been interesting to talk to people. What are their concerns and what do they want us to focus on?" she said.
Duus said that as an outsider looking in, the BET is "like a bunch of spaghetti." He said the town of Greenwich runs well not because of how it's organized or structured, but because of the involvement of dedicated, hard working citizens.
"My thoughts would just be incremental in terms of changes. I think more technology, but one thing I'd really like to see more of is benchmarking," Duus said, noting that Greenwich could learn from what other towns do.
Tarkington pointed out the responsibilities the BET has, and said the board needs senior analyst support as well as additional support with technology. She also said she'd like to see more of a linkage between the BET and BOE.
From a taxpayer standpoint, Fassuliotis said the BET needs to re-look at lower predictable taxes. "I also think we need to encourage our departments. I think the BET needs to take a bigger role in encouraging departments to look for moneys outside the tax space," she said.
Hess said that as a newcomer, she'd like to challenge the BET to be more efficient and effective. "How can maybe a little tweak here save us a little bit more there?" she said. Hess also wants to work more closely with the BOE and take part in more community outreach.
"I'm hearing what people have to say. From that perspective, I'm grateful that we have this primary, because maybe we wouldn't be here today talking to each of you," she said.
Drake, the last to respond to the question, said he'd like to cooperate more closely with the RTM. "Let's take that batch of ideas [from the other candidates] and roll 'em," he added.
Since personnel costs are a major component of the budget, the candidates were asked how will they control those costs while still maintaining services.
Mason mentioned that when he first came aboard the BET, the payroll of the town of Greenwich was about 69 percent of the operating budget of the town. Now, It's at 60.3 percent. "During the years that we've had, we've been reducing staff on a step by step basis. Restricting new positions whenever possible, and yet trying to maintaining level services," he said. "I think the key to it is our labor contracts."
Weissler said that as the chair of the HR Committee for the BET, she has focused on this issue a lot. She said the keys to maintaining services have been consolidation of operations, outsourcing, and the use of technology.
Duus cited head-counts and contracts as ways to control costs while maintaining services, and that technology has had an impact. "With the increase of technology that's available to everyone to become more efficient, I would hope to make further reductions over the next few years," he said.
Tarkington said that part-time labor is responsible for almost 15 percent of the town's total labor, and that the first selectman has done a good job with reducing head-count with his employees, although the BET has yet to see that kind of reduction in other departments.
Fassuliotis said that efficiency is key, and that the negotiating of contracts is important as well. "I believe that the town can do a better job at negotiating these contracts and not just cherry picking certain parts of the contract, but looking at the entire contract and making sure that the labor unions understand that we're in different economic times than we used to be," she said.
Hess agreed with her colleagues, and said she'd plan on offering a fresh look. "Come in, let's look at all the opportunities where we can save across the board, across everything."
Drake said the driver of personnel costs are fringe benefits and fixed costs. "Our challenge is benefits, health benefits and pension benefits," he said.
Another question focused on Greenwich's under-funded retirement fund and asked what measures each candidate would support to bring the town into compliance.
"The clear answer to the question how do we handle this, is we fund our liabilities and we protect our future," Mason said, noting that the BET has fully funded …..OPEB. "It is a hot topic in town—I'm glad we fund it. It's one of the best things we do."
The candidates agreed that the migration of the management of the pension assets to an outside firm has been beneficial.
"This movement should actually create a lot of opportunity for our BET members amongst many others to have opportunities to do some other projects rather than just work on the support roles for the pension board," Tarkington said.
"Personally, I think it's a crime with what's happened to our pension investments in the last 10 years," Fassuliotis said. "I'm very encouraged that the retirement board has recently changed the portfolio manager. I'm hopeful that we reverse this trend. Pensions will be a major focus for me on this board."
The candidates then touched on whether they support changing the town's current policy regarding the use of long-term debt to fund capital projects.
All said they didn't support changing the policy, and that a "modified pay-as-you-go" option was the best course of action. "I think it creates stability and predictability in the mill rate," Hess said.
Duus agreed. "The modified pay as you go that we have now is a very practical and sensible solution between financial flexibility and financial prudence," he said.
Drake sad that the town's management of its debt is vital. "This town has a fundamental bargain with the taxpayers that your taxes will be modest. That really implicates and implies that the town's debt will be modest."
Mason added that there's been no greater subject of debate on the BET.
"We've had a tradition in the town since the 20's. If we want it, we should decide we want it, and make the commitment and go from there," he said.
"I stand by that commitment. I will never, ever say there won't be something catastrophic some day that couldn't deviate from that, but as we go day-to-day, we make it work. Everything you've heard here, I fully support it."
The candidates were then asked about the parking department employee who was recently caught stealing money.
"The town had failed to implement recommendations from the BET Audit that would have prevented the theft, according to the question," Maxwell said. "If elected, how can you ensure that BET Audit recommendations are implemented?"
Fassuliotis said that the recommendation is only as good as the follow up that occurs.
Hess said that auditing and controls are paramount in making sure the recommendations are implemented.
She also mentioned that she has significant experience in this area. With 30 years of experience in finance and 14 as a public company CFO, she said she's had to manage internal controls.
"I understand what it means to have processes, to have findings, to make sure you remediate those findings," she said. "One of the things I want to do and why I really want to be a part of the BET, is I think we really need to do a review of our processes and our internal controls. Bad controls can bring down companies."
"I'm very impressed with that answer," Drake said. "What we must do is follow through on the recommendations. I'm for Debra Hess for chairman of the Audit Committee," he added.
Duus said that in addition to controls, the quality of the personnel running organizations like the parking department is important. "I think going forward, part and parcel to better controls, we need to make sure we continue to hire the very best we can to run our town organizations."
On the subject of how to control health care expenses in town, Weissler, who is on the HR Committee and the First Selectman's health care task force, said that the switch to the state partnership plan for health care coverage was a game changer.
"It's actually a better plan than we've had for our employees, and it's saved the town $10 million a year. We are enjoying that savings now," she said. "Whether we will continue to enjoy that $10 million a year I don't know. Right now it's a huge benefit to our budget."
Duus noted that the switch was a great deal for the town and the employees, but that he'd like to see the firefighters make the move, which would in turn save the town nearly $1 million per year.
However, Duus offered concern over whether or not the health care plan would hold up. "I'd give it maybe two years at max, and all these health care expenses will come back to our shoulders in a few years," he said. "It's nice now, but it's not going to last."
Tarkington said that the town needs to "think about the balance of what the town pays and what the employees can and should be contributing, because health plans and other plans are very attractive compared to the private sector."
Fassuliotis agreed, saying that the employee contributions need to be looked at because there's uncertainty with what will happen with the state.
Hess said the health care situation is one that must be constantly analyzed and not just looked at. "I would just say great job [switching to the state partnership plan], but we need to continue to evaluate because it is a very large cost that's going to continue to grow," she said.
Drake provided figures to point out the fact that the switch to the state health care plan was beneficial.
"The trend of the town's health care costs progressed from $48 million in fiscal 2016, up $6 million to $54 million in fiscal 17," he said. "Instead of up another $6 million, which would be the trend, thanks to moving to the state partnership plan, it went down $5 million to $49 million in fiscal 18."
Drake also noted that managing head-count is a crucial aspect of controlling costs. "When we add another employee, we just multiply and make the problem worse," he said.
Mason said that the town has implemented wellness programs to address health care costs to the town. He also mentioned that a large body of retirees are going with the AARP plan, "because that's even a bigger buying entity and they're finding savings."
The forum closed as candidates offered their final remarks. Some incumbents drew on past experiences and track record, while some newcomers promised new, fresh looks as members of the BET.
The primary is set to take place on Tuesday, Sept. 12. All public schools in town will be closed as a result in order to make sure the process runs as smoothly as possible. Polls will be open from 6 a.m. to 8 p.m. Absentee ballots are now available.