September 8, 2017
Column: The Season Ahead & Our Market Report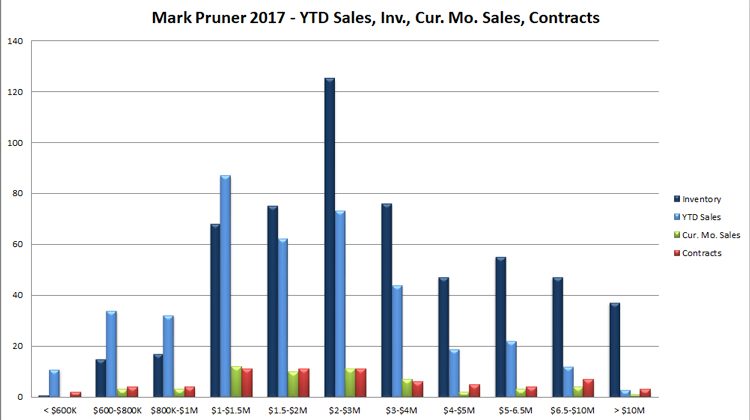 By Mark Pruner
Our high-end market is back from the dead, though I'd say that at worst it was only seriously ill. For all price categories over $5 million, sales are up and inventory is down, and in many cases months of supply is way down. The best indication of this is 460 North St., which just reported a sold price of $22 million. The curious thing is it was listed for 379 days on the market at $20 million. Regardless, it's quite a sale and speaks to the perking up of our high-end market.
Above $5 million total sales and contract through August are up 20 to 51 houses wanted by buyers. At the same time, the sellers have pulled back and inventory is down in the high-end price category by 36 houses to 139 listings. Now all of that is good news but not great news.
Over $10 million we only have 6 sales and contracts out of a total 37 listings which equates to 59 months of supply or almost 5 years. While 5 years of supply is still very much of a buyer's market, it compares to over 12 years of supply at the end of August 2016. This dramatic drop of 93 months of supply from last year to this year is due to inventory falling 11 listings and sales and contracts increasing only 3 houses. When you have a very poor market, a few sales can dramatically reduce the months of supply, but it's still only a handful of sales. Still the high-end market is seeing more sales. Part of this is sellers are taking significant haircuts on prices, but that's what makes for a better market; buyers and sellers finally agreeing on the value of a property.
To see the part of the high-end price range that is doing the best look at the $5 to 6.5 million price range. There we only have 20 months of supply which is a down from 44 months of supply last year. Sales and contracts are up 12 and inventory is down 12 making for this dramatic drop. In this price range, we have 57 house houses on the market and 26 sales in contract so far this year. This compares to only 14 sales and contracts at the end of August last year. We are seeing almost twice as much activity in this price range.
Another price range that has become so competitive that has almost disappeared is our inventory of single-family homes under $600,000. We only have 1 house in inventory and we've sold 11 this year; the same as last year's sales.  They go off the market as fast as they come on. This equates to three weeks of supply. Last year we had 3 1/2 months of supply.
In between $600,000 and $3 million the situation is muddled, particularly from $1,000,000 to $3,000,000. In this price range inventory is up 41 listings from last year while sales are down 22 from 2016. This is the heart of our market where we have 268 listings out of a total of 563 listings. We also have 255 sales and contracts, curiously this is down by 38 sales and contracts from last year. If anyone knows the reason why the middle market is down somewhat, while the high-end is looking much better I'd love to know what it is.
The end result of all of these changes in sales and contracts in different price ranges is that inventory is down 5% from last year and sales are down 0.8%. You could say that overall 2017 is about the same as 2016. The disappointing thing at the moment is that our contracts are down 29% from last year from 80 contracts to 68 contracts, which tends to indicate that September will also underperform the average.
So, what does this all mean? It all depends on who you are. If your seller in the mid-range from $1.5 to $3 million you're going to find the market a little tougher than last year. However, if you have a new house in Riverside in that price range, of which there are vanishingly few, you will still do well if you price it right.
And, that's where our market is today at every price range. Buyers will buy if they think the house is a good value. It doesn't have to be a bargain, it just has to appear to the buyer to be a fair price. As prices have adjusted to what buyer's think is FMV at the high end, folks are buying. Maybe that's what's happening in the middle. Sellers have seen lots of demand the last few years and may be starting out and then holding out for a price that is more than the buyer's price.
As a result, the fall market promises to be interesting. We got 57 new listings coming on the market in just the last week and my buyers are asking about this new property and that new property, so this should be a busy open house weekend. If you are out this weekend, I have a nice 3,800 s.f. house with a pool on 6 acres in the backcountry for $1.69 million that's having an open house from 1-4 pm on Sunday. Stop by and let's talk about the market.
Mark Pruner is a real estate agent who has recently moved back to Berkshire Hathaway, where he had been a member of the President's Circle.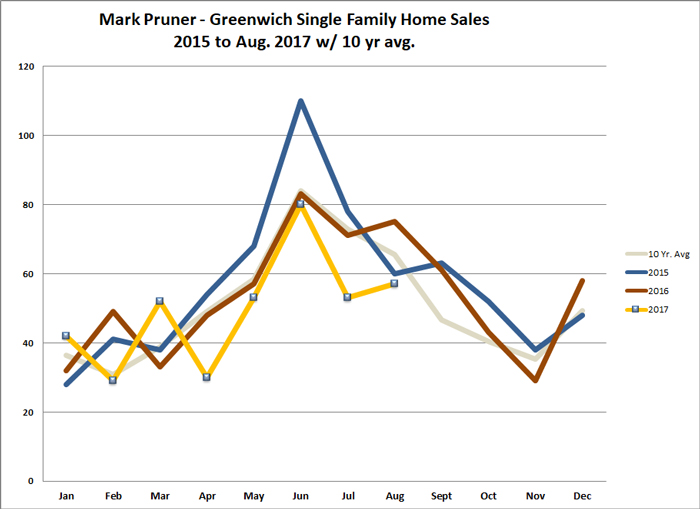 Tags:
greenwich
,
Real Estate