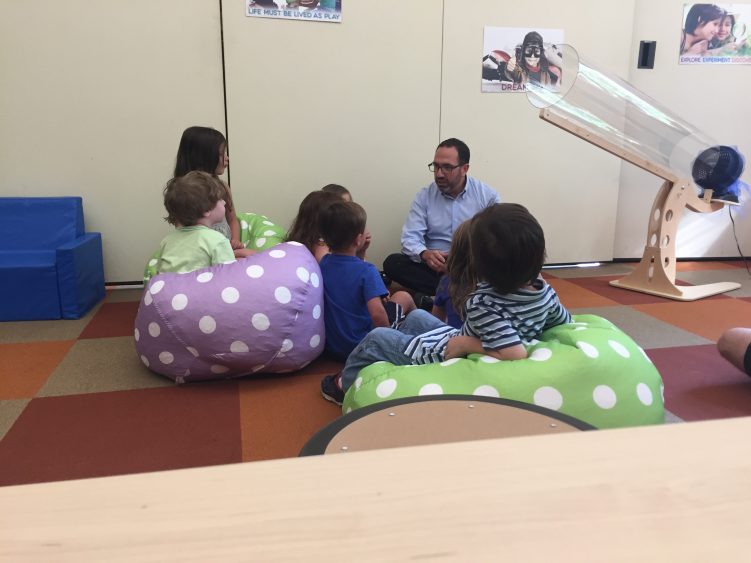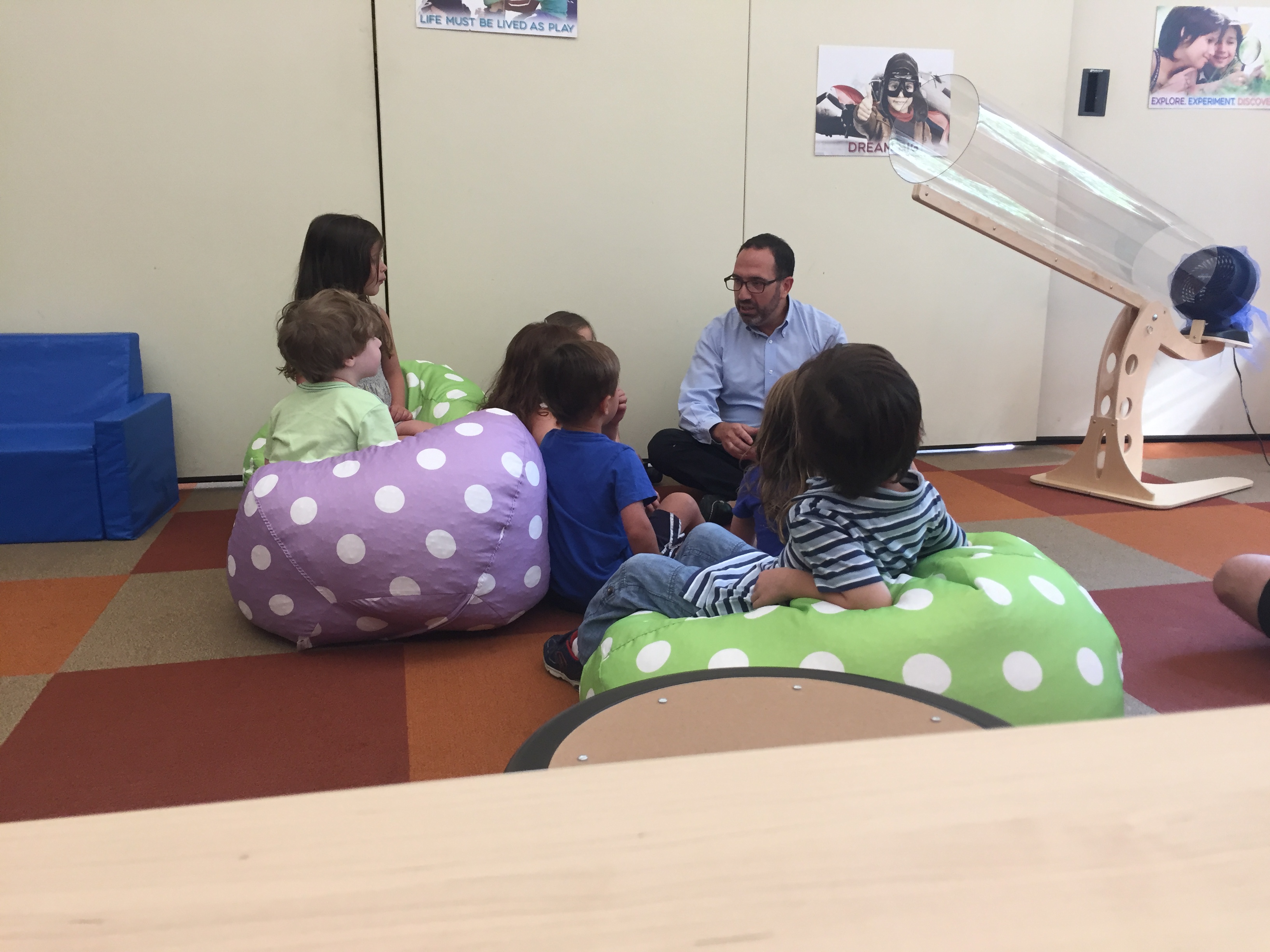 By Richard Kaufman
Sentinel Reporter
On Aug. 24, the Selma Maisel Nursery School at Temple Sholom unveiled their new STEAM (Science, Technology, Engineering, Arts & Mathematics) program to a handful of bright-eyed preschoolers.
Beginning in September, children enrolled in the 3's and Pre-K will have the opportunity to visit the room on a weekly basis, which is specifically designed to engage and spark creativity and learning through the discovery of various tools and interactive mediums.
The school also added a new gymnastics studio, complete with bars, beams and vaults to help teach motor skills and build confidence.
The children will be given prompts and safety instructions in the STEAM program, but they'll be free to explore stations situated throughout the room such as woodworking, robotics, magnetism, weights and measures, wind resistance, electronics and circuitry, and sewing.
The children took turns participating in various activities throughout the room. Using saws, and protective glasses of course, the children cut through a small piece of wood similar to a ribbon-cutting ceremony.
The seed for the room was planted back in February when Cohen and a few teachers attended a STEM Conference at the Children's Center at Caltech in Pasadena, Calif.
"I've only been [at Selma Maisel] for a year, and I just feel so lucky to have a place that has the resources and the backing of our executive director and the rabbi, to just make it a high-quality place for children and families," Cohen said.
While Cohen said there's nothing wrong with old-fashioned toys and teaching methods, the STEAM approach opens doors for preschoolers to experience new things while learning.
"When children are really able to explore and find new ways to use things, that's when children really feel productive; they're not just being manipulated into using something the right way," Cohen said.
As the children began to first explore all that the room has to offer, Executive Director of Temple Sholom, Eileen Robin, looked on.
"Seeing the kids enjoy it is pure excitement and joy," she said. "I love the expressions on their faces as they discover and try new things."
Robin believes that being inquisitive is a key ingredient for learning, especially for young children, and that the STEAM Room will evoke questions and promote problem solving. "I think that's key to everyone's learning; learning how to solve, learning how to ask the questions and learning that it's important to ask," Robin said.
Excited about the impact the room will have on different projects throughout the team is 3's teacher, Deidre Flood. Instead of handing the kids a project where there's a predetermined outcome, Flood said she's going to have the children decide what they're going to do and what the particular project will look like.
"They're going to explore not just different materials, but their own abilities. They're going to be able to really grow so much more," Flood said.
Flood is also excited about going back to a more interactive approach to teaching, noting that for a long time, letting kids play with drills and woodworking-like tools wasn't allowed.
"I like that we're getting past the fear and letting them really explore and learn on a whole different level. It's really great," she said.
Cohen said that parents have to sign-off on letting their kids use all areas of the room, and that he's made it a point to give parents a sense of comfort.
In sets of two, the preschoolers took turns sawing through the piece of wood during the ribbon-sawing portion of the unveiling. They received guidance and encouragement from Cohen and others as each child took the saw and placed it in the groove that was created by their classmate before them, but it seemed like there was no progress being made.
Finally, after a few minutes, the piece of wood split and the unveiling of the STEAM Room was official. Those in the room let out a big cheer and applauded the achievement, which perhaps symbolized one of the main lessons the nursery school wants to instill with the facility.
"Even if they don't succeed, keep trying again," Robin said with a smile.
It's full STEAM ahead starting on Sept. 7 when the new school year begins at Selma Maisel Nursery School.