August 17, 2017
E.A.T. Raises Funds for Food Allergy Research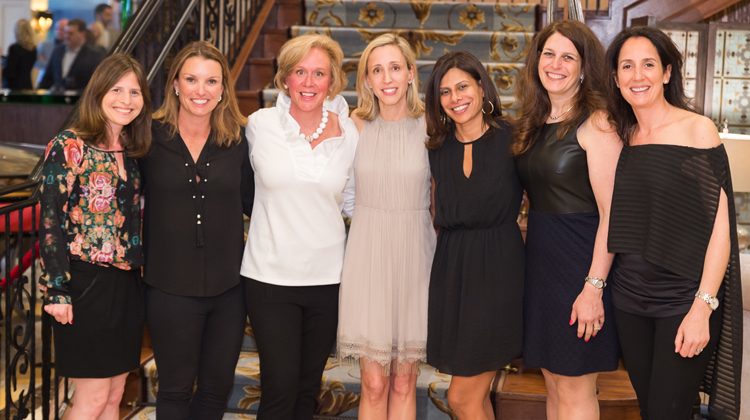 End Allergies Together (E.A.T.), a non-profit organization that funds research to help solve the growing food allergy epidemic, raised more than $350,000 at its third fundraising event, "An Evening to EAT," on April 27 at the Delamar Hotel in Greenwich. More than 300 people packed the sold-out event, which included cocktails on the terrace, dinner, a spirited live auction and critical initiative. Robert and Merrill Debbs of West Palm Beach, Fla., were honored with the Courage Award. Veteran comedian/actor Robert Klein, whose 33-year-old son is affected by food allergies, performed.
"All of us at E.A.T. are grateful to the many sponsors, partners and attendees who came out and supported us and our mission to end food allergies," said E.A.T. board member Greg Bates (Fairfield, Conn.). "The energy in the room was palpable. What the Debbs family is doing to raise awareness in honor of Oakley's memory is unbelievably courageous. Their incredible efforts to educate the community about the signs of anaphylaxis and need for epinephrine use have already saved numerous lives. They are an inspiration."
The Debbs founded Red Sneakers for Oakley, a non-profit dedicated to raising awareness about asthma and food allergies, specifically nut allergies, through the creation of educational programs and community outreach. In November 2016, they lost their 11-year-old son, Oakley, when he suffered a fatal anaphylactic reaction from a previously diagnosed mild nut allergy. EAT awarded Merrill, Robert and their daughter, Olivia, Oakley's twin sister, a "Boombox," a lacquered box filled with notes of testimonials, inspiration and encouragement from families affected by food allergies from all over the world. Many guests wore red sneakers to honor Oakley.
Dr. Wayne Shreffler, the chief of Pediatric Allergy and Immunology and the director of the Food Allergy Center at MassGeneral Hospital for Children, spoke about the current state of food allergy research. Shreffler is also a member of the joint steering committee for the Food Allergy Science Initiative (FASI) at the Broad Institute of MIT and Harvard.
Food allergy is a growing epidemic affecting 220 million people around the world. One in 12 children are diagnosed in the United States and the number is doubling nearly every decade. Every two minutes someone visits the emergency room due to a food allergy-induced life-threatening anaphylactic reaction.
Since EAT was launched in 2015 to help the significant gap in research funding, the non-profit organization has raised more than $1.35 million to fund four promising research studies by scientists seeking food allergy treatments and cures. A fifth study will be announced shortly. EAT, which donates 100 percent of net proceeds, is the only food allergy organization solely committed to funding research.
"There is a major underinvestment in research to help find better treatments and cures for such a prevalent and serious condition," said E.A.T. co-founder Elise Bates (Fairfield, Conn.). "We started E.A.T. to change that."
The host committee for "An Evening to EAT" included Bonnie Ackerman (Rye Brook, N.Y.), EAT co-founder Elise Bates (Fairfield, Conn.), Bridgett di Bonaventura (Fairfield, Conn.), Lauren Goldberg (Weston, Conn.), EAT co-founder Kim Hall (New Canaan, Conn.), Ellen-Jane Moss (Greenwich, Conn.), Leslie Noland (Fairfield, Conn.), Jackie Ourman (Irvington, N.Y.), and Bonnie Weinbach (Larchmont, N.Y.).
About End Allergies Together (E.A.T.)
End Allergies Together (E.A.T.) is a 501c(3) non-profit organization solely focused on raising money for promising food allergy research. One hundred percent of net proceeds go directly to the researchers dedicated to finding answers for this growing epidemic. Co-founders Kim Hall and Elise Bates wanted to make a change after raising kids who both suffer from life-threatening food allergies. More than 17 million Americans are affected by food allergies. For more information regarding the E.A.T. fundraiser, or the organization itself, please visit EndAllergiesTogether.com
Tags:
allergy
,
EAT
,
End Allergies Together
,
greenwich
,
research