August 17, 2017
Momentous Milestone in the Fight against Alzheimer's Disease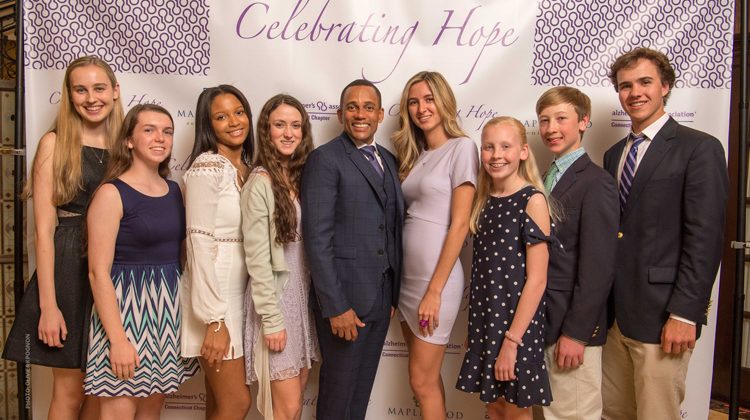 The Fifth Annual Celebrating Hope took place during an historic week in the fight against Alzheimer's disease. A $400 million increase in Alzheimer's research funding was signed into law pushing federal funding at the National Institutes of Health to nearly $1.4 billion. Just hours after the news broke, guests gathered at l'escale at the Delamar Greenwich Harbor in Greenwich to celebrate and support the Alzheimer's Association Connecticut Chapter. The event raised nearly $450,000 to benefit research and support for the 75,000 Connecticut residents who live with the disease and their 177,000 caregivers.
Dressed in the Alzheimer's signature purple, attendees were treated to cocktails and hors d'oeuvres on the waterfront terrace, a special dinner menu created by Chef Frederic Kieffer and entertainment by The What Up Funk Band. Amid the stunning flowering dogwood branches and purple dahlias from Winston Flowers, bidding was brisk for the silent and live auction items such as a year of shoes from Richards and luxury vacations from Getaway2Give.
Award-winning actor and best-selling author Hill Harper (Homeland, CSI: NY) poignantly described how he has been touched by Alzheimer's through his close friend, Gene Wilder, and the comedian's secret battle with the disease. Following the debut of a moving video, Grace and Bill Martin were recognized for their courage as they face Bill's diagnosis of early onset Alzheimer's at the age of fifty-six. For event co-chairmen Ginge Cabrera, Cristin Marandino and Nancy Ozizmir, the night was very personal as all of their mother's are victims of the disease. The trio agrees that "it's amazing what can happen when you turn anger and sadness into impassioned determination."
Celebrating Hope 2017 sponsors included Corporate Community Champion of Hope – Maplewood Senior Living; Leaders of Hope – AfterTalk.com, Mr. and Mrs. Steve and Lyn Black, The Cabrera Family, Mr. and Mrs. Jim and Kate Clark, Graham Capital Management, Granoff Architects, Mr. and Mrs. Dan and Nancy Ozizmir; Champions of Hope – Astrum Care Management, Bregal Investments, Coldwell Banker Global Luxury, Greenwich, Connecticut Pharmacy, Edgehill, Julie & Trevor Woods, Merrill Lynch Greenwich, Silver Hill Hospital, Stamford Hospital, Transcon: The Greens at Cannondale, The Greens at Greenwich, Wilton Meadows, Wendy and Diego Reyes; Supporters of Hope – AmerisourceBergen, The Bristal Assisted Living, Greenwich Dental Group, Greenwich Hospital, Mini of Fairfield County / CallariCars.com, Mr. and Mrs. Mark and Jennifer Lapine, Craig Rosenberg, Steve Stearns, Merrill Lynch Fairfield, Regional Hospice and Home Care; Partners of Hope – Mr. and Mrs. Tom and Kathy Arrix, Katherine Ashworth and Michael Cochrane, Baywater Properties, Citi Private Bank and Keith Gertsen, Eleni Henkel, InsideOut Partners, King Street Rehab, Len Schwartz Real Estate Team, Lisa Lori, Mary Jo and Bill Riddle, Osborn Homecare & H.O.P.E Center, Shannon and Jim Sawyer, Sono Bello Body Contouring & Facial Aesthetics, Dr. Tom and Elisa Wilson, Cathlin and Stephen Wolanske, Barbara Zaccagnini, Mrs. and Mrs. Steve and Jan Zide; Friends – Athena Health Care Systems: Laurel Ridge Health Care Center, Maefair Health Care Center, Northbridge Health Care Center, GAP Psychiatry Services, Justina Pray and Joseph Lockridge, Mr. and Mrs. John L. Murphy, Michael and Mimi Rafferty, Robert Kuperman and Colette Chestnut; Community Partners – Alzheimer's Youth Alliance, Bruce Museum, Tony Capasso, Gabriele's, Claire Hunter Communications, Delamar Greenwich Harbor and l'escale, Getaway2Give, Grafix Traffic, Gway Printing & Graphics, Horseneck Wines & Liquors, Theresa Rogers, Kunjan Collective, M Communications, Meli Melo Creperie & Catering, Moffly Media, Greenwich Magazine, Olivier Kpognon Photo + Design, Charlie Pappas, Putnam & Vine Wine & Spirits, Richards, Spectrum Event Lighting & Décor, Thomas Hollyday, What up Funk Band and Winston Flowers.
The Alzheimer's Association Connecticut Chapter is the primary source of information and support to the thousands of Connecticut residents dealing with the effects of Alzheimer's disease or a related dementia. The mission: To eliminate Alzheimer's disease through the advancement of research; to provide and enhance care and support for all affected; and to reduce the risk of dementia through the promotion of brain health. The vision: A world without Alzheimer's disease. alz.org/ct
Tags:
Alzheimer's Association
,
Delamar Greenwich
,
fundraiser
,
greenwich