August 10, 2017
Members Credit Union Teaches Preschoolers the Importance of Saving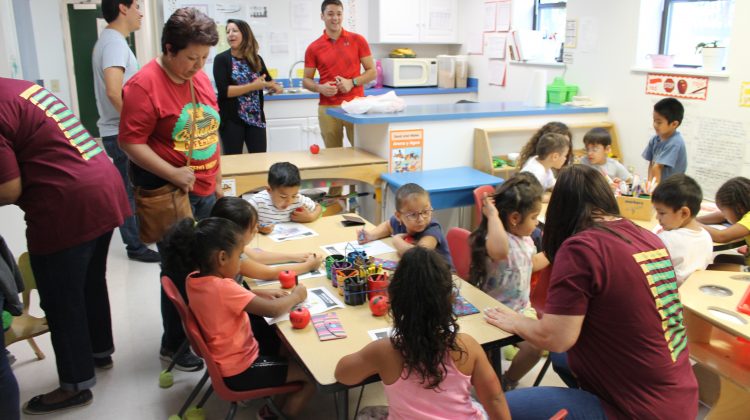 By Richard Kaufman
Sentinel Reporter
It's never too early to start learning the importance of saving money.
On Wednesday morning, employees from the Members Credit Union in Cos Cob held a program at the Family Centers' Armstrong Court Preschools in Greenwich to teach kids about money and why it's important to save it.
The program lasted about two hours and spanned three separate classrooms. The preschoolers sang a song titled "Thank My Piggy Bank," were given their own wallets which they decorated with various stickers, and colored on a drawing of a piggy bank. The children were also given play-money to place inside their wallets to represent saving.
Whether the children receive money from the tooth fairy or by doing chores around the house, they were told that it's always a good idea to put some aside. For Members Credit Union President and CEO, Kathy Chartier, the concept of saving is an important lesson to teach young kids, especially in this day and age.
"Kids really don't have a concept of money anymore. It's even harder now because everybody uses cards and they don't see money the same way that they did," she said. "With all the news and commercials and everything else bombarding kids — with this toy and that toy — it's really important for them to know they need to save and they need to earn money towards those things; they can't just have everything handed to them."
The children were especially excited about having their own wallets to keep, which is something Lesley Ulloa, Family Service Worker for the school, thinks will be an important instrument down the road. Ulloa said she wants to implement more programs like this so the children can draw on them in the future.
"Although they might not understand it now, having a wallet, it's nice that they can show their parents, 'Look, we're learning about money, we know how to save,'" she said. Ulloa also wants to bring a workshop on saving to the parents so they, too, can learn.
The Head Start Preschools is under the umbrella of Family Centers, which offers a multi-disciplinary approach aimed to help Fairfield County residents obtain the tools needed to establish a strong educational foundation, overcome complex and critical problems, carry on healthy productive lives and achieve personal improvement.
The Members Credit Union has been involved in other programs for Family Centers, but this was the first time they've gotten involved with the schools. Chartier said it's very rewarding for her staff to participate. "We really believe that we're here to serve the community," she said. "This is something different than we've ever done before and we're really having fun."
Harrinson Rios, an employee at the credit union and a volunteer for the program, echoed those sentiments and said he enjoyed the experience of getting out into the community.
"Its fun being part of the community and teaching kids a little bit about banking," he said. "Doing it early, starting it early and helping them out."
For more on this story, be sure to check out the Aug. 25 print edition of the Greenwich Sentinel
Tags:
Armstrong Court Preschools
,
Cos Cob
,
Family Centers
,
greenwich
,
Members Credit Union
,
Town of Greenwich