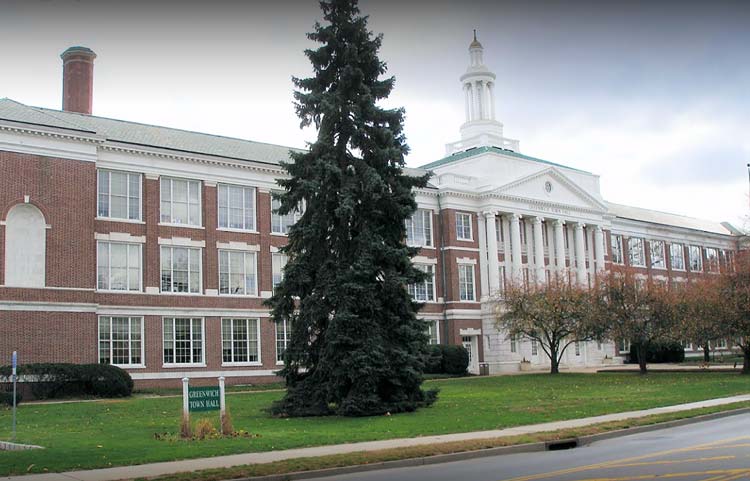 By Richard Kaufman
Last week the Republican Town Committee (RTC) endorsed their picks for the Republican ticket to be on the ballot this fall. Incumbent Board of Education (BOE) member, Peter Bernstein, did not make the list.
When he failed to receive endorsement from the RTC, he exercised his right to seek placement on the ballot through a petition candidacy.
So, Bernstein began his march on the road towards obtaining 637 signatures, the equivalent of five percent of registered Republican voters in the town. However, he says the journey to 637 has been fraught with unexpected behavior on the part of a faction in the RTC.
According to Bernstein, he believes he's been the subject of a concerted effort put forth by the two RTC-endorsed candidates and an RTC member to suppress his ability to obtain signatures.
Bernstein has said that while out trying to campaign for signatures, Jason Auerbach, and to a lesser extent, incumbent BOE chair Peter Sherr — both RTC-endorsed candidates — along with RTC member Randall Smith, have hindered him purposely.
Bernstein said he's had to keep his location whereabouts a secret. "They insert themselves into conversation, they've had some offensive signs," said Bernstein. "They have this false petition."
The petition he is referring to centers around the controversial subject of changing the BOE election rules so top vote getters, regardless of party, would get elected rather than leaving it the way it is now, which is required equal representation for Republicans and Democrats.
"They position themselves in front of us, start talking about their petition so when we ask people whether they would sign my petition, they would say, 'Oh, I just signed a petition,'" Bernstein said. "They've created confusion. Intended confusion."
Former RTC chair Ed Dadakis said this seems to be an apparent disruptive effort of voter suppression. "I have not been out where Peter [Bernstein] or the other folks have been, but the physical interference, the interrupting of voters, if that's correct, it's obviously highly concerning to anyone who believes in the democratic process," Dadakis said.
Dadakis also said that it's not uncommon for competing candidates to run into each other while campaigning. However, there is usually some level of communication between candidates to eliminate such run-ins.
"We always work in a collaborative fashion to make sure everyone has an opportunity to present their views to the voters," he said. "It appears that this small group of RTC members is purposely going where Mr. Bernstein is going in an effort to disrupt."
Sherr vehemently denied that his participation in the BOE Charter change petition infers anything other than getting the word out about Charter change.
"The assertion that my activities are meant to block or impede a candidate is a flat out lie. This is a fake story," Sherr said on Wednesday. "I'm focusing on the business of the board, I'm focusing on an issue that affects our board, and I'm trying to advance a positive campaign about how we can improve things for kids in Greenwich."
Sherr emailed a letter to the RTC on Monday, denying any involvement in an effort to block Bernstein.
Auerbach also denied any attempts to hinder Bernstein, and said he's been actively campaigning for Charter change since 2015. "I don't know of anyone trying to physically obstruct his ability to obtain signatures," Auerbach said, noting that the dump, beach and train stations are simply popular places where people go to have petitions signed.
The RTC issued a statement regarding the situation, which did not mention the petition on Charter change, nor any incidents in which Bernstein's attempts at obtaining signatures were hindered. They did, however, say that any interference with a candidate is unacceptable.
"We, the officers of the RTC, do not condone any obstruction to one's right to have their name appear on the ballot.  Whether a candidate is petitioning for a primary or to simply be included on the ballot in November, no one has the right to impede their access to obtain the necessary signatures.  Any such attempts are simply wrong and not in keeping with the virtues of democracy," the RTC said.
First Selectman Peter Tesei offered his thoughts on the matter as well.
"The right to petition access to the ballot is a fundamental right in our democracy," he said. "I believe the process should occur in a civil and respectful manner that generates pride in our democratic process rather than disgust and disdain."
Bernstein said he'd much rather be talking about the issues that really matter.
Candidates have until 4 p.m. on Aug. 9 to secure the necessary amount of signatures, however, on Wednesday afternoon, Bernstein filed for a temporary injunction through Russo & Associates LLC.
According to a statement released by the law firm, Bernstein is, "Seeking to bring an end to Jason Auerbach's and Randall Smith's efforts to interfere with Peter Bernstein's efforts to petition onto the November ballot… Additionally, Mr. Bernstein is seeking from the Town of Greenwich a two week extension of the deadline for collecting signatures so Mr. Bernstein is not further prejudiced by the unfortunate actions of Auerbach and Smith."