July 25, 2017
'Undie Sunday' Program Rolls Out to Other Towns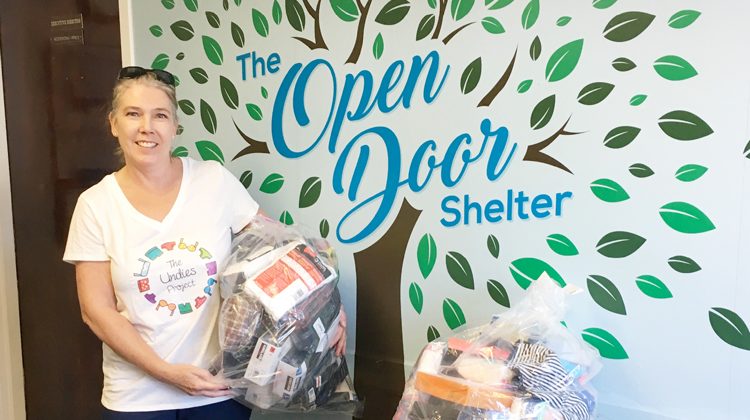 The Undies Project Inc. recently hosted their second annual drive during the month of May called "Undie Sunday."
Undie Sundays give churches and synagogues the opportunity to collect new and unused men's, women's, and children's underwear from their congregations for The Undies Project to collect.
Once the donations are collected, The Undies Project distributes the underwear to the many organizations they help. Currently, The Undies Project is working hard to help donate underwear to Neighbor to Neighbor, Kids In Crisis, Inspirica, Open Door Shelter, Homes with Hope, Project Return, Clothes to Kids of Fairfield County, Person to Person, Kids Kloset and Pacific House.
While The Undies Project was set up in November 2015, it wasn't until November 2016 that the organization recently became an official 501(c)(3) non-profit organization. It's mission is to provide new and unused underwear to men, women, and children in need in order to improve their lives by giving them the opportunity to live more comfortably but also educate the public about this under-donated article of clothing.
As a relatively new organization, The Undies Project hosted their first Undie Sundays in May 2016 and they held it only in Greenwich. They received 1,443 donations.
However, as this organization grows, more and more churches are beginning to help and Undie Sundays are now additionally being held in Darien and Westport.
In Greenwich, Congregation Shir Ami, First Congregational Church of Old Greenwich, St. Catherine's of Siena, Diamond Hill Methodist Church, First United Methodist, Holy Trinity, and St. Saviour's participated in Undie Sundays this year. In Darien, First Congregational Church participated, while St. Luke's participated in June. In addition, in Westport, Christ & Holy Trinity helped with Undie Sundays as well.
As of now, thanks to all the churches that participated, Undie Sundays has received 2,272 donations of new and unused underwear.
First Congregational Church in Stamford will be holding an Undie Sunday on Aug. 27 and will have sundaes after the service. They heard about what the Undies Project are doing and wanted to hold their own Undie Sunday.
"We love the way the churches and synagogues really got behind Undie Sundays", said Langley.  "It is not always an easy subject, but they found creative, and fun ways, to bring it to the attention of their congregations.  They really helped to open up the discussion about the tremendous need for new underwear for those less fortunate, for whom underwear is a necessity, not a luxury."
Delaflor added, "We can't thank everyone enough for their support this year, the congregations were very generous in the amount of product they donated.  We are hoping that even more churches and synagogues will hear about the mission and want to participate next year. We have already started to get the donations out, through our partner organizations, to those who need, and deserve, them."
It is thanks to the generosity of the community that more families in need will be able to live more comfortably and save money on this article of clothing that is often taken for granted.
For more information about The Undies Project, please visit theundiesproject.org
Tags:
greenwich
,
underwear drive
,
Undie Sunday
,
Undies Project