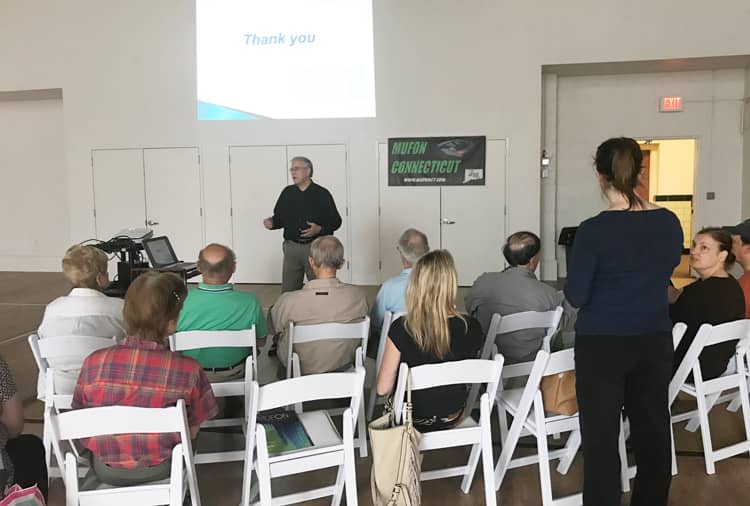 By Rob Katz
Spacecraft investigators and enthusiasts of the extraterrestrial attended a Greenwich meeting of the Mutual UFO Network (MUFON) Connecticut last Saturday at the Vincent J. O'Connor Center in Riverside.
Bill Weber, a UFO investigator and the state director for MUFON Pennsylvania, presented a lecture in the center's gymnasium, discussing alleged UFO reports and "how these discoveries may have contributed to the development of new technologies through reverse engineering," according to a press release.
"How can you not be interested?" event organizer Carol Weigold, a volunteer for the nationwide nonprofit organization that investigates reports of UFO sightings, asked. "A visit by extraterrestrials would be the biggest event in the history of mankind."
Before the lecture began, Michael Panicello, executive director of MUFON Connecticut, sat at a small white booth, selling swag. White MUFON t-shirts were stacked next to a couple of plush little green men with bunny ears—Easter-themed children's toys that Panicello was reselling. A stack of bumper stickers, each with an image of a flying saucer twirling through stars, read, "If you see something strange in the sky, go to mufonct.com."
As a couple of guests looked over the galactic merchandise, Panicello pulled out a couple of brown bottles from a six-pack of Avery's Beverages Totally Gross Soda. The flavor was "Alien Snot."
"An alien blows its nose and they bottle it," Panicello joked drolly. "Actually, it's blue raspberry and kiwi," he clarified, turning the label toward him.
On one table in the softly lit gym, Weigold had laid out boxes of Dunkin' Donuts Munchkins and coffee with cream and sweeteners, as well as two trays of triangular tea sandwiches. At an adjacent table was a roll of blue raffle tickets and some prizes.
"We have a [MUFON] Symposium book, we have a coffee mug and we have a mousepad," Panicello said. Each raffle ticket cost a dollar. "That's really to pay off the expenses for Bill, because Bill comes from Pennsylvania. We have to cover his hotel, his gas and tolls."
Although Weber is a career speaker, he waived his speaking fee for his peers in MUFON.
Still, Panicello noted, MUFON Connecticut typically looks for local speakers because of the lower expenses. Otherwise, the group is looking to purchase a Wi-Fi hotspot in order to host Skype interviews with non-local figures in the paranormal community.
The PowerPoint lecture, entitled "UFO's & Technology: A Subjective Overview," outlined the history of reported UFO discoveries, beginning with Black Forest, Germany in 1936, then moving on to the Roswell, N.M., reports of 1947, which the lecture was arranged to commemorate.
Weber referred often to former U.S. Army Colonel Philip Corso, who in his book "The Day After Roswell" alleged that alien technology found at Roswell was given to private firms in the early 1960's and was reverse engineered to develop fiber optics, integrated circuits, laser technology and more.
"Where's the best place to hide something?" Weber asked the crowd at one point, referring to the supposedly top-secret nature of the discoveries mentioned in Roswell reports.
"In plain sight," called out field investigator Warren Fentress, who sat with his son and wore a black MUFON cap.
Along with the appearance of an investigator celebrated by the UFO community, the meeting was also a rare appearance of MUFON itself in Greenwich. MUFON Connecticut typically meets the first Saturday of every month in Windsor Locks, holding a meeting in Greenwich once or twice a year.
"Our membership is very low down here in Greenwich," Panicello said. According to him, most of MUFON's regular membership can be found in Hartford County.
According to MUFON's website, the organization boasts over 3,000 members, with chapters in every state and in a host of countries worldwide, including Spain, New Zealand and Israel.
One woman, who declined to give her name, called the lecture "a repeat of a lot of stuff" she'd seen on television.
"I would have rather have heard more about what MUFON actually does," she said.
The television connection seemed to be a gateway for others at the meeting into MUFON's world.
"I'm a big X-Files fan, so this really sparked my curiosity," another attendee, Ed Lopez, said. "I had heard about the organization and I like a lot of science fiction stuff, so I was curious about other people who really believe in this sort of stuff and what their ideas are."
Lopez noted the lack of youth in attendance.
"Not that many young people were here," he said. "I don't know if the subject is unattractive to young people here. It's interesting even if you don't believe in it. Maybe it's about the amount of time people have on their hands."
After the lecture, Weigold referred this reporter to a man holding the raffled-off Symposium book. He smiled tightly and refused to comment except to say, "I don't believe it."
One couple that left as Weigold spoke had come from New Jersey.
"We'll see you at the conference, at the Philadelphia conference," one of them said.
"Look for me," she called back.
To Weigold, a field investigator for MUFON, the most important part of her job is spreading awareness of MUFON's mission.
"I just like sharing all this stuff," Weigold said. "Even though I'm a field investigator and I don't do a lot of investigating per se, I love doing the UFO awareness programs,  because I like like-minded people getting together to talk."
Despite her devoted involvement with MUFON, Weigold admitted that she had never experienced a UFO sighting firsthand. But one woman attending the lecture, younger than the majority of the crowd and sitting alone, confided a sighting to Weigold.
"Some people don't talk about it, either," Weigold said. "I just happen to know who they are."
The state director believed his entry into UFO culture as a middle-schooler was fairly conventional.
"For me, it's silly. It's stereotypical," Panicello said. "I liked The X-Files, and I liked the conspiracies of it."
After graduating from college, Panicello saw members of MUFON on television, and soon after reconnected with his childhood fondness for the extraterrestrial world.
"They were well known, well respected in the field, and I said 'Well, let's give it a shot,' and then in for a penny, in for a pound, I guess," Panicello said.
But Dyke Spear, a whiskered attorney wearing a feather-adorned cowboy hat, believed he might have been less than 100 feet away from the source of his fascination. In 1984, while traveling with a former girlfriend, Spear noticed a group of cars pulled onto the shoulder of the interstate highway past Brewster, N.Y.
"Across the interstate, probably 75 feet off the other shoulder, 50 feet in the air, [there was] a craft twice the size of a Greyhound Bus. Lights blinking like something out of a Steven Spielberg movie. Absolutely silent. When you see that and you say, 'We don't have that technology,' it turns your whole attitude of reality upside down," Spear said, his voice dropping as he described the event.
In recent years, MUFON has come under fire by some authors, including science writer and Doubtful News founder Sharon Hill, who has referred to MUFON's meetings as "decidedly unscientific with talks on alien abduction, conspiracy theories, human-ET hybrids, hypnotic regression, and repressed memories."
Greenwich-based parties were reluctant to discuss MUFON's speculation. A representative from the Astronomical Society of Greenwich declined to comment. According to the Greenwich Police Department, calls regarding UFO or UFO-related sightings are not tracked.
With regard to MUFON's use of scientific method, Panicello was relaxed but confident.
"Everything we try and do, we try to have the research and the documents behind it," Panicello said. "We have scanners going on that listen to the air traffic, we have radar that will pull the transponders of the aircrafts, we know what's in the area in real time. We have professional telescopes. We try to get the best so that when we find something or find evidence, it's not just like, 'Oh, look, it's a UFO.'"
However, MUFON Connecticut, he insisted, is not set on changing skeptics' minds.
"It's important to remember, the way our chapter works, all we do is present the evidence. You guys decide what you want. If you believe us, [or] don't believe us. We're not conspiracy junkies. We just think, this is what's out there, this is what we've found based on what we've done for research. As we've said, most of the stuff out there is garbage. There is legitimate stuff out there."
Asked what she would say to unbelieving readers, Weigold was more direct.
"Why don't you believe when there's so much information out there?" Weigold asked. "So much technology out there? It can't be ignored."