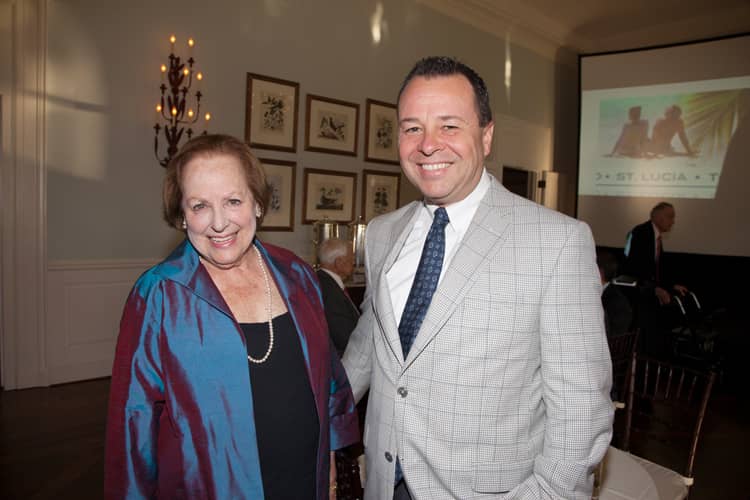 On May 17, The Rotary Club of Greenwich held its 21st Citizen of the Year recognition event at the Round Hill Club. The honorees this year were Mary Hull and Charles (Chuck) Hilton.
Mary Hull is known and recognized as the Director of Greenwich Green and Clean, our annual town-wide cleanup event initiated in 1986. Mary's passion has been to ensure the beauty of our town, and we witness the results of her efforts year after year. Mary has evidenced her devotion to conserve and protect as a member of the Boards of Greenwich Tree Conservancy and the Youth Conservation Group. Thanks to her abounding energy and enthusiasm we also witness the lighting and plant decorating of Greenwich during the holidays.
Charles (Chuck) Hilton's dedication to the Greenwich community is indicative in his design of the magnificent 911 Memorial in Cos Cob Park as well as the construction and design of the Rotary Pavilion in Byram Park. For years, Chuck, owner of Charles Hilton Architects, has not only demonstrated a commitment to the Greenwich Rotary Club, he is also a dedicated member of the Greenwich Chamber of Commerce, Greenwich Historic Society Preservation Network and the Preservation Trust, assisting in preserving the historic richness of this town.
The proceeds of the Citizen of the Year benefit are used to support community and international endeavors which include support of Kids in Crisis, Neighbor to Neighbor, Meals on Wheels, and literacy programs such as Reading Champions, Greenwich Reads, Tudor One Reading. The Rotary Foundation also annually provides scholarships to local high school students.
Additionally, contributions are given to Heartcare International, Enduputo School in Tanzania, CHAMPS (training of mine dogs supported by local elementary school children), clean water projects, and the eradication of polio in third world countries (supported by a matching grant from the Gates Foundation.)