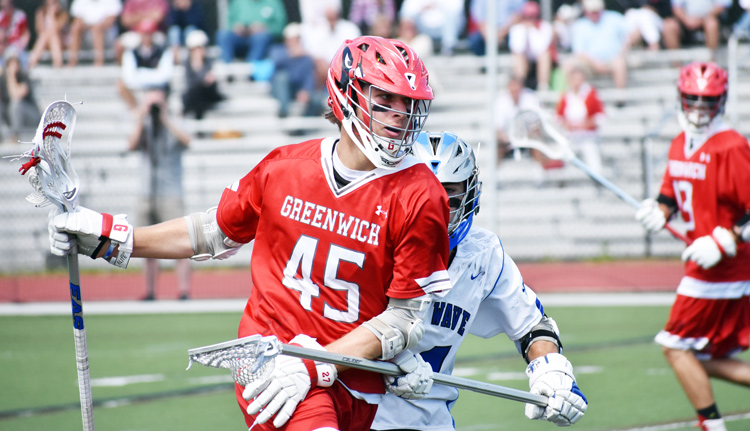 By Paul Silverfarb
Sentinel Editor
The Greenwich High School boys' lacrosse team ran into a tough Darien High school squad Saturday afternoon, as the No. 8 seeded Cards were unable to stop the top-seeded Blue Wave, falling 17-6 and seeing it season come to an end.
"I think that just the pace of the game was dictated on how well they played on transition," Greenwich High School head coach Bobby Lutz said. "You automatically get yourself in a hole, you start getting out of a patient offensive set and guys start doing all-or-nothing dodging. So they took us out of our game plan and we couldn't get a rhythm going."
For Big Red, sophomore Jack Feda led the way with two goals, while senior Bailey Savio added one goal and two assists. Fellow senior Addison Muir took home a goal and an assist, while junior Matt Baugher and senior Jack O'Connor pitched in with one goal apiece.
Savio was also his dominant self at faceoffs, as the senior won 16 of the 23 faceoffs on the day. In addition to grabbing an assist, GHS goalie Andrew Triscari, a senior, made four saves for the Cardinals.
"You have Bailey Savio and you think that you can still get possessions," Lutz said. "We tried to slow it down a little bit and tried to put ourselves in the situation where if we could get multiple possessions, we can kind of chip away at it. But they are going to kill you in transition and eat away at you. When you go down that much, it's really hard to come back."
Before the Cardinals could blink, Darien grabbed the early 1-0 lead, as junior Brian Minicus found the back of the net with only 32 seconds gone from the clock. Shortly after it was Kevin Lindley who added another goal to give the Blue Wave the quick 2-0 lead. At the end of the quarter, it was Darien with the quick 3-0 lead.
"They jumped out to a 5-2 lead the first time we played them, we knew we didn't want to give them any kind of opportunity to get excited," Darien High School head coach Jeff Brameier said. "And they are an excitable team and a very physical team. If you let them feel like they are in the game, they are a different animal."
In addition to his goal that put Darien up by two, Lindley finished with five goals and one assist. Fellow junior Logan McGovern led all scorers with six goals and added one assist, while Minicus netted two goals. The combo of sophomores Henri Pfeifle and Tanner Strub, as well as senior Peter Hartigan, each took home one goal to round out the scoring.
A plethora of Darien's goals were scored on its transition game, which has been lights out all season.
"I think that's our bread and butter, as everybody knows," Brameier said. "We spend countless hours moving the ball with different drills that are unsettled and different combinations. They know how to do that. They can do that in their sleep. We have some great scorers and kids that know how to finish. But it starts with the goalie and defense turning it over and then the speed of our team running downhill and creating pressure."
Greenwich grabbed some momentum in the first half when Baugher found the back of the net with 5:51 in the half to give GHS its first goal of the game. However, Big Red was only able to tally another goal in the half, as the Darien defense stifled Greenwich's attack.
"Some of it was our transition and getting a couple of goals off the faceoffs and kind of catching them off-guard," Lutz said. "If you go into settled defense, it's going to be hard to score, so we had to try and catch them in transition and unsettled defense. It worked, just not well enough."
Midway through the third quarter, Greenwich started another rally, when Feda scored back-to-back goals to cut the deficit to 11-5, but again the Darien defense didn't allow anything else for the remainder of the quarter.
"Defense really comes down to two parts of it," Lutz said. "You have your defenders and the goalie. Sometimes you get good looks and you have arguably the best goalie in the state, if not the country, stopping the ball. So just when you think you're getting your good shots and something seems to be working, (Ryan) Cornell is going to make the save. The two go hand-in-hand in making it frustrating and very difficult to score."
With the loss, Greenwich ended its season with a 13-7 record. The Blue Wave continued its dominating campaign, moving to a perfect 21-0 this season.
"With a team like (Darien), there's so much that goes into chemistry," said Lutz, in his second season with GHS. "I know, I coached in this town for eight years and coached some of these kids that started as early as fifth grade. It's the same group of kids that have been playing together and some have been playing multiple sports together. So it's that bond and chemistry that you just can't simulate. I think that is the key to most of their success. They are so comfortable and know each other so well. It's like a machine."
Despite the loss, Lutz is still pleased with the way his young Cardinals went through the season and is looking for bigger things in the future. With the season done, seniors Michael Graves, William Perlman, Truman Imbo, Chris D'Arminio, Alex Bologna, Noah Niklaus, Holden Tiedy, Kai Thompson, Savio, Triscari, Muir, Brendon DelCristo, O'Connor and Trevor Disbennett all played their final game in a GHS uniform.
And Lutz had plenty of high praise for all his seniors.
"I didn't have many seniors on offense, but the seniors I had on defense were phenomenal," Lutz said. "The seniors I had on defense were only inexperienced in that they weren't starters last year. In terms of just bring good lacrosse players and having the experience of playing at a high level, I think they had. It was just about getting their feet wet early in the season and it just continued to get better as the season went along."
While only a handful of starters graduated this season, Lutz is optimistic on the future of the team.
"We still have a young team," Lutz said. "We're really only playing two seniors on offense. The entire rotation of offense is only two seniors. We have a lot of young players that got experience. Hopefully every year we get a little bit more mature. It's also about learning a new system. It's only my second year here, so some of it has to do with being comfortable with what I'm trying to teach and what I'm coaching. I think we are heading in that direction slowly. You want every year to be special, but sometimes it takes a few years to really get that system in place."
Throughout the season, Lutz said that he believes that all aspects of the game were improved upon.
"Not just offense and defense, but transitions up and down," Lutz said. "It's the small intangibles that make a great team and that is what makes Darien the team that they are. We are getting better all around and I think the future is looking really good."