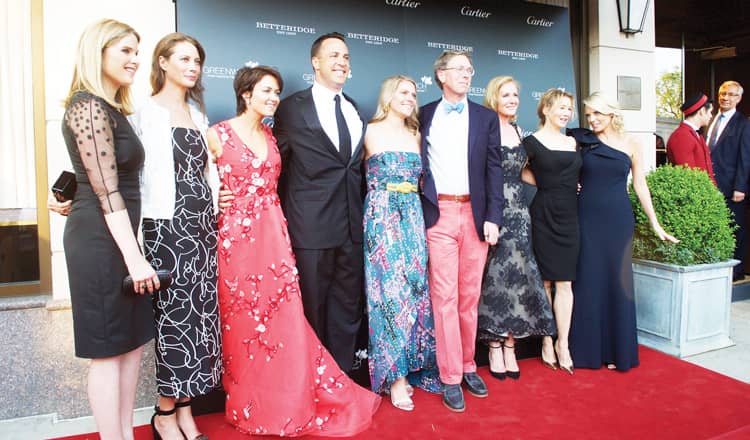 By Michelle Moskowitz
Sentinel Correspondent
Turnout was high last weekend for the third annual Greenwich International Film Festival (GIFF), which featured almost 60 film screenings and numerous panel discussions and star-studded events.
GIFF is a non-profit organization whose mission is to bridge the worlds of film, finance and philanthropy through a world-class film festival.
This year, GIFF raised $176,000 for its charity partners (totaling over $300,000 since the festival's inception), and awarded $25,000 to talented filmmakers (totaling over $95,000).
The central theme of the four-day event was "Make an Impact," and this reporter attended a few key events that certainly lived up to that theme by raising awareness on important issues facing the world today.
To kick off the opening night festivities, Greenwichites strutted the red carpet, sipped on champagne cocktails and mingling among a festive, standing room only crowd at Betteridge Jewelers last Thursday.
Following the cocktail party, guests in black-tie made their way down the Avenue to attend the prestigious "Changemaker Honoree Gala," held at L'Escale, on what turned out to be a gentle springtime night without rain.
The moderator of the evening was GIFF board member Jenna Bush Hager, whose ready smile and friendly, easy-going demeanor created a welcoming atmosphere for the 250 guests who took part in a special night of celebrity and celebration.
This year's first Changemaker honoree was awarded to model and humanitarian Christy Turlington Burns for her work as founder and CEO of Every Mother Counts, an organization dedicated to making pregnancy and childbirth safe for women all over the world.
One woman dies every two minutes because of complications during pregnancy and childbirth, yet up to 98 percent of these deaths are preventable.
"We are building a momentum, impacting millions of lives, one mother at a time," said Turlington Burns, who "happily made her first trip to Greenwich to spread awareness for the cause."
Turlington Burns said that while much of their work is aimed at communities in Haiti, Syria, and Bangladesh, there is also much work to be done in the U.S., which is 1 of 13 civilized countries with a rising mortality rate.
The second Changemaker honoree of the night was given to Academy Award-winning actress Renee Zellweger for her work in raising awareness and funding for those afflicted with amyotrophic lateral sclerosis (ALS).
ALS is a rare nervous system disease that weakens muscles and impacts physical function; there is no cure yet. Fewer than 20,000 cases are diagnosed in the U.S. per year.
Zellweger has been a staunch supporter of ALS since her longtime publicist and dear friend Nanci Ryder was diagnosed with the debilitating disease.
Dressed in a perfectly fitting little black dress, Zellweger instantly drew the crowd's attention with her star power and her famous ear-to-ear grin that endeared fans to her in blockbusters such as "Bridget Jones Diary" and "Jerry McGuire."
"I'm so grateful to GIFF to speak with you (tonight) and support ALS research," said Zellweger. "Every day I'm working on how to be a friend to someone who has ALS."
Throughout the evening, guests enjoyed a starter salad of figs, simple greens and prosciutto, followed by a medley of filet mignon and red snapper.
For those who indulged their sweet tooth, dessert was a warm berry crumble topped with a dollop of vanilla bean ice cream.   
And new this year, GIFF honored its first Community Changemaker award to Andrew Niblock, a committed, longtime educator and Head of the Lower School at Greenwich Country Day.
Niblock was recently diagnosed with ALS and has been an inspiration to the community by confronting his disease head-on.
Unfortunately, Niblock was unable to attend the gala, due to a fall that resulted in a three-day hospital stay.
A moving video of Niblock addressing his GCDS students and explaining his disease showcased how his voice and movements have become impaired but do not stand in his way.
Then a projected photo of Niblock with his brother from his hospital room, both attired in tuxedos, drew a delighted reaction from the crowd.
His wife, Eliza, accepted the award on his behalf and discussed Niblock's "profound strength and hope" that he carries not just for his family, but for his students and for all those struggling with ALS.
"Just his students holding the door for him makes a world of difference."
The next day, Friday afternoon, a sold-out crowd attended the empowering panel discussion, "Women Driving ROI in the Film Marketplace," held at Indian Harbor Yacht Club.
Panelists included top female producer Suzanne Farwell, whose films include "It's Complicated," "The Intern," and "Something's Gotta Give," and Susan Cartsonis, president of Storefront Pictures, which produced hits such as "No Reservations," "Carrie Pilby," "The DUFF" and "What Women Want."
The panel was moderated by Ruth Ann Harnisch, a lead investor in Superlative Films, also known for her work advancing gender equality in the media.
Much of the discussion centered on the importance of investing in women-made films, as men continue to dominate in roles of both producers and directors.
"Yet half of all film school graduates are women," said Cartsonis. "Women deserve to be inspired, empowered and entertained."
They also discussed some of the new, innovative ways to raise funding and generate buzz for films, such as through kickstarter.com, which has proven to be quite successful.
"When there is gender parity, there is greater success," said Cartsonis. "Women's careers tend to be more interrupted then men's (because of raising children, etc.), but with social media, women can stay better connected than ever before."
On Saturday the Sentinel-sponsored GIFF's centerpiece narrative film, "The Light of the Moon," was shown, documenting a woman's journey as she struggles to maintain her dignity after being sexual assaulted in Brooklyn.
Following the film screening, held at Bow Tie Cinemas, was a Town Hall discussion with principal cast and crewmembers, including the film's star, Stephanie Beatriz, and its Emmy-nominated writer-director, Jessica M. Thompson.
The discussion was moderated by Leslie Coplin, LMSW, Prevention and Outreach Coordinator of YWCA Domestic Abuse Services.
Among the panelists was Peg Cafferty, producer of "India's Daughter," a 2015 film that depicts the life and death of Jyoti Singh, an Indian medical student who is violated and killed in a gang assault.
"It's this type of conversation that induces healing for the victim. As long as we can have these conversations, we can move toward an end," said Cafferty.
Thompson, who based the film on friend's assault, conducted extensive interviews with victims and advocates of women's rights.
"This isn't just a woman's issue, it's a human issue," said Thompson.
Also on the panel was a representative from Crisis Text Line, whereby anyone can text 741741 and a live, trained crisis counselor will respond immediately, thus providing a more comfortable forum for young people to get help.
Sixty-nine percent of the 39 million messages they have received marked the first time a victim has reached out.
The YWCA Greenwich's Domestic Abuse Services is the only licensed and accredited agency in Greenwich providing 24/7 crisis intervention and safety planning.
The organization teaches violence prevention and healthy relationship skills at the elementary, middle and high schools levels in the community.
Award-winning films at this year's festival are:
• "City of Ghosts": Best Social Impact Film
• "The Strange Ones": Best Narrative Feature Film
• "Bending the Arc": Best Documentary Feature Film
• "Underpressure": Best Narrative Short
• "The Rabbit Hunt": Best Documentary Short Film
• "Blind Sushi": Best Connecticut Short Film
For more information on the organizations mentioned: Visit greenwichfilm.org; everymothercounts.org, alsfindingacure.org; kickstarter.org; ywcagreenwich.org.