June 2, 2017
Greenwich's Russ Reynolds: Executive Search Pioneer Still Leading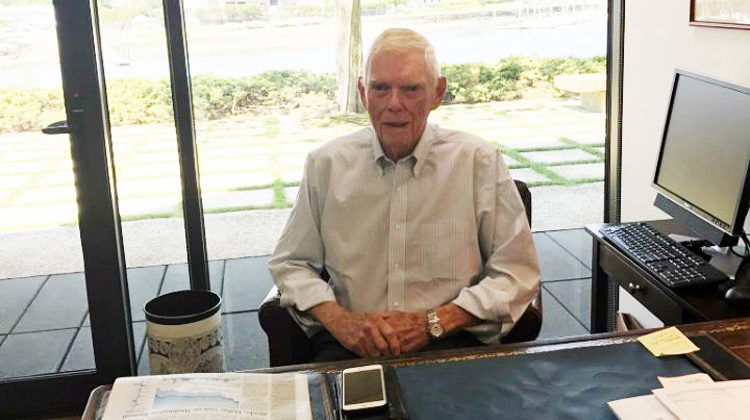 By Michelle Moskowitz
Sentinel Correspondent
"Opportunity is everywhere you look for it," said Russell S. Reynolds, Jr., a pioneer in the executive search industry and an eleventh-generation Greenwichite.
Reynolds was born at Greenwich Hospital and his family was among the first settlers of the community, dating back to 1645, when his ancestors came to Greenwich as farmers.
Reynolds attributes the tenacity and work ethic for which he is well known to his grandmother, Mary Adeline Reynolds, who became a successful real estate developer in town in the 1920's and 30's.
Reynolds first started working in one of her gardens as a young boy, and has been working ever since.
Mrs. Reynolds also enforced a strong commitment to education; she used to "travel to Greenwich Academy on horseback," since it was quite a long distance from their home. 
This determination and perseverance would fuel Reynolds throughout his career, and would later become instrumental in helping companies find true and enduring leadership.
Reynolds attended Greenwich schools, including the old Havemeyer and the Mason schools. He also attended the Brunswick School until he transferred to Phillips Exeter Academy in New Hampshire in his sophomore year. 
On the train to Exeter, he has said, "I felt the world was calling me, and I was in a hurry to embrace it."
After graduating from Exeter, Reynolds enrolled at Yale University, where he described his experience as a "more sociable than academic one."
But the social network he had cultivated at Yale would later become his colleagues, friends and captains of industry, much like himself.
While at Yale, he was president of the Glee Club and a member of the Whiffenpoofs, the storied men's a capella singing group, which he very much enjoyed and still does today.
Long after graduating in 1954, Reynolds held many alumni positions for the college, including class treasurer, reunion chairman and class secretary.
Before recognizing that the executive recruitment field was his forte, Reynolds had a successful eight-year run as a commercial banker and lending officer at J.P. Morgan and Co.
He then began to learn about the search industry from colleagues, and joined William H. Clark Associates in New York City for three years.
Reynolds learned the fundamentals of the business quickly, and became inspired to "provide a fresh and more thorough approach to the already growing field of executive search."
In 1969, with a $10,000 investment, he founded the now acclaimed Russell Reynolds Associates, Inc. (RRA) (russellreynolds.com) with H. Leland Getz, a good friend of his, who is also from Greenwich.
Customary of the era, RRA's New York City office exuded classic, understated elegance, featuring a Steinway piano in the reception area and a painting by Winston Churchill in one of the interview rooms.
With Reynolds at the helm, RRA became one of the world's leading international recruiting firms, placing industry titans such as the chairman of British Steel, Ian MacGregor. 
After spearheading RRA's growth, employing over 1,200 people worldwide and generating hundreds of millions of dollars in revenue, Reynolds sold his interest in the company at the age of 61 in 1993.
"I was happy, healthy and felt liberated and wanted the freedom." 
Reynolds said he wanted a break from the rigorous schedule, and wanted to spend more time with his family and friends, enjoying his hobbies, such as sailing, racquet sports, travel, and fund-raising.
Today, the firm continues its legacy and remains in a league with industry leaders such as Korn/Ferry International, Heidrick & Struggles, Spencer Stuart & Associates, and Egon Zehnder International.
But that self-dictated respite did not last for too long. In fact, the same month he left RRA, he started the Directorship Search Group, which initially focused on board recruiting, director education and the Directorship magazine.
In 2006, he spun off the educational aspect of the business to once again focus on his greatest talent—executive recruitment—and the company became RSR Partners. 
Today, RSR Partners is a well-established boutique firm on the cutting edge of corporate governance consulting, board director and senior-level recruiting, as well as strategic advisory services.
The firm boasts a staff of 75 highly experienced industry experts, and is considered one of the premier recruitment firms in global business today.
RSR Partners is headquartered at 600 Steamboat Road, whose bright, open offices overlook the glistening waters of the Long Island Sound.
The firm has offices in New York, Cleveland, Chicago, Dallas, Los Angeles, and Tokyo, and Fortune 100 clients such as United Technologies, Ford, GM, and Bank of America.
Reynolds says he still very much enjoys his work (even with the ever-growing demands in the field of securing top talent) and feels invigorated by being around "bright, young people."
"The world revolves around talent, self-confidence, determination and a lot of enthusiasm for life," said Reynolds.
He described the company's CEO, Brett Stephens, who also grew up in Greenwich and attended Brunswick, as "truly an outstanding and a bright star in our field today."
His professional accomplishments may be wide-ranging, but Reynolds' civic, historical, and philanthropic endeavors are equally extensive.
In 1990 he published his first book, "Loyal to the Land," by Deborah Wing Ray and Gloria P. Stewart, which provides a history of his family in Greenwich, documenting the generations of successful leaders from which he came.    
Over the years, Reynolds has payed homage to his local roots by dedicating his time and resources to maintaining and enhancing the community that has served he and his family so well.
"Greenwich is blessed with the best town government, with people such as [First Selectman] Peter Tesei," said Reynolds. "We have the most distinguished, honest and hard-working people, determined to keep Greenwich financially sound."
Reynolds is a former trustee of the Greenwich Hospital Association, Inc., and served as chairman of its $65 million Capital Campaign Committee. 
He continues to serve as an advisory board member of the Greenwich Historical Society, and as a former vestryman of Christ Episcopal Church and St. Barnabas Church.
Reynolds has been a speaker for the American Society of Corporate Secretaries, The Conference Board, and the President's Dinner in Washington, D.C.
He is a former trustee of the Oppenheimer Mutual Funds and a member of the Governance and Audit Committees. He also served chairman of the George H. Bush for President Finance Committee in Connecticut, and the Connecticut Republican Finance Committee.
And the list goes on.
Reynolds served his country as a first lieutenant and navigator-bombardier in the U.S. Air Force's Strategic Air Command. He even briefly contemplated a career in the military, but instinctively "decided against it in favor of business."
But perhaps his greatest accomplishment is his marriage to his wife Debbie, whom he met in 1955, when he was stationed at Mather Air Force Base in Sacramento, Calif.
They will celebrate their 61-year anniversary in July.
When asked what is the secret to his long, successful marriage, especially in an age of increased divorced rates, Reynolds replied, "To always remember that the relationship itself is more important than the issues, such as whether you turn up the thermostat or not."
Reynolds adds, "We have been extremely fortunate together, and have had more than one can even dream of."
The couple has three children and 11 grandchildren.
His son Russell S. Reynolds III ("Trey") serves as the firm's managing director and is a key member of the firm's Asset Management and Board Recruiting Practices.
In 2012, McGraw Hill published Reynolds' second book, "Heads: Business Lessons from an Executive Search Pioneer," which documents his stellar journey in the field of executive search. In "Heads," it becomes evident that his commitment to values and honesty never wavered.
"People who grow into really great leaders are usually givers as opposed to takers. Their basic orientation is to help people become successful—to take an interest in what others want and to help them discover what they are truly capable of achieving."
When asked what enabled Reynolds to live such a rewarding life, he replied, "I owe my good fortune to God, a dose of fundamental values, and a strong dose of work ethic."
And when doing a story on a search veteran, one has to ask what makes the perfect candidate. Reynolds said, "What I look for in people is honesty, with no close second."
"Of course, we are looking for great talent, but purity of intention, people who want to contribute and not just take—that's what we look for."
Tags:
executive search industry
,
greenwich
,
RSR Partners
,
Russell S. Reynolds