May 19, 2017
More Local Bands to Take the Stage at Greenwich Town Party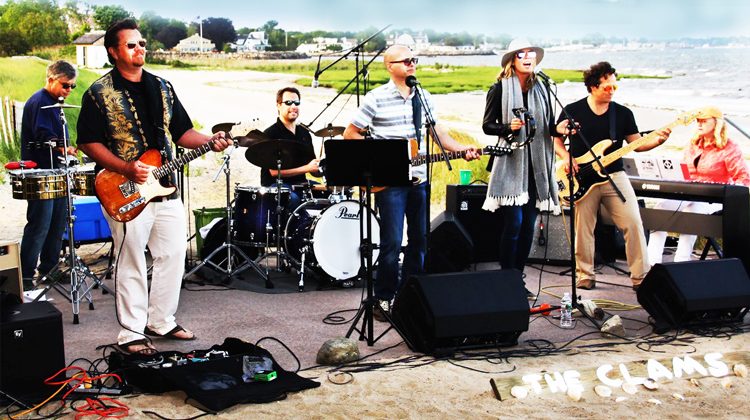 By Mike Verrico
Sentinel Correspondent
Not only will the Greenwich Town Party have on its bill Rock and Roll Hall of Famer Steely Dan, nationally renowned recording artists Alabama Shakes and the Preservation Hall Jazz Band, and up and coming Carolyn Wonderland; it will also have local bands from the tri-state area thrilled to get an opportunity to play at the GTP.
For these bands and musicians, it is dream come true to perform in front of their families, friends and hometown.
For over two decades, saxophonist Shane Kirsch (co-director of the instrumental music program at The Brunswick Upper School) has graced the stage with many national and local artists including George Clinton, Michael Franti, Perfect Thyroid, The Fuzzy Flow and Belizbeha. His most recent project, Rang-A-Boom, is a funky collaboration with some of the grooviest road warriors in the area.
They have already shared the bill with nationally acclaimed acts such as John Fogerty, P-Funk, Sharon Jones & the Dap-Kings, Phil Lesh, and Hall and Oates.
Rounding out the band are Chris Vitarello and New York Blues Hall of Famer Petey Hop on guitars, Jeff Pettit on alto sax, Anthony Candullo on bass, Chris Burke on organ, Erik Perez on drums, and Christine Tambakis (John Oates, Kung Fu, Bernard Purdie).
That Charlie Scopoletti and the Truth are performing is a miracle. A two-time cancer survivor, Scopoletti is a wonderful story of one's man persistence and courage to survive through enormous difficulties.
Through his music and partnered fundraising initiatives, he has helped raise over $1,000,000 for charities, and has been recognized for his selfless commitment to helping others with a certificate of appreciation by the Westchester County Executive; named a News 12 hometown hero and a GTP hero; and had March 7 declared "Charlie Scopoletti Day" by the mayor of Port Chester, N.Y.
Scopoletti believes that it's a wonderful honor to grace the GTP stage.
"It is an amazing honor being recognized as GTP hero," said Scopoletti. "As a two-time cancer survivor, I have overcome my share of adversity and ever since I've made it my mission to inspire, spread hope and make positive change in people's lives. The fact that people see that effort, and more importantly feel it, means the world to me, because it means I'm doing what I feel I am here to do. I can't thank GTP enough for the recognition."
Mongolian Monkfish is an original rock group formed in Greenwich in 2009. The group consists Jamie Khalifa (lead vocals), Pete Cornell (lead guitar), Chris Marrone (bass guitar), Bryan Dmuchowski (keyboards) and Sammy Lebreton (drums).
That groups draws heavily from influences in 70's and 90's rock, and bolster their sound with chorus-driven vocal hooks.
The group's most notable performances include Alive@Five in downtown Stamford, opening for Shaggy where attendance reached well over the 10,000-person limit. They also opened for Boz Scaggs at Jazz Up July in Stamford.
The Clams are the classic definition of local boys made good, as five of the seven band members have graduated from Greenwich High School, according to bass player Ward Davis.
"It's an amazing privilege to play the same event as Steely Dan and Alabama Shakes, and play our covers versions of the music we grew up with in front of all our family and friends," said Davis.
Rounding out the Clams are Will Maze on lead guitar, Scott Chard on congas, Oscar Rodriguez on guitar and lead vocals, Mike Spremulli on drums, Davis on bass, Valerie Maze on keyboards and Kay Story on lead vocals.
Making their second appearance at the GTP is another local cover band made good are the Bramblemen.
Led by singer-songwriter and guitar player Rich Bloom, who hails from Cos Cob, the Bramblemen delivers rock and roll with a soul twist.
Band members include Eddie Watkins, Mike Guba, Dave Washicoski and Cody DeRespina.
They have released one album of original material, "Fast Train to Memphis," and were featured on Garage Band Tribute to The Monkees and on the "Do Right Men-Tribute to Dan Penn/Spooner Oldham" album released last year.
They played on the track "You Really Know How to Hurt a Guy," recorded in Nashville with The Box Tops and sax player Arno Hecht (The Uptown Horns).
The Bramblemen are currently working on a new album of originals and covers.
"It's a great honor and it is very exciting for us," said Bloom. "It's a great event, and my co-workers and family will be there to support us and to showcase our work—and to be on the same bill with someone I grew up with in Steely Dan is an honor."
Tags:
ctbands
,
greenwich
,
Greenwich Town Party
,
GTP
,
local bands
,
memorial day
,
Memorial Day Weekend