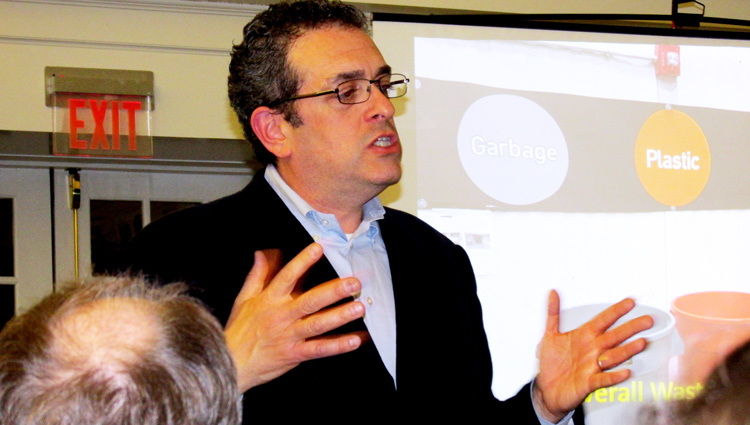 By Anne W. Semmes
Sentinel Columnist
There is a man in Riverside named Tom McQuillan with the proven potential to revolutionize how we as Americans can deal with the unfortunate fact that we are throwing out an estimated 40 percent of our food.
His wake-up talk "Eliminating Food Waste: Changing Cultural Norms to Solve an Age-Old Dilemma" was given to a full house recently at the Perrot Memorial Library. Over an evening, he spun out his compelling story of how he had in a year virtually eliminated food waste in his workplace, the Bronx-based Baldor Specialty Foods. In the doing, he's created a template not only for other workplaces dealing with food, but for us in our own kitchens.
McQuillan was hired by the president of Baldor in 2015 to determine what could be done with all the leftovers from the preparation of the highest quality fruits and vegetables destined for food specialty shops and fine restaurants, from the tri-state area up to Maine and down to Virginia. That's a lot of food produce!
Picture McQuillan, with his business background, as Baldor's director of food service sales and sustainability, watching the daily accumulation of waste generated from preparing some 60 varieties of fruit and vegetable, in the desired cuts, to be delivered to chefs' kitchens every morning. To make those specific cuts like carrot coins and zucchini matchsticks, he's seeing the discarding of the tops of root vegetables, the carrot greens, the tomato cast-offs, the odd-shaped pieces of various fruits. He's seeing 150,000 pounds of leftover food every day needing to be trucked to the landfill.
"At first glance," he says, "I thought composting this food would be the answer"—and then the idea came. Why not collect all those leftovers, those scraps, and rebrand them as SparCs—scraps spelled backwards? And target them for both human and animal consumption?
"For humans, we now have SparCs saved from our prepared vegetables, our Fresh Cuts, that we sell for 30 cents a pound—half their usual value. That includes the tops of root vegetables—the most valuable part." So, "stop peeling those carrots," he tells us, "the skin is full of nutrients. Just wash them." McQuillan practices what he preaches at home. "We put our vegetable SparCs into a ziplock bag and freeze them, and every Friday make a vegetable broth with them to use in making vegetable soup or risotto."
McQuillan tells of reducing in one year the amount of waste from organic foods from 75 percent to only 25 percent of Baldor's produce. "We now have a revenue generation from our SparCs. Baldor is dehydrating SparCs, turning them into a dried vegetable blend that compares to bouillon. We're also planning to make croutons out of the dried vegetables by the end of this year." A new partnership with a company called Misfit Juicery is turning their leftover produce into juice.
Animals are also profiting from those SparCs, he says. "For animals, we regularly deliver huge bagfuls of SparCs, of cantaloupe rinds or mango pits we sell for 5 to 12 cents a pound. These SparCs are fed to pigs. Most of our pigs are fed horrendous food that is very hard to digest. We need to change the narrative of feeding animals, for our cows as well, when all they need is grass. Cows have horns but they've been bred out of them— cows need horns for their digestion."
McQuillan knows no bounds addressing the state of food waste in this country. "Twenty percent of food grown on farms is left on the farm as its considered not good enough. But farmers have a second harvest of greens," he says, "and I love those small green leaves." (In the know on the front row was the Lesley and Bill King family of organic farmers that brought us the Old Greenwich Farmer's Market.) He tells of WastED—"a community of chefs, farmers, fishermen, distributors, processors, designers, retailers working to re-conceive waste in the food chain."
"We have to stop sending this 'waste' to the landfill," he says. "Landfills are no longer an option. Food that can't be eaten by humans or animals needs to be composted. California is compacting its waste."
And Greenwich, he says, needs an "anaerobic digestion chamber." "We need to be a beacon in our town to create an anaerobic digestion chamber for its use in our gardens. This town is ripe for a digestion chamber to process organics in such a way that we can capture methane gas, generate electricity, and create a digestate that can be used as a valuable soil supplement by residents and the town."
"As a town," he continues, "we need to study how we will divert all organics from landfill—and I mean 100 percent—and make sure that all recyclables are collected."
Here he reminds us of that other town revolutionary, the late Mariette Badger, who brought recycling to Greenwich. Also in his audience was Aleksandra Moch, that environmental analyst on the Conservation Commission and driving force in the town for composting who has brought composting programs into Greenwich's elementary schools. And isn't that Natural Resources Defense Council senior scientist, Dana Gunders, also a Greenwich native, the who wrote the book "Wasted: How America Is Losing Up to 40 Percent of Its Food from Farm to Fork to Landfill"?
This town is proving fertile ground for food-waste revolutionaries!