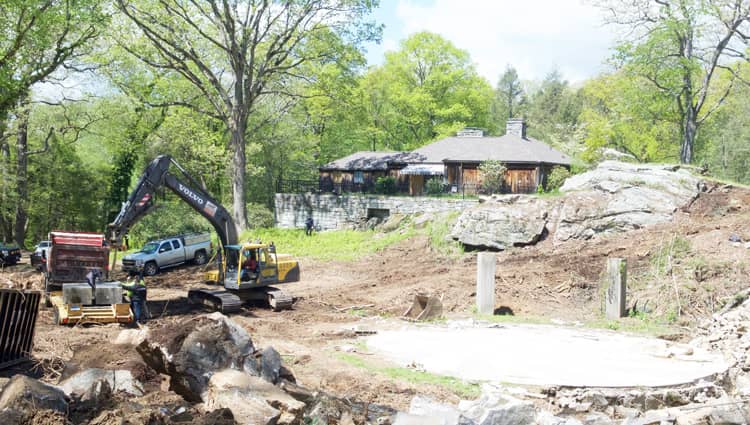 By Anne W. Semmes
Sentinel Columnist
A thing of beauty is a joy forever. Architect-sculptor Horton O'Neil no doubt thought it would be forever when he built (with the help of four others) a marble replica of a Greek amphitheater seating 600 in his backyard.
That same amphitheater is headed to Sarah Lawrence College to be used and appreciated by generations of students.
And now the remaining "bones" of that amphitheater have been saved from the demolition team at work on the property of the new owners of that legendary O'Neil property. Those half-dozen marble bones are the framing monoliths of the amphitheater stage, and they are now adoptees of the town of Greenwich, destined to be placed in a town park where they will land someday soon, after their glorious snow-white luster is restored. Hopefully the sight of them will bring back some of the magic and grandeur of the O'Neil Amphitheater that still has Jane Fonda gasping when she recalls dancing on it as a young nymph in Shakespeare's "Midsummer Night's Dream."
It took the disconsolate neighbors seeing the wheels of destruction obliterating the setting of their favorite folly to once again come to the rescue of the monoliths, which stand nine feet tall and weigh in at five tons.
Lia Fail neighbor Renee Sablatnigg first alerted the Greenwich Preservation Network at their meeting at the Greenwich Historical Society of the need for a possible home for the monoliths, which were not part of the new owners' building plan. Another neighbor on nearby Dandy Drive, Peter Berg, also at that meeting offered to contact Parks and Rec chair, Nancy Caplan to inquire about their interest in such monuments. And wasn't Frank DiVincenzo, a former Dandy Drive neighbor and fan of the O'Neil Amphitheater on her board?
DiVincenzo recalls those days of taking his wife, Jean, and their two kids to marvel at the amphitheater (with the O'Neils' permission). "We'd wonder just how did this appear in the first place. My kids were six and nine and I would stand at the furthest part of the stage with my wife on the opposite side and she'd say things to me in a whisper and it was like she was standing next to me."
  DiVincenzo called his relative Bea Crumbine, Greenwich's ambassador-at-large, who makes all good things happen in town. "Frank has an engineering/electrical background," she says, "and knows much more than I about moving six monoliths, each of which weighs 10,000 pounds!"
Crumbine put the case of available monoliths before First Selectman Peter Tesei, whom she serves. Present at the meeting were Joe Siciliano, head of Parks and Rec; Bruce Spaman, tree warden; DiVincenzo and Crumbine. There was interest, but the removal needed to be a private rather than a town effort. There is no town equipment to move these mammoth monoliths. But Spaman did suggest a place to store them, when removed, until a town site can be found, at the town's Indian Field service site.
DiVincenzo was delegated to contact the famed Ottavino company, which performed the task of removing the amphitheater to their site preparatory to Sarah Lawrence College to find out just what is involved in relocating the monoliths—at a price of $87,000!
Crumbine got on the case. "I called a wonderful contractor, Tony Vitti, who happens to be Italian!" [Italian stone masons helped build the amphitheater.] Meeting up at the site this kind man offered the use of his equipment as a gift if we paid his employees for two days."
Ambassador Crumbine went to work to find the funding for those two days of labor. Natalie Pray stepped forward to personally pay for the relocation of the monoliths to their storage area. "I am delighted," said Pray, "to support this project, which enhances our town of Greenwich and saves the great monoliths from destruction." The Lia Fail Monolith Project is born for forthcoming donations.
"The next battle will be in what public park would they be reassembled in semi-circle," said Crumbine. Peter Berg had an idea. Remember when the Cos Cob Friends of Mill Pond worked to add that old Getty gas station space to Mill Pond Park before Starbucks stepped up? Apparently, there is some $8,000 left over from that effort, and wouldn't it be nice for the monoliths to be kept in Cos Cob? Berg says he could easily see neighbor landscape architect and friend Matt Popp creating a design that incorporates the monoliths into the Mill Pond Park.
Bu the final word comes from First Selectman Peter Tesei. "We are reviewing options and are seeking public input and suggestions," said Tesei.
Weighing in on the now lost and found beauty of the O'Neil Amphitheater is the true lifesaver, another Cos Cob neighbor, Josie Merck, who has made possible the relocation of the marble amphitheater, stone by stone, destined for her alma mater, Sarah Lawrence College. Learning of the town's adoption of the monoliths she said, "It is great that a vestigial testament of Horton and Madelyn O'Neil's magnificent Cos Cob Amphitheater will be saved in Greenwich. Memory and preservation of beauty could not be more important imperatives for our town and our culture."