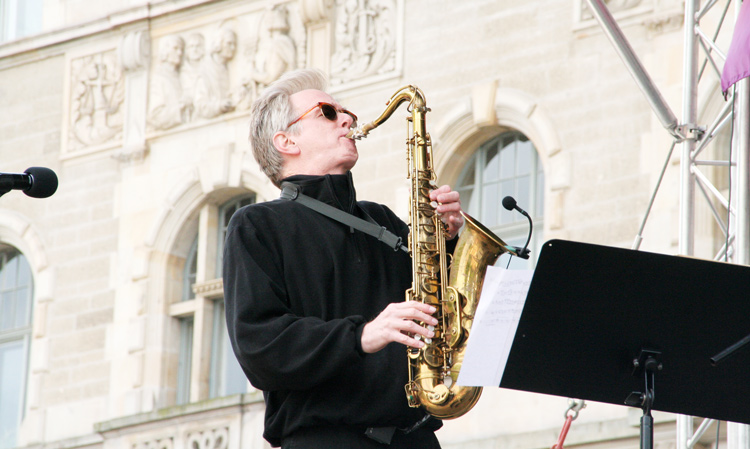 By Paul Silverfarb
Sentinel Editor
It's been a decade of hard work for Bennie Wallace. The countless hours of practice. The never-ending battle with trying to raise enough funds. The miles and miles on his car, traveling from venue to venue and from Bridgeport and back to Greenwich.
That's a lot for Wallace, but for Wallace and BackCountry Jazz, it's a labor of love.
"It's hard to believe that it's been 10 years," said Wallace, a widely acclaimed saxophonist. "Our original goal was to produce concerts that were on the level of European and Japanese jazz festivals. The most beneficial thing to me is the sheer joy of playing and playing with some incredible musicians that I love so much."
And on May 20, Wallace and BackCountry Jazz will celebrate 10 years. And they will do it in a big way.
The jazz music for the program, which will take place at the Greenwich Country Club, is inspired by the music and rhythms of Caribbean cultures and their influence on the music of New Orleans.
Joining Wallace, who will play tenor saxophone, is a slew of highly talented musicians. Goodwin Louis will play the alto saxophone, while Bruce Harris will be on trumpet. Donald Vega is on piano, while Benjamin Tiberio will play the bass. Herlin Riley will keep the beat on drums, and Jazzmeia Horn will lend her award-winning voice to the group.
"The music is developing and I get to play with some of my favorite musicians," Wallace said. "They are some of the best in the business and to do this with them is such a treat for me. The thing that makes this whole thing possible is that most of the people live around New York City, so we don't have to spend the money airplanes and hotels. We brought some pretty amazing people up here over the past few years."
The genesis of this year's program for Wallace took place in December, when he traveled to Haiti as part of a volunteer outreach trip to work with music students. While in Haiti, Wallace put together a few concerts and did his best to put even the smallest of smiles on faces through music.
"I was inspired by the music that I heard and the musicians that I played with," Wallace said. "Godwin Louis is from Haiti and put the whole trip together and it's his project. I just took part in it. But I came back with this musical idea of some of the Haitian influenced music played down there. I was thinking of all the different aspects of music from the Caribbean, Jamaican and Calypso music. It all kind of comes together in New Orleans, because New Orleans music is kind of a synthesis of music from the Caribbean Islands. We are going to be doing some New Orleans music and some music of the other islands. And we will have a good, healthy dose of American jazz."
As a performing organization, BackCountry Jazz started out playing quartet concerts over at Seven Bridges Art Gallery a decade ago. Then things took off, as Wallace's group started developing and the concerts kept on getting bigger and involving more musicians.
"The biggest challenge to playing often in one area is that we need to sound different than the concerts before that," Wallace said. "That's been a tremendous challenge over the years and it's been a lot of fun. We brought in a lot of wonderful musicians."
Throughout the decade, Wallace has seen and hosted some top-flight talent.
Playing for BackCountry nearly since the beginning was Vega. Since playing with Wallace, Vega won the Great American Jazz Pianist Competition in 2010 and is also playing with one of the most influential bassists in jazz, Ron Carter, in addition to making his own albums.
Vocalist Rene Marie has performed several times with Wallace and BackCountry Jazz a few years ago and was nominated this past February for a Grammy in the jazz vocal category for her album "Sound of Red." A lot of instrumentalists and singers that have seen time with BackCountry Jazz have played a lot in the major venues in New York City.
And sometimes Wallace's patience pays off. An example is Louis, who is in high demand over the area playing alto saxophone and has recently been featured on Broadway. Wallace proudly exclaimed that one time Madonna heard him play and invited Louis to California to record a song.
"I heard about Godwin when I was in Bridgeport around six years ago. He's a world-class, wonderful young player," Wallace said. "One of the teachers in Bridgeport told me about him, so I looked him up on the Internet and heard him play. He was great. Finally, someone from Fairfield knew somebody that knew him, so I got a hold of him, invited him up to sit in on one of our concerts. He was supposed to play one tune and ended up playing the whole concert. He has been playing with us ever since. His career is really taking off and he's someone that no one has ever heard of when we started working with him."
With all the talent that has called BackCountry Jazz home in the past decade, it's nearly impossible for Wallace to have a top moment with the group. There have been so many memorable moments for Wallace during his decade of dominance with Backcountry Jazz.
For instance, a couple of years ago Wallace performed a concert at St. Bede's Chapel in Greenwich called "Twilight Time." That was also the title of an album Wallace recorded back in the 1980's, an album composed of music from the South, where Wallace is from.
"It was music with a jazz read on it," Wallace said. "I brought together some of the musicians from that recording, as well as some new musicians, and we did that. That was a really special night."
Another concert from St. Bede's was a highlight as well, as Wallace was able to get trumpeter Terrell Stafford and guitarist Bobby Broom to play.
A few years back, Wallace had the honor to play alongside bass player George Mraz.
"We kind of had parallel careers," Wallace said. "He's around my age. We had a few concerts together in the past couple of years and that was a special treat to play with him. There was a thing about musicians from my generation. We came up right at the time right after the generation of John Coltrane, Miles Davis and Sunny Rollins. Musicians were trying to absorb some of the most challenging music ever done. But we were also listening to European classical music and a lot of musicians from my generation were really classically trained. I was trained as to be an orchestra clarinet player. George was trained at the Prague Conservatory. So when I got to play with him, some of that came back into my life and it was a lot of fun."
While making sure each show is unique, another challenge has been raising the money to put on the high-quality concerts.
"It's not what everybody wants to hear," Wallace said. "I have great musicians, great people working with us and incredible young musicians with great families, but it's such a challenge to raise the money to keep the program going each year and grow it. Putting the money together to do these concerts is tough. I have the easy part, which is creating the music."
"There are a lot of pieces to the puzzle," Wallace said. "It's all about setting the dates, getting the venues, creating the invitations, sending them out and creating the posters. It's like a little industry. And no one here has a salary and it's a thrill to see people come together to create these things."
Hosting incredible concerts isn't all that BackCountry Jazz does. They work with kids in Bridgeport, and have been sharing the love of music there for seven years now. In fact, some of the kids that are in BackCountry Jazz have been with the organization from the beginning.
"They were little kids when we started working with them," Wallace said. "We have a group that is all juniors in high school now. It's been a real thrill to watch them develop and grow up. We're trying to help each one get on to the next step and get into a good college. They and their families have also become close friends and that's a pretty cool thing."
The event at the Greenwich Country Club on May 20 kicks off at 6:30 p.m. To order tickets to this event, go to Backcountryjazz.org, click the "Concert" tab and download the event information, or click here.