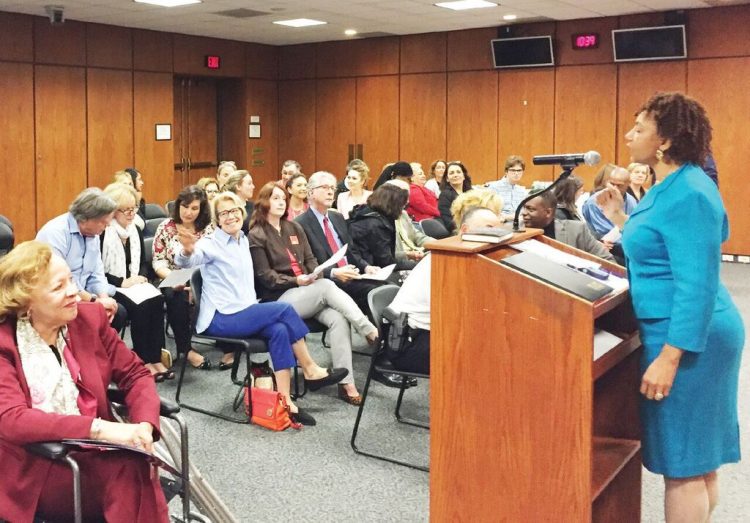 By Richard Kaufman
Sentinel Reporter
Last Friday, various members of the community and town government gathered at Greenwich Town Hall for the YWCA's national event "Stand Against Racism."
The initiative is a signature campaign of the YWCA that aims to build community between those who work for racial justice and to raise awareness about the negative impact that institutional and structural racism can have on the community. The theme of this year's program was "women of color leading change."
The event featured music from Grammy Award-winning musician Dennis Collins, who sang songs throughout the event.
"Building a strong and just community is core to our mission at the YWCA," said Mary Lee Kiernan, president and CEO of the YWCA of Greenwich. "Luckily, we're fortunate to have a lot of partners in this effort," she said, referencing a large poster on display that featured more than 70 local sponsors of the event. Kiernan said that the poster would be placed in the lobby of the Town Hall building for all to see.
Dr. Susan Toliver, professor and chair of the Sociology Department at Iona College, was the event's keynote speaker. "Too often, women of color have been excluded from the conversations about racism and sexism, and that's because too often the conversation about race excludes women, and the conversation about sexism excludes race," she said.
Toliver went on to explain how social scientists like herself, and scientists in general, tend to isolate variables in order to understand the connection and interaction between them.
"But the fact of the matter is that variables that have to do with our personal identities don't exist in a vacuum in isolation, but rather these are intersecting variables that demarcate the various systems of oppression that are part of the larger system of oppression that characterizes our U.S. society," she said.
Toliver mentioned that whether it's racism, sexism, homophobia or anti-Semitism, "we don't have a holistic sense for the system of oppression and the sub-systems of oppression that mark our society.
"In 2017, how could we have imagined that we'd still be plagued by these kinds of issues?"
Toliver then discussed the idea of being "diversity mindful" and how it needs to be more prevalent if America wants to catch up with the diversity seen throughout the rest of the world.
Dorothy Nins, CEO of Higher Ground, took the podium and compared the U.S. to her family: both are great, she said, but both still have some things that need working on.
Nins led the group in an activity that aimed to engage them in a dialogue about eliminating racism. She wanted everyone to sit close to one another and next to strangers. "If somebody is talking about dismantling racism, and you're not uncomfortable, then they're not telling the truth," she said. "Because systematic racism and oppression of people is an uncomfortable topic."
Toward the end of the program, interim superintendent of Greenwich schools Sal Corda handed out the 2017 YWCA Racial Justice Scholarship Awards to three Greenwich-area seniors: Tiffany Evangelista, Sam Ryb and Dana Wadsworth-Hutton.
The award, which was doubled in size this year to $1,000, is given out to those who have demonstrated a commitment to encourage people to respect differences, promote equality and eliminate all forms of bigotry, bias and racism. This was the first year it was awarded to three people.
Evangelista, who attends GHS, is the first in her family to go to a post-secondary school institution. She's a member of the minority student achievement network, and the newly created GHS minority student network where she mentors other students. "That was the opportunity I needed to make a change or an impact on our community," she said.
The mission of the clubs is to change the practices and structures at the school that contribute to institutional racism, and create a culture where all students are able to achieve. Evangelista became a certified youth mental health first aid coach in her junior year.
"I never thought I would actually have an impact as a young Latina female," Evangelista added.
Ryb, another GHS senior, was born in London but moved to Israel when he was five. In Israel he organized trips to connect with teenagers in the "red zone," where bombing was the most intense. He founded the Peace in the Middle East Club at his school, and as a freshman, he organized a fundraiser to improve the quality of cardiac care for children in developing countries. Ryb came to the U.S. two years ago and became an officer in GHS's Israel Club. He has written various articles promoting understanding and tolerance, and tutors at a local synagogue in his spare time.
"We really have to take the tools that we've been given and kind of run with them and go with them and promote diversity and raise awareness," he said. "You can't just be a person in the crowd, you have to be a voice. These days it's really important."
Wadsworth-Hutton, a senior at Greenwich Academy, has organized many events and programs, especially for the Anti-Defamation League. She has planned the Martin Luther King Jr., assembly for the full student body and faculty at GA, which focused on advocacy and racism. She has facilitated civil rights trips to Georgia, Alabama and Tennessee during spring break as well.
"I think really what's been important to me is, starting out obviously as a woman of color, it's very important that I connect with issues that will affect me directly," she said. But she added that it's also important to get others involved. "It's important for us to educate everyone whether targeted or non-targeted."
Greenwich First Selectman, Peter Tesei, who was in attendance, believes the scholarships given out are paramount in trying to end racism and bigotry.
"I think the incorporation of scholarships for young people who have demonstrated a commitment to that mission of eliminating racism and bigotry is most powerful," he said. "It ensures that there are successive generations looking to follow those commitments."
Although the event lasted a little more than an hour, it's important that the dialogue extends beyond the Town Hall doors, according to Kiernan.
"We need to go forth from this kind of a gathering and multiply the conversations on this topic and continue to stand together and call out hate and hateful behavior whenever we see it," she said.