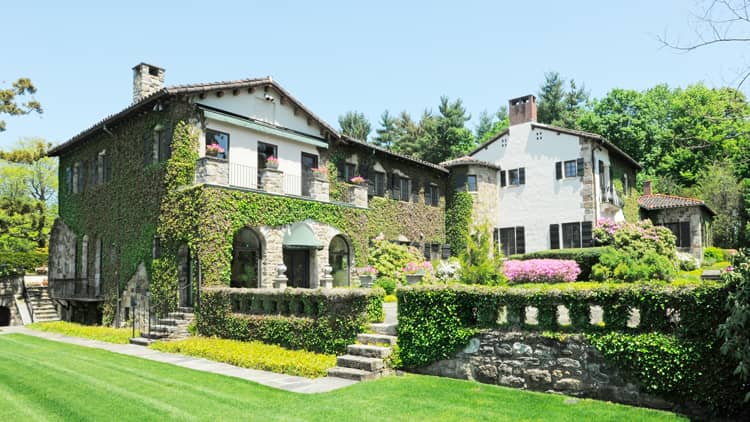 By Anne W. Semmes
Sentinel Columnist
The Greenwich Historical Society has taken on a new dynamic profile these days. Its campus is growing by leaps and bounds. And now, after 30 years of recognizing 300 plus homes and a few public buildings of "architectural significance," it's embracing three new categories of structures: barns, libraries, and yes, finally, contemporary houses! All to pay homage to the 30th birthday of the Society's Landmark Recognition Program.
"You really have to mark it with a special celebration," said Debra L. Mecky, the historical society's executive director, pointing to this Sunday's Landmark Recognition celebratory event to be held at the Belle Haven Club; the speaker is architect David Scott Parker, designer of the historical society's campus-in-the-making. The four new landmarks to be plaqued include the Brant Art Education Center, once Conyers Farm's cold storage barn, 1909; the Perrot Memorial Library, 1931; the 1923 Italian Renaissance styled Sunridge Farm on Riversville Road; and last and most modern, the 1959 contemporary Edwin H. Paul House on Taconic Road.
"It's the sort of home that you just keep walking around and about because you're amazed at how anyone could design and build a home on that terrain," said Mecky of the Paul house. "It's literally built into a rock ledge." On Sunday, Mecky said, attendees can learn firsthand from Edwin Paul "what he was thinking and how he approached this project."
Mecky has seen "a renewed interest and appreciation for midcentury homes," she said. "We see people coming specifically looking for those homes now. So, that's thrilling to us, and exciting when they're found."
Peter Brant's transformation of his 1909 barn into the Brant Art Education Center is being recognized as "an excellent example of repurposing a property into something that's important today," said Mecky. "And appropriately so, having wide open interior spaces with high ceilings, so well suited to show large scale art."
Back in its "hay" day as a cold storage barn, it was full to the brim with vegetables and produce, said Mecky, "which Mr. [Edmund C.] Converse then had shipped to New York City."
The beloved Perrot Memorial Library, perched since 1931 at the northern end of Binney Park, has a collaborative origin story. With its Colonial Revival façade and notable rotunda, it was named for an 18th century gentleman, John Perrot, who allegedly opened the first private school in Greenwich, which was located nearby.
Perrot's great-granddaughter, Ann de Camp Hegemen Porter, honored her ancestor by helping to establish the library with his name on its present site, aided by a summering New York architect, D. Everett Waid who bought the land, then designed and helped to build the present library—during a nationwide depression.
The fourth property, Sunridge Farm, was featured as one of Greenwich's Great Estates.  But it's had evolutions since its building year of 1923. Present owners Andrew and Judith Ban are credited with returning it to its former grandeur. "They bought it 25 years ago, and at that time it had been separated with its smaller house as the guest house parceled off," noted Mecky. "The Bans repurchased the guest house and combined it back with the main house. Now connected by a courtyard, it makes absolute sense that the two houses remain as one property."
Mecky commented on the owners' "fastidious care of this property." "They've done a lot of restoration although they did keep the original radiators because the first owner did own the American Standard Company which introduced indoor heating to America. And the radiators still work."
Added to those four new landmarked properties, which swell the number to 306, is a new
Preservation Action Award program that honors organizations or individuals who have "significantly contributed to the cause of preservation in the town throughout their activity."
The two to receive the first Action Awards include the Greenwich Land Trust for its restoration and adaptive use of the Mueller Preserve farmhouse—the trust's new headquarters, located at 370 Round Hill Road. The Greenwich Point Conservancy receives its Action Award for the restoration of the Greenwich Point Gateway Garden and Barn.
"When Hurricane Sandy came in 2012," said Mecky, "it pretty much destroyed the Old Barn building for any functional use. That's when the Greenwich Point Conservancy really stepped up to the plate and did this beautiful restoration, which includes the Sue H. Baker Pavilion, with a 4,000-square waterfront dining deck for the entire community."
But wait, there's something else new! This month of May First Selectman Peter Tesei is to proclaim the historical society's "Greenwich Preservation Month: This Place Matters!" campaign.
"We are inviting all residents—children, students, adults and seniors—to participate in this modern documentary project by taking a photograph of a cherished place or structure in their community and sharing their story, however brief or long, about why it would be important to preserve," announced Davidde Strackbein, who chairs the Greenwich Historical Society.
So, snap a photo of that Greenwich property that matters most to you and submit it with a sentence or paragraph about why it's special, to the Greenwich Historical Society by June 16 at admin@greenwichhistory.org, to be posted on a special webpage. Prizes will be awarded to the top five entries, judged by an independent panel of Greenwich residents with an interest in preservation.
This Sunday's reception at the Belle Haven Club, at 100 Harbor Drive, Greenwich, is from 4 to 6 p.m. Champagne, wine and hors d'oeuvres will be served. Tickets are $75 per person; $250 for Patron level; $500 for Benefactor level. Advance reservations are required. Reserve at: www.greenwichhistory.org or call 203-869-6899, ext. 10.