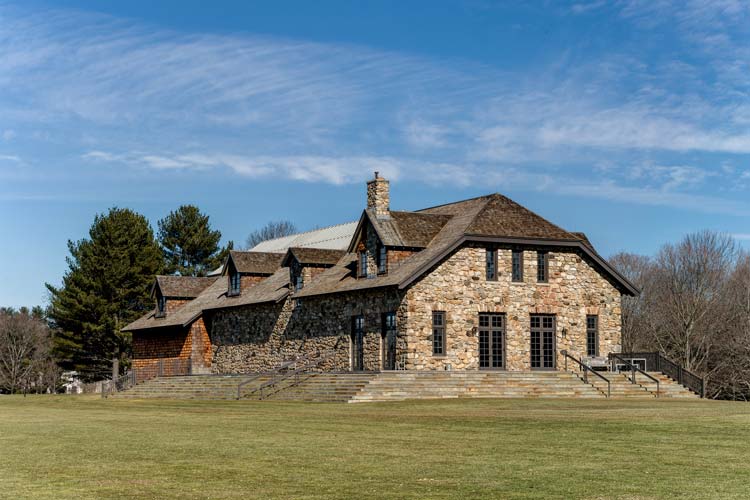 The Greenwich Historical Society's Landmark Recognition reception, which honors distinctive properties that reflect Greenwich's unique architectural heritage, announced it will plaque four properties at its May 7 celebration. The Perrot Memorial Library, Brant Art Education Center, and properties on Riversville and Stanwich roads will be presented with official Greenwich Landmark plaques for their value in preserving the town's architectural legacy.
David Scott Parker, one of America's foremost preservation architects, and the visionary behind the Greenwich Historical Society's plans for a dynamic, reimagined campus, will be the keynote speaker. In his talk titled: "Escaping the City in Style: The Architecture of 19th-Century Connecticut Innovators," Parker will share his experiences in reimagining the places inhabited and frequented by enormously accomplished individuals, such as railroad tycoon LeGrand Lockwood, Mark Twain, and artists of the Cos Cob art colony, and explore how these monuments to the past impact the Connecticut of today.
"This is an especially significant milestone for the Historical Society's ongoing efforts to encourage preservation and pride in ownership," says Robin Kencel, Landmark Program chairperson. "Since the program's inception 30 years ago, over 300 structures have secured their rightful place in Greenwich's history, including the magnificent Belle Haven Club overlooking the Long Island Sound where the reception will be held."
In recognition of the Landmark program's 30th anniversary, the Historical Society will honor two Greenwich organizations for their leadership in advancing the cause of historic preservation. Greenwich Land Trust will be recognized for the restoration and adaptive reuse of the Louise Mueller Preserve and Greenwich Point Conservancy for the completion of the restoration of the Gateway and Old Barn.
"We are thrilled to honor the extraordinary efforts of these two outstanding organizations whose work supports our mission to encourage participation in the preservation and interpretation of Greenwich's past," says Debra Mecky, executive director of the Greenwich Historical Society.
The May 7 reception at the Belle Haven Club, at 100 Harbor Dr., is from 4 to 6 p.m. Champagne, wine and hors d'oeuvres will be served. Tickets are $75 per person; $250 for Patron level; $500 for Benefactor level. Advance reservations are required. Reserve at: greenwichhistory.org or call 203-869-6899, ext. 10.