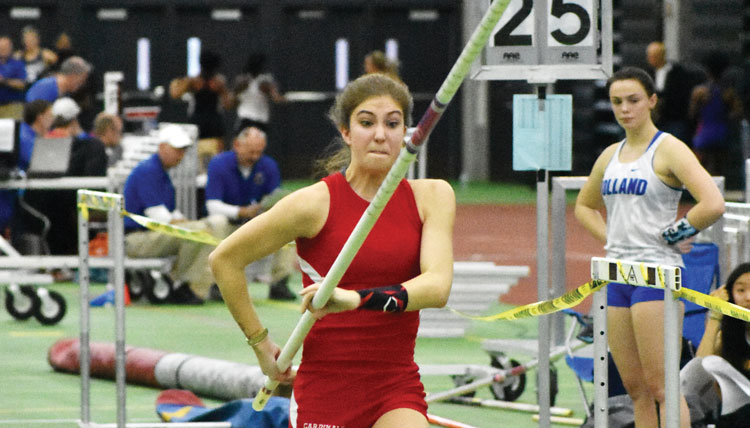 By Paul Silverfarb
Sentinel Editor
Lia Zavattaro makes pole vaulting look easy. The Greenwich High School junior takes to the runway, sprinting toward the box and effortlessly attempts to reach new heights.
She's so talented that she can pole vault with her eyes closed.
Actually, that's the only way Zavattaro can pole vault.
She has taken the pole vaulting community by storm, steadily improving her heights and has made a name for herself in only a few short years of competing in the sport. Not too shabby for a person that doesn't enjoy having her feet off the ground.
"I'm personally terrified of heights," Zavattaro said. "It's honestly really a terrifying experience for me, and I have to jump with my eyes closed, just because I don't want to know how high up I am while I am up in the air. Getting me on an airplane is bad enough, or going up a flight of stairs that doesn't have a railing. You have to have a lot of trust in the sport, as well as yourself, because this is 10 percent physical and 90 percent mental. If you think you can't do it, then you're not going to be able to do it."
Although heights aren't the most pleasant experience for Zavattaro, she's still doing a great job striking fear into her competition. Ever since her first varsity jump back on April 9, 2015, Zavattaro has fallen in love with the sport and has more than a few medals to show for it.
This past indoor season, only her second full indoor season of her pole vaulting career, the junior was lights out. She won the FCIAC Western Division title and tied the FCIAC championship record: her height of 11-06 was three feet better than the second-place jumper. Zavattaro also grabbed the gold in the CIAC class LL meet with a jump of 11-00.
"Lia's impact on the team is tremendous," Greenwich High School head coach Evan Dubin said. "Her success is a true reflection of the hard work and time she puts into making herself better. She vaults all year round, so it's not just training in season."
In addition to qualifying for the New Balance Indoor Track National Championship meet, she reached a new personal best and Greenwich High School record during the Eastern States Championship meet, jumping 12-00. That height placed her fifth on the East Coast.
"Honestly, I couldn't be prouder of how far I've come," Zavattaro said. "My goals for this season, I have achieved. I qualified for Nationals and I couldn't ask for more than that. I hope to continuously improve, but other than that I couldn't be happier with my performance."
Zavattaro made the switch from a 1,000-meter runner and started competing on the pole vault during the outdoor season freshman year.
Not only did the move keep her asthma at bay, but it also brought out a new passion for the sport.
In one season the GHS standout went from five feet to eight-feet, six inches in two months, without any additional training.
She competed in the FCIAC championship meet and took fifth place with a height of 8-06 and netted an eighth-place finish at the CIAC class LL outdoor championship with a height or 8-00.
From there it has been a steady one-foot increase every season.
In her sophomore year, she was FCIAC champion in both indoor and outdoor seasons. Zavattaro was third at the CIAC class LL meet during indoor season, but captured gold outdoors, posting a height of 10-06.
In addition, Zavattaro competed during the indoor season and the Alpha Owl Invitational and the USATF Junior Nationals.
At Junior Nationals she took home a second-place height of 10-00 that also broke the GHS indoor season record by a foot. She won the Alpha Owl event by setting a meet record with a jump of 9-00.
"I have definitely improved significantly and I am beyond ecstatic," Zavattaro said. "Although my height improved overall, in terms of technique and ability to handle certain roles, I have improved immensely. My beginning pole this season was a 12-foot, 120-pound pole, which is relatively light for someone who's just under that weight limit. The pole I use now was a 13-foot, 125-pound pole. The differences between the two poles are black and white."
To gear up for the meets Greenwich High School takes part in, as well as the postseason championships, Zavattaro travels twice a week nearly 90 minutes away to her practice facility in Warwick, N.Y., called The Hudson Valley Flying Circus, affectionately known as "The Barn." There are times where the pole vaulter doesn't get back to her house until 11 p.m.
"Her dedication to the event is what makes her so good," Dubin said. "Because there is nowhere to vault in Greenwich during the winter months, she travels to Warwick, N.Y., three times a week to train. Most FCIAC schools have indoor vaulting pits, but there are none in Greenwich. The event is so technical that it takes a great deal of specified training to get to the level that Lia is at."
While at The Barn, Zavattaro trains for 90 minutes, and that could be on anything like drills or apparatus. Most of the time, Zavattaro doesn't even go airborne.
"In addition to going to The Barn, I have to do a lot of weight training," Zavattaro said. "The first thing when you're jumping is to have a clear mind and be very optimistic about your results. Even today while I was jumping and missed my attempts, I was thinking to take a deep breath. Whatever happens, happens."
As soon as she started pole vaulting two outdoor seasons ago, Zavattaro knew what she was getting into something special.
She said that it's one of the most addicting things she's even been a part of.
"It's one of the best things I've ever done," Zavattaro said. "I'm drawn into pole vaulting. As soon as I start jumping, I know I am going to be off the ground and I know that I'm going to be in the air. And I know these poles could snap. There have been times where I have fallen off the pole just because I looked down. I looked like a koala on a pole. It's the best experience, knowing when you get over the bar, what you've accomplished. Especially when you know that at the end of the day there's something that you can achieve. It's an incredible feeling."
And there's not a lot of time for Zavattaro to rest, as the outdoor season kicks off shortly. For her junior season outdoors, she's hoping to hit the 12-06 mark.
"With my current height, I think that it could be a doable height for me, as long as I stay optimistic and improve the way that I have been," Zavattaro said.
At first Zavattaro didn't have an opinion on which season, indoor winter season or outdoor season, she enjoys more. However, without the worries of Mother Nature bothering her, Zavattaro said the choice is a lot easier now.
"At the end of the day, in indoor you can me more consistent because the weather is always the same and it's in a controlled environment," Zavattaro said. "There's no wind, no sunlight and you're just jumping in a facility. When you're exposed to the elements outdoors, you can get rain, sleet, cold or hot. It's just another obstacle you have to overcome."
While the records new heights are a thrill for Zavattaro, helping her team at Greenwich High School reach new heights is a top priority.
"Aside from my personal performance, I believe that we have a strong team and I couldn't have asked for a better team," Zavattaro said. "They all support me and I support them. It's a very equal balance. Just knowing that I am getting points, not only to benefit my record, but to benefit the team's standings in competition, is really rewarding. It really warms my heart knowing that I am helping the team like that."