March 22, 2017
Purim, a Celebration of Merriment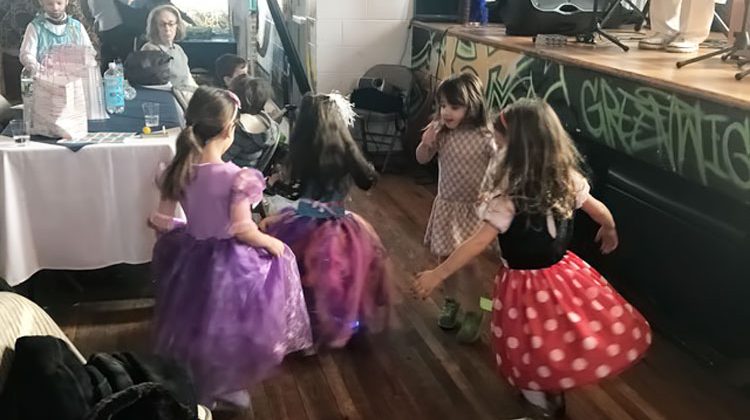 By Michelle Moskowitz
Sentinel Contributor
Last Sunday, a bright, crisp winter day before the snowfall, children of all ages, with their families and friends, gathered together to celebrate the annual Jewish holiday of Purim.
Purim commemorates the Biblical tale of the salvation of the Jewish people from Haman, who was plotting a genocide during the ancient Persian empire.
Chabad of Greenwich transformed the Arch Street Teen Center into a festive carnival hall as approximately 100 guests, many adorned in customary costume, participated in the joyous festivities, marking the special day by basking in pleasure and yet giving pleasure to those in need as well.
There are 4 traditional observances that occur during the holiday:
Recite public readings of the Megillah (also known as the Book of Esther).
Make a donation to the poor.
Celebrate and rejoice over a joyous feast.
Exchange gifts of food to family and/or friends.
After Rabbi Yossi Deren performed an interactive reading of the Megillah, guests got even livelier as they danced to the music of 'Pey Daled,' a popular Jewish band while noshing on Israeli delights such as hummus, falafel, tahini, chopped salads and chicken schnitzel.
"My family is truly enjoying this wonderful celebration here today, especially my 5-year old daughter, dancing to lively Purim songs with her friends," said Greenwich resident and participant, Dassi Yechiely.
Jam and chocolate-filled hamantaschen cookies, a traditional symbol of the holiday was passed out among children to enjoy for dessert along with double-scooped vanilla ice cream cones for extra sweetness.
The carnival also consisted of fun-filled themed activities for kids to enjoy such as Israeli sand art and beading, orange squeezing, mask decorating and mezuzah creations, which are symbolic doorposts placed on the outside of a Jewish home, designed to bless the house and all its dwellers.
"Purim marks a significant holiday because people are truly connecting to one another in our community," said Rabbi Menachem Feldman.  "It also reminds us that the roadmap to peace is forged by strong bonds with one another."
Tags:
Arch Street Teen Center
,
Chabad
,
Jewish holiday
,
Purim