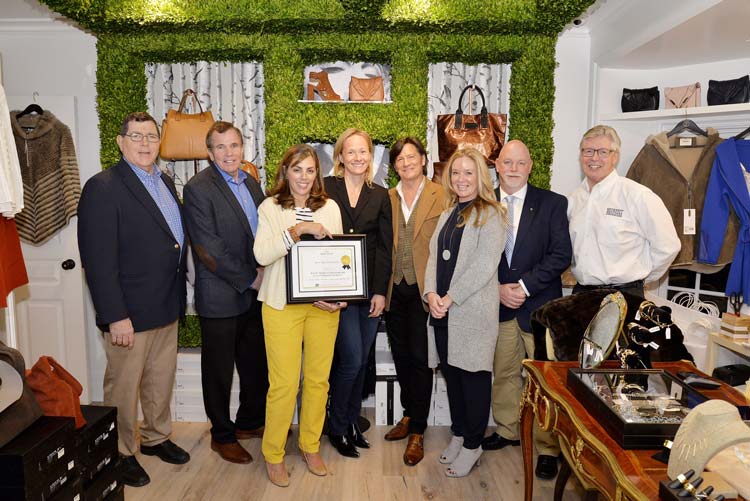 The Perfect Provenance celebrated its design team as well as its recent HOBI Award victory at a party for friends, family, and area industry professionals. General contractors, Murphy Brothers Contracting received the 2016 HOBI Award for "Best Adaptive Reuse" (commercial) from the Connecticut Home Builders and Remodelers Association. Located at 47 Arch St., the Perfect Provenance is a unique shopping destination with its art gallery + boutique + 47 Café combination.
"The clients presented us with the challenge of restoring the building and to create an art inspired luxury concept store and café," said architect Nancy Lovas of Lovas + Tomasetti Architects. The award-winning design team included interior designer, Frances Wilson and landscape designer, Ron Wendt. The building is a beautiful example of Queen Anne Victorian architecture. "We are proud to be recognized for the restoration of our building and celebrating the provenance of its heritage", said owner, Lisa Lori. "We hope that visitors will be able to enjoy it for many years to come."
The HOBI Awards are the most prestigious awards presented annually by the HBRA-CT, a Connecticut-based association of construction professionals recognizing excellence in design, construction, sales and marketing, and financing by members of the organization "Award-winning projects are always the result of teamwork." Said Chris Murphy, President of Murphy Brothers Contracting. "We were blessed to be a part of an outstanding team!" Murphy Brothers Contracting is a general contracting firm owned and operated by Greenwich residents, Chris and Sean Murphy.