February 21, 2017
Squash Recap: GA Wins at Nationals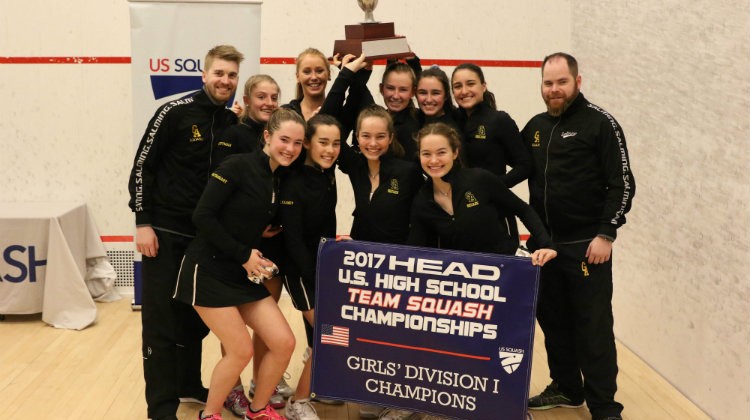 By Rob Adams
Sentinel Reporter
It was just another year for Greenwich Academy in squash, as the Gators picked up their 10th national title, knocking off The Baldwin School at Avon Old Farms on Sunday.
Sacred Heart Greenwich competed in the girls II division, advancing into the quarterfinals.
Coach Luke Butterworth watched his GA team go 4-0 in the championship tournament, cruising to a 6-1 title clincher in the 2017 HEAD U.S. High School Team Squash Championships.
Said to be the largest squash tournament in the world, with nearly 1,500 athletes, including 76 girls teams – the Gators secured their 10th Patterson Cup in twelve tries.
Butterworth told the website usasquash.com that this closed out a difficult season.
"We've had our ups and downs with injuries, a packed schedule, snow days and other factors," he said. "So coming into this tournament knowing we would have tough competition and to play the way that we did, makes me proud as a coach. We played some great squash, every girl should be proud of the way they played. To win the tenth title for GA, makes me a bit nostalgic.
"Thanks to everyone in the Greenwich community from past years who have dedicated the time and efforts to squash, our wonderful sport, and here we are today with a fresh bunch of GA girls carrying on the Greenwich communities pride in squash. It makes me proud to win the tenth title for the community."
GA raced out to an opening-round win Germantown Friends, with Emme Leonard, Binney Huffman, Emma MacTaggart, Claire Aube, Lucy Stephenson, Haley Aube, and Haley Scott each picking up victories. Sophomore India Stephenson stepped in and helped guide the Gators to a quarterfinal win.
Noble and Greenough were next in the sight of the Gators, and they cruised through a 7-0 win, placing them in the finals against Baldwin.
Lucy Stephenson, a sophomore, clinched the crown with a 3-0 win over Sara Syred. Playing at number six, Stephenson – twin sister of India – won her match 11-2, 14-12, 11-6.
Sacred Heart Greenwich opened with a 5-2 victory over New Haven. Katie Keller, Victoria Huchro, Erin O'Connor, Sophia Georgas, and Haley Davis all picked up wins for the Tigers. Keller, Huchro, and O'Connor grabbed quarterfinal wins before the Sacred Heart fellt to Agnes Irwin, 4-3.
Choate Rosemary Hall would ultimately take the D-II crown, with a 4-3 win over Pingry.
The Sentinel received further thoughts from Sacred Heart Greenwich coach Celia Pashley:
The varsity started their tournament by playing New Haven Varsity in the first round of Division II on Friday. We were 2-0 up after the first round of matches.

Erin O'Connor at #3 came back from 1-0 down to win the next 3 games (with 2 of those games being tiebreakers).

We were now 3-1 up. We just needed one more match to make to it to the quarter finals. Katie Keller gave us the win with a strong 3-0 victory at the #1 spot.

We still had one more match to go with the #4s. And even though she knew we already won, Sophia Brusco battled hard to come back from 2-0 down and win 3-2.

Sacred Heart beat New Haven 5-2.

It was my first goal to make it to the top 8 as last year we finished 14th of Division II. But I knew we could potentially go a little further as the division was quite open this year.

In the quarter final on Saturday, we played Agnes Irwin JV who beat the seed #1 Taft in the first round, so I knew it would be a big battle.

Katie Keller, at #1, won her match really quickly, controlling the T brilliantly and never gave a chance to her opponent. At this point, we were 3/1 up in matches. One more and we were in the semi finals.

Caroline Featherston lost a heartbreaker 3/2. It was a painful loss, for them and for me, but to see all the girls come to Caroline, hugging her and consoling her, I felt really proud to be there coach. It was a big loss as we were so close but the defeat brought them together and it was just nice to see.

After this tough loss, we played a really early morning match on Sunday (8am) against Hackley who we played already twice in the regular season. We won once, they won once, but we never played each other with our full team. It was going to be another hard one.

Haley Davis started it off perfectly for us with 3/0 win at #7. It was a great win for her as she lost to the same girls 13/11 in the fifth a few weeks ago.

We finish with a 16-4 record for the regular season matches and 7th at Nationals.
Tags:
Greenwich Academy
,
national tournament
,
Rob Adams
,
Sacred Heart Greenwich
,
Sports
,
squash