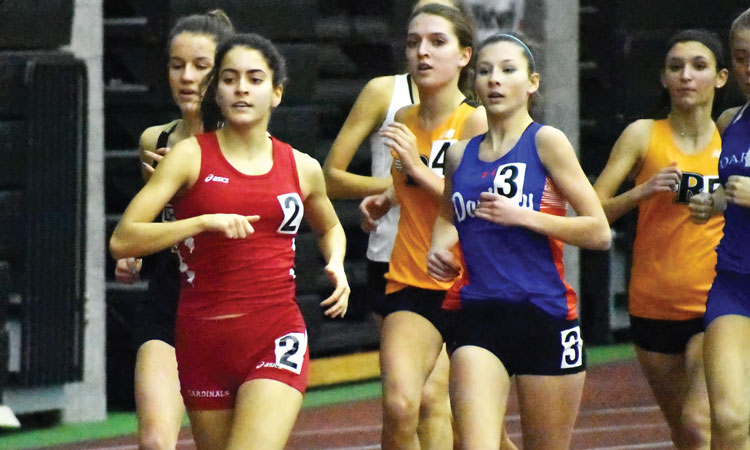 By Paul Silverfarb
Sentinel Editor
With a lot of standout times, heights and distances, the Greenwich High School boys' and girls' indoor track teams got some high marks during this year's Fairfield County Interscholastic Athletic Conference championships.
During the meet that took places on Feb. 1 at the New Haven Athletic Center, the Lady Cardinals grabbed 88 points and finished the event with the bronze.
"I think we discovered that we have a lot more depth than we thought we did," GHS junior Emily Philippides said. "We have some pretty good relays and we have people that were stepping up to try an event they've never done before so that we can get more team points. It shows that we have a lot of potential. We have people that place so high up really shows in the bigger meets. We have come a long way."
Leading the way was Danbury High School, as they won the FCIAC championship going away with 122 points. Not to be outdone was Ridgefield, which finished five points better than GHS and took second overall with 93 points.
"I am very pleased with the way our girls performed," GHS girls' team head coach Evan Dubin said. "I knew going into today we had a chance to be in the top three and that's where we finished. I have no complaints. The two teams that beat us are very good and well-coached. They have great talent. We did well."
Fairfield Ludlowe High School was a distant fourth on the night, taking home 30 points. Trumbull High School rounded out the top five, amassing 28 points overall.
On the boys' side, Big Red ended the FCIAC finals sixth overall with 37 points and were only five points away from New Canaan, whose Rams placed fifth with 42 points.
"It was a solid meet and there were a lot of solid performances," GHS boys' head coach Brian Robbins said. "Coming into it, I knew what we looked like on paper, but sometimes people come here and blow the doors off the hinges. Tyler Farris was seeded third in the 55-meter dash and ends up first. Safir Scott was expected to do well and be delivered."
Overall the meet belonged to Danbury, which cruised to an FCIAC crown and scored 130 points.
In second place was Staples, netting 71.50 points. A distant third was Trumbull, as the Eagles soared to the bronze with 48 points. Ridgefield grabbed fourth overall with 46.50 points.
"The guys side did well and the girls side did really well, so overall our coaches should be proud," GHS standout high jumper Safir Scott said. "It was a good meet today."
The girls' team for Greenwich was lights out during a plethora of events. Leading the way was Big Red junior Emily Philippides, as she struck gold in two events during the FCIAC finals.
"I felt really good out there," Philippides said. "I wanted to come out and win my events so I could score points for my team.
Competing in the 1,000-meter run, Philippides outpaced the competition and took home top honors with a time of 2:58.11. She was just under two seconds faster than Trumbull's Katelynn Romanchick, who took second with a time of 3:00.45.
Once again it was a battle between Philippides and Romanchick, this time in the 1,600-meter run. Despite the different race between the two athletes, it ended with the same results, as Greenwich netted the gold with a time of 5:13.56. Romanchick was second again, netting a time of 5:16.86.
"At this point, it's almost a given that Emily is going to have an amazing performance," Dubin said. "She won both her individual events and came back to anchor our 4×400-meter relay team to a meet record. That was great to see."
The field events saw several GHS individuals take the top of the podium. In the pole vault, GHS standout junior Lia Zavattaro crushed the competition, taking first overall with a height of 11-06. The next closest was Danbury's Dara Grozdinski, who took home second and a height of 8-06.
"Lia has been an incredible asset for us over the past two years," Dubin said. "The hard work that she's putting into her pole vault training is really showing now in competition. For her to do 11-06 for two weeks in a row is great. I am excited to see her keep going.
In the high jump, it was Greenwich's Olivia DiLascia who struck gold, as the GHS junior took home a height of 5-02, two inches better than both Trumbull's Erica Woolen and Fairfield Warde senior Jasmine Conduoh.
The Lady Cardinals tallied some key points in the relay events, as Greenwich took home two first place relays, a second place and a bronze performance.
The highlight was Big Red taking part in the 4×400-meter relay, as the team of juniors Maggie O'Gorman, Philippides and Genevieve DeWinter, along with sophomore Jordan Numme netted first place overall with a time of 4:06.02.
Not to be outdone was the 1,600-meter sprint medley relay team of juniors Katherine Gallagher, DeWinter, O'Gorman and sophomore Caeleigh Santini, as they took the top spot in the event and a time of 4:20.23.
The Greenwich 4×800-meter relay team enjoyed a silver medal, as DeWinter, senior Kristen Lodato, junior Hetty McMillan and freshman Zoe Harris finished with a time of 9:35.46.
Rounding out the relays was the 4×200-meter relay team, as the foursome of Gallagher, Numme, Santini and O'Gorman placed third overall with a time of 1:51.26.5.
In addition to the top performances, the GHS girls' team had other stellar finishes as well.
In the 300-meter run, Numme ended her day with a bronze medal, posting a time of 42.84 seconds. Also netting third place on the day was Harris, as she competed in the 600-meter run and took home a time of 1:39.73.
Keeping the good times rolling was McMillan, who competed in the 1,000-meter run and placed fifth overall, netting a time of 3:07.22. As one of the finalists in the 55-meter dash, Gallagher netted a time of 7.78 that was good enough for seventh overall on the day.
"I am hoping that the girls that are newer to the competition got a taste of what a team championship meet is feels like," Dubin said. "I am hoping that this will be a confidence boost for us. People that didn't even score a point for us still ran their fastest times ever. So the fact that we are peaking at the right time is great."
For the boys' team, GHS was paced by the stellar performances from Tyler Farris, Safir Scott and Issac Floyd.
Competing in the 55-meter dash, Farris was seeded second overall after preliminaries. However, someone must have forgotten to tell Farris he was second. During the finals of the 55-meter dash Farris dominated the competition and took home top honors with a time of 6.58 seconds. Shane Palmer of Ridgefield, one of the favorites heading into the finals, took home second with a time of 6.61.
"I think he thrives on those big meets, knowing that there are a lot of people watching FCIACs," Robbins said. "He's never seen these guys all year and has won almost every race he's been in. So when it comes down to pure racing, he wants to be the one that wins."
Farris also competed in the 300-meter dash and ended the day 10th overall with a time of 38.09.
"I am very proud of the way I ran in the 55-meter dash," Farris said. "The 300 was a little painful for me, but that's one of those races where you either have it or you don't. The team really kicked it into high gear and did really well today. I think that we definitely have improvements to make for states but I know that we are trying to prepare for a lot of PR's in the state meet. We have improved so much as a team since the beginning of the year."
Not to be outdone was Scott, as the senior clinched the FCIAC title with a height of 6-02 in the high jump. While that score was eight inches lower than his personal record, it was still more than enough to outlast the competition and claim gold.
"He has the luxury to jump an outstanding six feet, two inches and still be a little disappointed," Robbins said. "Most people would be happy with a 6-02 jump because they got a PR. Fortunately he was eight inches under his PR, which is wild. He will go back to the drawing board and think about his approach a little bit more."
Scott also picked up a top five finish in the long jump, as he took home fifth overall and a distance of 20-03. While Scott's performance in the long jump was strong, no one was better than Floyd. The GHS senior came away with the top honors in the event, posting a distance of 21-04.
"It felt good," Scott said. "I really didn't do too well in the high jump, but it felt good. I am just glad that I was good enough to be able to still win, but it's always nice to get a PR or do really well. I think I need to check my spikes a little bit better. It felt like I was slipping a little bit, but it's something that I can control for the next meet."
Joining Farris in the 300-meter dash was teammate Nicholas Steinthal, as the senior took home 12th on the day and a time of 38.45. Taking home a top 10 finish was junior Georgios Karakadas, who battled in the 1,000-meter run and took home a time of 2:43.24 that was good enough for eighth on the day.
Big Red had two top 15 finishers in the 600-meter run, as senior Matt Collins finished 12th overall with a time of 1:29.68 and teammate Bastian Dequeker, also a senior, netted 14th on the day with a time of 1:30.41.
Big Red's best relay was in the 4×200-meter relay. The team of Floyd, Farris, senior Anthony Ferraro and sophomore Lance Large took home fourth overall with a time of 1:36.47.
The Cardinals will be back in action later today, when both the boys' and girls' track teams return to the New Haven Athletic Center for competition in the Connecticut Interscholastic Athletic Conference class LL finals.
"The boys need to always be prepared to step in," Robbins said. "We had guys step in for the sprint medley relay that had no idea coming into today that they were going to be in the race. They ended up getting a PR and running the best race they've had all year. Now two of those guys are going to continue their season because they ran fast enough times. We need to constantly be prepared and to be on our toes."