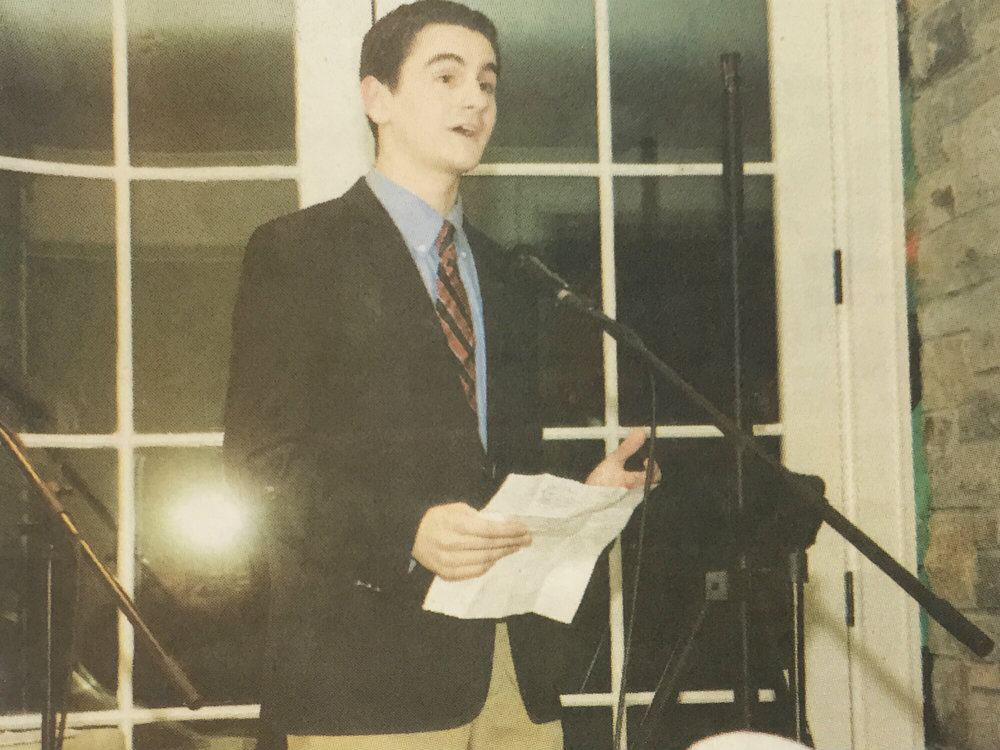 With Help From a Timely Fundraiser, Safe Rides is Saved
By Rob Adams, Sentinel Reporter
Friends of Safe Rides Greenwich assembled Saturday night in town with a single mission: to save Safe Rides.
The popular program provides free, confidential transportation to teenagers on weekends. However the program, sponsored by Transportation Association of Greenwich (TAG) and the Greenwich Safe Rides Board, was in danger of being suspended due to lack of funds.
Peter Negrea, a Greenwich High School graduate, helped organize a fundraiser at 49 Byfield Lane, that raised over $30,000 to keep Safe Rides alive for the balance of the current school year. GHS senior Julia Moch who is the current Safe Rides president, and Chad Silver, another GHS graduate, helped organize the fundraiser.
Negrea was a guest on WGCH Radio, and said that he received help from many key names in town.
"We spent the past three weeks organizing this fundraiser," Negrea said. "Mr. (Peter) Tesei, Mr. (Fred) Camillo, Scott Frantz, Beth Barhydt, Chief (Jim) Heavey – our guests of honor were so gracious, despite the snow, to really pull through and come to this event. We had around 70 guests and we hit our mark for 30,000."
Negrea spoke about Safe Rides' goal of getting teenagers home safely, with no questions asked.
"Our goal is to reduce teen drinking and driving," he said. "It's not just for teens who drink. For example, what if your ride had a couple of drinks when they said they wouldn't? Then you're held to blame and left with bad choices, because of friends' mistake."
Negrea became aware of Safe Rides when he was a part of the first selectman's youth commission a few years ago.
"We heard that the Red Cross was going to shut down the program," he said. "When you're left with a problem that big, these are your friends that you're going to protect. So when I saw the problem, I jumped to it.
Negrea was quick to point out that it wasn't just him, but a group of "great teens," as he said who came together to fix the program. Among those he mentioned were Tori Rojo and the current president, Julia Moch.
"She's really been a big help, especially carrying on, and carrying the torch," he said.
Negrea further said Chad Silver was indispensable to make Saturday's event a reality.
"Without him, the fundraiser wouldn't have been as great as it was," he said. "It's all about the team. These teens are the one who always pulled through."
There were several speakers at the fundraiser, including James Boutelle, Executive Director of the Transportation Association of Greenwich. Negrea said that Boutelle reinforced that Safe Rides isn't just about accepting donations.
"You actually have to put a little bit of time to understand the importance of it," Negrea said, paraphrasing Boutelle. "His words really rung a bell with me."
Negrea said he was exhausted by the end of the evening at 49 Byfield Lane, but also said the experience was worthwhile, given his many conversations with the first selectman, as well as the number of ways that he promoted the fundraiser.
"I was nervous, but I was also proud," he said. "Proud of the team."
Up next for Safe Rides is the possibility of stability. The program is hoping for $18,000 from the town budget committee. Negrea told WGCH that it was first selectman Peter Tesei who requested that TAG run Safe Rides. That $18,000 will cover half of the operating expenses for the program.
For now, the team can worry less about fundraising. Negrea has resumed classes back at Fordham University, where he is a freshman.
"I've got to say, I'm glad to be back," he said, laughing. "Nobody is asking me to raise money here."