January 25, 2017
Brunswick Defense on Display in Win over Hill School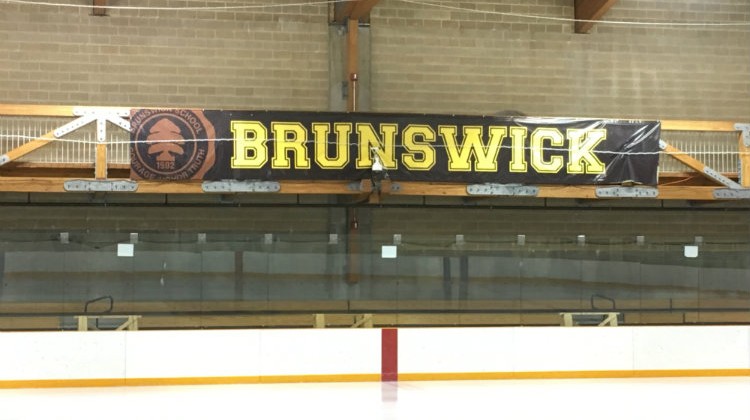 By Rob Adams
Sentinel Reporter and Broadcasting Manager
Exams were a constant at Brunswick this week. Sure, there were exams in the classroom, but what about the test that awaited the Bruins as they got back on ice for the first time in a week?
The Bruins hosted The Hill School at the Hartong Rink on Saturday. Brunswick established a defensive-minded tone with two first period goals to back 24 saves from Strauss Mann as they picked up a 4-1 win.
"The message was, we're starting the second half of our season," Bruins' head coach Ron Van Belle said. "It's all about that first period. The boys came through."
With Hill's leading scorer Brandon Picard in the penalty box, defenseman Cooper Moore found the back of the net for his third goal of the year to give Brunswick a 1-0 lead. The top line of Nick Van Belle and Chistian LeSueur assisted on the goal. The duo would have two points each on the day.
Fellow defenseman Grey Owens made it a 2-0 game near the end of the period, with assists Nick Boardman and defenseman Ryan Carmichael.
"All lines were firing," Carmichael said. "It was a really exhausting week but I was happy that we were able to put a nice effort together here."
"The defenseman played really well today," Van Belle said. "I can't think of any mistakes. We've been focusing on our team defense. We're going to keep building on that."
The Bruins' depth was evident in the effort of the defensive lines, including Owens, Moore, and Carmichael, as well as Tommy Napolitano and Patrick Burkinshaw.
"We've been really focusing on that in practice," said Carmichael. "Just honing down in the defensive end. They had two really good guys that we wanted key in on and keep them off the scoreboard. I think we did a nice job."
Another key to the win was staying out of trouble. Brunswick visited the penalty box jut once, while the Blues made four trips.
The Bruins (9-5-2) added an Aaron Aboodi in the second period, while Charles Shaffer scored in the third to cap the scoring. Tyler Paquette scored the lone goal for the Blues (11-6-1).
"Coming off exam week, you never know," said Van Belle. "I was hoping they would bring the energy and they did. It was one of the best three-period efforts that I've seen."
The schedule doesn't get any easier for Brunswick, though the Hill game was the first of three straight at home as Portledge and Loomis Chaffee will both come to Greenwich.
Van Belle noted a number of tough opponents that the Bruins will see, but ultimately, said the team has little room for error.
"We have 11 league games left," Van Belle said. "We can't make mistakes.
"It's a nice team. We're young. I don't see us blowing teams out, so we have to keep them off the scoreboard."
I think we ought to go on a run here," added Carmichael. "We're a few spots out of the playoffs right and if we rattle off some wins we can slide in there."
Additional reporting by Sentinel Editor Paul Silverfarb
Tags:
Bruins
,
Brunswick
,
hockey
,
Rob Adams
,
Ron Van Belle
,
Ryan Carmichael
,
Sports
,
The Hill School