January 7, 2017
Column: Looking back at 2016 — looking forward at 2017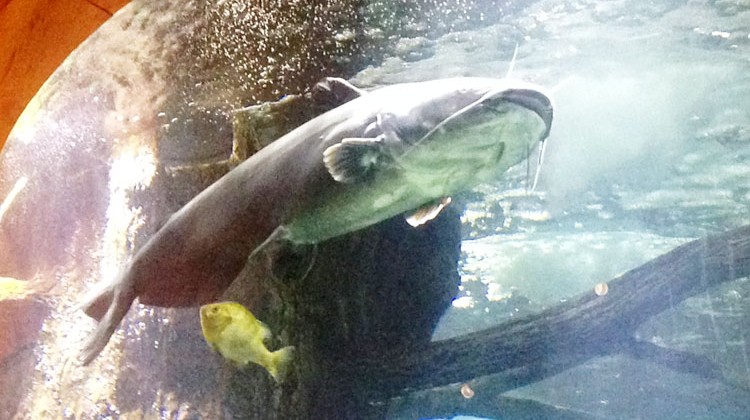 By Anne W. Semmes
Sentinel Columnist
If there is any portent that 2017 will be full of surprises it's that on New Year's Day I found myself in my birth town of Memphis, Tennessee sitting atop a 321-foot glass pyramid overlooking not the Nile but a foggy Mississippi River eating catfish while gazing at a giant catfish floating about in a tower of water, while celebrating the 90th birthday of a sister who's broken the glass ceiling of a family of short lived people.
The week prior I'd sat with hundreds of families in Greenwich High School's Performing Arts Center celebrating the return of Drew Williams, Trinity Church Senior Pastor, who spoke of his confinement the previous Christmas in his struggle with a seemingly hopeless health issue of pain. He shared a photo of his couch where he'd sat alone reading all of C.S. Lewis' works. But here he was a new man packing in 2,000 or more in two services.
We did have some significant losses in our town last year, such as the diplomat extraordinaire, Joseph Verner Reed, Jr. He was as at home in the U.N. as he was in the White House, but I'll never forget his glee of serving as our Ambassador to Morocco, based in Rabat. How I wished I had visited him en poste there, as I did to our former resident and Ambassador to France, Evan Galbraith.
We also lost Elie Wiesel – that profound witness of the Holocaust who lived weekends in our midst, who I met after a talk he gave at SUNY Purchase with the resulting column winning me an award from the Connecticut Press Club. I wonder if "Never Forget" is on his tombstone.
I also lost the chance to say goodbye to Tina Bishop – who published her first novel at age 90. She gives me hope with my unfinished novel. A half dozen of her novels are there on Amazon.
Learning of the extraordinary outreach of the very much alive Old Greenwich resident Lesley King was a highlight last year. My story on how her reading an inspiring book led to her worldwide contributions to the non-profit Partners in Health is due to be published in the Sentinel. But one aspect of the story I will reveal, my introduction to Ophelia Dahl, Roald Dahl's daughter, and co-founder of Partners in Health. It was pure joy to talk to Ophelia.
Perhaps that's why I was willing to pay those exorbitant prices to see her father's story, "Matilda," as the hit musical on Broadway. Sitting there with my 11-year old granddaughter I was overwhelmed by the magic and energy that might even have flabbergasted Roald Dahl.
Another performance, this time at the Bruce Museum, brought the wonderment once again of Luc Hardy's filmed expedition to Antarctica, "The Pursuit of Endurance – On the Shoulders of Shackleton." The showing brought the Museum's highest attendance for such an event -over 150 – said host Science Curator Dr. Daniel Kspeka to a crowd sprinkled with curious children. (See the evening on YouTube at www.youtube.com/watch?v=9jZslfppw-o.)
Luc is inspiring our youth and giving his busy time to educate young people about the effects of climate change all over the world as he has visited both the North and the South Poles. In June of 2017, he will explore the coral reefs near Cuba with a group of scientists from the Scripps Institution of Oceanography.
Also on Luc's agenda is an expedition to the islands north of Russia to study the melting permafrost there and perhaps uncover some mammoth tusks and remains revealed by the melting ice.
Another Greenwich resident taking on a formidable challenge in 2017 is our Congressman Jim Himes (D-Conn) who has introduced legislation – "Reclamation of War Powers Act" – to force our presidents to go to Congress for authorized use of military force.
This argument over returning the power to wage war back to Congress has been out there since the days of President Eisenhower so shared his speechwriter with me – the late Bill Ewald of Greenwich. There have been wars a plenty since Congress authorized President Franklin D. Roosevelt to declare war against Japan but none authorized by Congress. It will be a major milestone to bring about a bipartisan vote in favor from a Republican controlled Congress.
Compared with these ambitious plans, this writer has perhaps more modest objectives for 2017, but they are not without challenge, to finish a novel and start another book project. Then there's the need to address the wanderlust. An intriguing invite has come to travel down under, to visit my younger step brother, Michael Snowden, the "gentleman astronomer" so described by his late friend Arthur C. Clarke, science fiction writer ("2001"), futurist and inventor.
For decades, Michael has lived in Christ Church, New Zealand, and now with a new vacation bungalow in Cairns, Australia, he promises exotic birds. But to get there this reporter will need a lifetime of frequent flyer miles!
Tags:
Anne W. Semmes
,
column
,
greenwich
,
Looking Back
,
Memphis
,
Memphis Tennessee
,
new year's eve
,
On My Watch
,
Tennessee