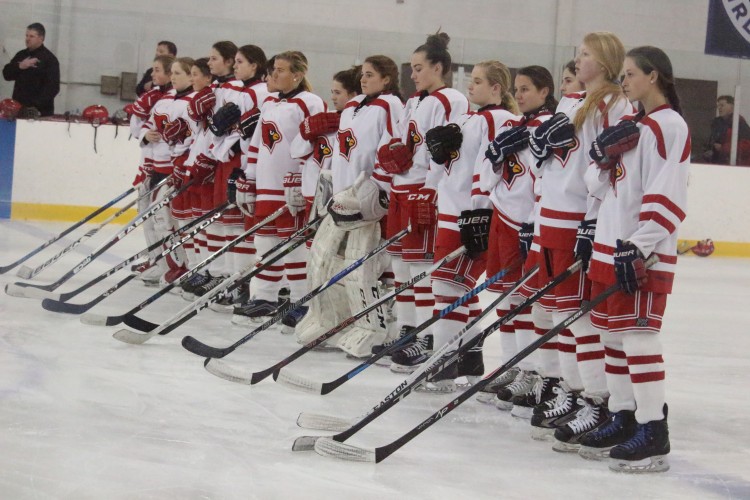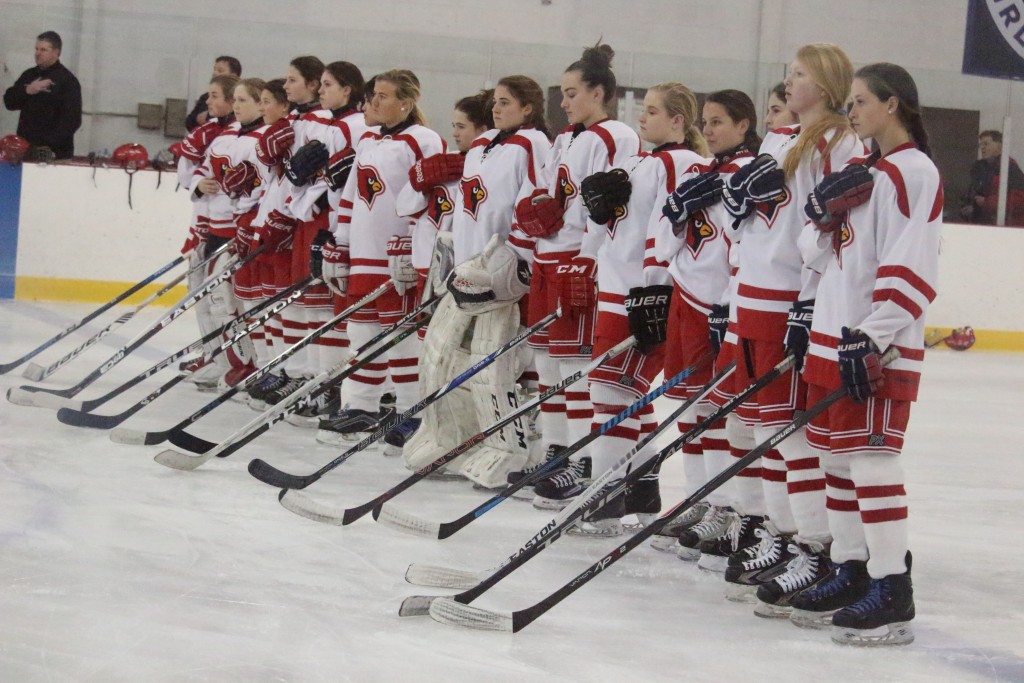 The Greenwich High girls ice hockey team held off FCIAC foe Darien High by a score of 3-1 in a game that was described by head coach Alex Lerchen as the Cardinal's biggest win so far this year.
Dorothy Hamill Ice Rink played host on Tuesday to the Cards' third win on the season in what is now 3-1-2 overall record for GHS.
After absorbing some of the game's first shots on goal from the Blue Wave offense, but not surrendering any goals, the Cardinals went on a power play of their own with two minutes left in the first period. An exchange from Emily Bello to Jennifer Kelly put Greenwich on the board first.
"We knew it was critical to come out and get the first goal," said Kelly. "I've never had this feeling before of beating Darien. You always have to capitalize when you're down a man. I took a penalty early. A couple of other girls did. I took the shot and it might have got her glove."
But much like the season has gone for the Cardinals this year, coach Lerchen stressed the importance of getting composed after striking first.
"After you get that first goal, you can't just sit back on your heels," said Lerchen. "You gotta keep working. It was a nice start for sure."
Hayley Duffy made it 2-0 Greenwich in the third period, but the Blue Wave would retaliate with their own power play goal just two minutes later.
Goalie Jessica Ware made a handful of key saves in the latter half of the third period.
"The Darien attack was just relentless," said Lerchen. "Jess [Ware] is a solid goalie and she stayed composed the whole way. She did great today."
Paige Finneran would convert on a empty-netter to put Greenwich up 3-1 in the final minute of the game.
"It's a huge win," said Kelly. "We worked so hard over holiday break. I think we wholeheartedly deserved this win. Darien is a fantastic team and they always rebuild. Their attack was constant."
Lerchen added, "The girls get pumped up. The rivalries in the FCIAC mean everything to us. We had some alumni come back today, so it was a big day for us. It's a long season with two solid months ahead. We're not going to sit back on this win and we're going to keep working hard everyday."
The Cardinals now sit atop the FCIAC with a 3-0 conference record, and will next play Wilton-Norwalk-McMahon on Friday at home. The Cardinals will then visit New Canaan, who are currently at 2-0 in FCIAC play, on Wednesday, January 11 at the Darien Ice Rink.