December 9, 2016
Brunswick Ice Hockey Ready for Another Run at Playoffs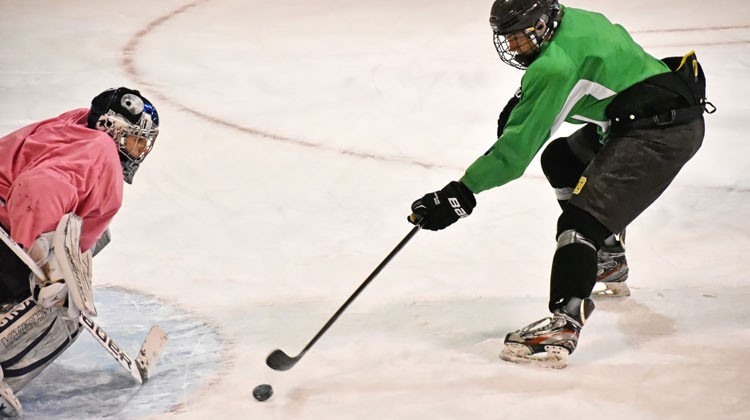 By Paul Silverfarb
Sentinel Editor
The Brunswick School ice hockey team reached another goal by becoming one of the top eight teams in their highly competitive conference.
While they couldn't be happier to reach that mark, head coach Ron VanBelle and the rest of the Bruins are determined not to make last year a one-hit wonder.
"Playing in the Elite Eight was huge because we now know it's a reachable goal," Brunswick senior goalie Strauss Mann said. "It's our goal this year to get back there, and we are really looking to reach that goal and win a couple of games once we get there."
In 12 years since assistant coach Mike Kennedy and VanBelle first took over the program, Brunswick made the switch to Division I hockey, has competed with some of the best teams around, sent athletes to the finest Division I colleges and universities for hockey, and has upended perennial powerhouses.
Another season brought with it another milestone. Last year, for the first time in program history, the Bruins qualified for the New England Elite Eight, a prep school tournament where the top eight hockey programs in New England compete.
"Last year's team, we couldn't have even put them on the ice with our first-year team, so it's been really rewarding and we are pretty proud of how far the program has come along," VanBelle said. "To have the best season ever, with the success we had last year, was a great thing."
While their first game in the tournament didn't go according to plan against top-seeded Avon Old Farms, VanBelle knows that just being there will go a long way for the school.
"To be able to make that Elite Eight bid has given the program credibility outside of the Brunswick community," VanBelle said. "We already noticed it just with all the people have been inquiring about the program. More people are interested in the program and more are paying attention and that is because of the results."
And the results for this year's team are still expected to be as high as ever. Despite graduating nine talented seniors last season, VanBelle knows there's still a wealth of talent on the roster.
"We graduated a lot of really great guys, but we also have a lot of guys back," VanBelle said. "We have a lot of younger guys and new faces on the team, but we have a lot of returners that gained experience last year from making the Elite Eight and that playoff game."
This year 'Wick will be led by senior co-captains Christian LeSueur and Nick VanBelle. With a younger team than the Bruins have had in the last, the head coach will count on Nick VanBelle and LeSueur for leadership and their experience playing in big games.
"Christian and Nick are going to be relied upon offensively," the head coach said. "We split them up to try and spread some of the goal scoring out between the top two lines. Last year they played together all season, so we are looking at them to take on more of a load than they have had in the past."
"It's fun to be a captain here, and it's also a challenge," LeSueur said. "It definitely brings a lot of responsibility and it's a role that I take very seriously. I think we need to continue to be strong and sound defensively. That's always been the best part of our game. We need more secondary scoring. At times last year we lacked depth in the scoring department. If we can have those two things being better than they were last year, that will be great for us."
"It's been fun having him on the team," Ron VanBelle said. "He's had a lot of success here and he's going to Williams next year, where I played, so he's achieved his short-term goals. I am hoping he can play his final season here relaxed because he knows his plans next year and knows the team. My wife and I are very proud of the progress he's made and the commitment he's shown, both in the classroom and on the rink. It's fun to see him get that offer from Williams and hopefully have some success at the next level."
When it comes to the top two lines offensively, joining Nick VanBelle and LeSueur will be sophomore Charles Shaffer, junior Nick Boardman, junior Brendan Gregoire and newcomer to the program Jack Forrest, a junior from Ridgefield.
"Both Brendan and Boardman didn't play as many minutes last year, but are going to be looked upon for significant minutes this year," Ron VanBelle said. "Both took the offseason very seriously and came back as much-improved players. Jack has fit in nicely and looks like he will make an impact. We are also going to expect a lot of offensive production from Charles."
One of the biggest strengths this season for the Bruins will be its defense, as Brunswick brings back a lot of familiar faces from last year's squad.
Leading the way will be seniors Tommy Napolitano and Grey Owens and juniors Patrick Burkinshaw and Ryan Carmichael.
"Defensively we will be bringing back four good, experienced guys," Ron VanBelle said. "We are old on the blue line. We're a young team, but on that blue line we are pretty mature. It helps us because when you have a young group of forwards and a question mark for where the secondary scoring is going to come from, we might have to win those low-scoring games. So having four returning veterans at defense is a good feeling. We shouldn't be giving up too many goals this year."
Helping the defense out this year will be senior goalie Mann. Last year, Mann played in a few games as a backup, but this year he's the top goalie on the Bruins and knows the responsibility that comes along with that.
"It's an honor to be playing for Brunswick School," Mann said. "I've been here since sixth grade and we play a really high-quality game. We're about academics in the classroom, and once we get on the ice it's all about competing and hard work."
Heading into this season, Ron VanBelle said that Strauss has put on more muscle and has looked strong.
"It's his team this year," Ron VanBelle said. "He's been patient, as he was a backup last year and had a great fall this year with a split season team. He's having a great early season for us right now and is looking great. He's going to do his job, which is give us a chance to win."
While the top two lines for the Bruins will basically be interchangeable, the head coach said that there are more people on the third and fourth lines that he's looking to contribute. Junior Wilson Stephenson is a returner from last year's varsity squad, and varsity newcomers Tim Carter, a junior, as well as Aaron Aboodi, Tom Richter and Andy McBurney, all sophomores, are going to logging key minutes.
"We have 12 forwards and everybody at this level plays," Ron VanBelle said. "You have to play your third line and fourth line in most games, because it's a 54-minute game. It's only six minutes shy of a pro game, so you can't go there with two lines. If we stay healthy, I think we have two very good lines, four very good defensemen and then our third and fourth lines are mostly new guys and our fifth and sixth defenders are new guys to the team. But they are still very talented. It's going to be a question of how soon we can give that responsibility to those younger kids."
The one thing that hasn't changed this year is Brunswick's commitment to playing top-level programs. Millbrook, Salisbury, Lawrenceville, Loomis, Hill, Delbarton, Albany Academy and others are on the schedule.
"You can't take any days off," Ron VanBelle said. "That's why our work ethic is so important. To see the guys work hard is great. I am trying to create this environment where every game, every shift, every period matters. The older guys get that because they've been around long enough, but it's hard for the younger guys to get that. You're going to make your mistakes. That's a part of the game. But you shouldn't get outworked and beat yourselves."
"We just need to play as a unit," Mann added. "We have the ability to run four lines because we have a lot of great forwards and solid defenders. We are ready for our schedule and ready to succeed."
Tags:
Brunswick Hockey
,
Brunswick School
,
cthk
,
cthshockey
,
Division I
,
Elite Eight
,
greenwich
,
NEPSAC
,
Ron VanBelle
,
Wick Puck