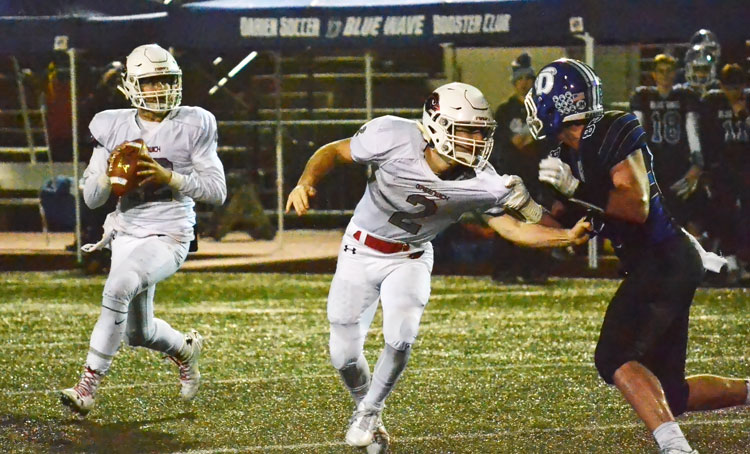 As the downpour before Tuesday's state playoff matchup came to a slow and steady drizzle, Darien — the defending class LL champion — came out with an offensive and defensive storm of their own, upending Greenwich 29-3 in the CIAC LL quarterfinals.
The Cardinals finished their season 7-4, just a year removed from a 4-5 season under head coach John Marinelli. Greenwich returned to the state playoffs for the first time since 2012.
"These are great kids," said Marinelli after the game. "I love them. We never gave up. We kept fighting. We're building character moreso than wins and losses. I hope the seniors, looking back on their career, see that they were the bar. We're going to be pretty good for years to come."
The Cardinal offense had no answer for the Blue Wave defense in the first half of play, accumulating only two first downs in the half. A Zach Moore 20-yard field goal in the second quarter was all Greenwich had to show in the quarterfinal matchup with a stout Darien defensive line giving up minimal yards on the ground.
"Field position in the first half killed us," said Marinelli. "Everything that went our way seemed to be negated by a penalty. It's our own mistakes. They took advantage of it and that's why they are the No. 1 team in the state."
After stopping Darien on a fake field goal attempt on their second drive of the game, Greenwich would continue their punting streak to the Blue Wave. On their ensuing drive, the Cardinal defense would be penalized with a 12-men on the field flag on a crucial fourth down that ultimately gave the first down to Darien. One play later, Finlay Collins would take a 12-yard run to the end zone to put Darien on the board first.
"In our first matchup, our special teams played poorly," said Darien head coach Rob Trifone, referring to the previous 42-35 win over Greenwich earlier in the season. "We were giving our older players a rest before, but you can't do that against a team like Greenwich. It hurt us a lot. Our defense has gotten better and better as the season went on."
Greenwich's first drive of the second quarter resulted in a Nick Green interception, setting up a Max Grant 23-yard touchdown reception for the 11-0 Blue Wave.
The Cardinals would open up their ensuing drive with an impressive 39-yard pass from Gavin Muir to Anthony Ferraro, followed by what seemed to be Greenwich's first touchdown of the day. A 3-yard Kevin Iobbi run would be negated by penalty, and Greenwich would elect to put points on the board before the half.
With 1:19 left in the first half, Darien wasted no time going 75 yards, with a pass going to Max Grant for 38 yards, followed by a touchdown pass to Nick Green on a one-handed pull in for the score. Darien held a 20-3 lead going into the half.
On Darien's first drive out of the half, a Greenwich interception from Bailey Ballone was negated by a pass interference call and the Blue Wave would again take advantage of the costly mistakes as Finlay Collins marched in the end zone from five yards out for his second score.
The defending LL champs would wind down the third and fourth quarter with a 17-play drive — resulting in zero points — but perhaps more effectively putting the game out of Greenwich's reach with limited time left.
Greenwich senior quarterback Connor Langan exited the game with a right ankle injury just before halftime and did not return. Gavin Muir would complete passes to Matt Morganti, Tyler Farris and Henry Saleeby on offense.
"We came so far and a lot of people outside the locker room didn't think we could do it," said Langan. "We knew we could. It shows how amazing the coaching staff is and how well we came together. I couldn't be more proud of every single person here."
The Blue Wave would tack on a 26-yard field goal in the fourth quarter. They will advance to play Southington in the LL semifinals.
"Give credit to Greenwich…they are an extremely athletic football team," said Trifone after the 29-3 victory. "They mixed up some blitzes early on, but our offensive line showed up, too. I don't think they get enough credit. We have the big guy, Andrew Steuber, going to Michigan, but next to him you have Cord Fox and Brian Keating. On the other side you have Mike Neary and Charlie Zuro. They are five of the best offensive linemen I've ever had."
Marinelli praised the work of his seniors after the game, noting their resiliancy and committment to the program.
"They showed their relentless effort and great fortitude," said Marinelli. "They brought that family atmosphere. They embraced the underclassmen. That legacy is going to live on at Greenwich football, where you're fighting for your brothers every single day."
Greenwich's Kevin Iobbi, Chase Piro, Ben Kraninger and Paul Williams made the first-team All-FCIAC while Blake Guerreri, Tyler Farris, Sam Colandro and Connor Langan made the all-conference second team.