November 19, 2016
Greenwich Swim, Dive Takes Home Top Honors at CIAC Opens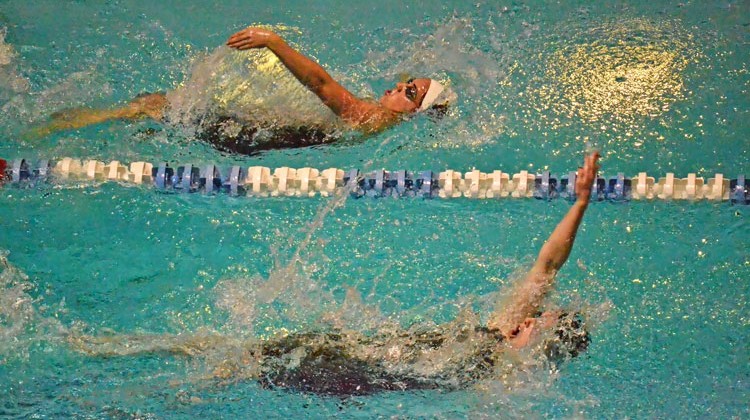 By Paul Silverfarb
Sentinel Editor
In commanding fashion, the Greenwich High School girls' swimming and diving team traveled to Yale University and came away with the Connecticut Interscholastic Athletic Conference state open championship.
The Lady Cardinals completed its quest for back-to-back state open championships with a top score of 510.5 points.
"We train hard to be best at the end of the season and the girls kept on improving from trials to LL finals and to today," Greenwich High School head coach Lorrie Hokayem said. "We moved up places today in different events and we swam so tough and with a lot of heart today. I couldn't be more proud of this team."
In fact, Big Red was the lone team in the state that finished with over 500 points. Ridgefield High School placed second overall with 400.5 points. Keeping up with a dominating Fairfield County performance was Weston High School, taking home the bronze with a score of 376.
"This is just awesome," junior Julia Merrill said. "Last year we also felt good because it was our first time winning Opens in a while, but getting it again is just so rewarding after working so hard and having a bunch of challenges throughout the season."
In fourth place was Darien High School with 361 points. Rounding out the top five was Cheshire High School with 331 points. In total, four other FCIAC teams (Staples, Fairfield Ludlowe, New Canaan, Wilton) finished in the top 10.
"This is really amazing," junior diver Kate Russack said. "We had a lot more pressure on us this year since we were trying to defend our championship. But I think we all did an amazing job."
Even before the state open swimming championships took place, Big Red had a meet to remember during the state open diving championships.
Leading the way was Greenwich's Russack, as she skated her claim as the best diver in the state by taking the gold with 468.30 points.
"I thought it was amazing that we all got top six," Russack said. "That's a great achievement for our divers and for our program. I was super nervous, but I think I did pretty well for myself. It was so fun knowing that we contributed that much to the team's success. I thought it was amazing that we earned about 100 points for our team.
Not to be outdone was sophomore Annabelle Pollack, who took second place overall with 463.90 points. Greenwich High kept the good times rolling with freshman Saylor Kirsch, as she took third place with 449.40 points. In fact, the Lady Cardinals also got a top 10 performance from sophomore Madeline Muldoon, as she took home sixth place overall with 441.00.
"Having four divers in the top six was amazing," Hokayem said. "They have been fantastic for us all season. They are a strong group and work hard together. They are supportive of each other and they gave us a lot of confidence. It was like a sigh of relief going into today and I think that it contributed to how we swam today. The girls were relaxed and were having fun. We were ready to go."
In total, the Greenwich High divers gave the swimmers a cushion to start the swimming finals, tallying 106 points.
"The big lead was very nice from our divers, but we all definitely came together as a team and showed what we worked for this whole season," junior swimmer Kelly Montesi said. "We really deserved it and it's just great."
When it came to the swimmers on Saturday, no one was better for Greenwich than Montesi.
"It's very nice to see the team do this," Montesi said. "We redeemed ourselves. FCIACs is never a very good meet for us, but we turned it around, came here and beat everybody. It's just amazing. There's no one person that helps our team out. It's a team effort for sure."
In the 100-yard butterfly, Montesi was lights out, finishing first overall with a time of 55.65 seconds. The next closest was Cheshire's Elizabeth Boyer, who touched the wall with a time of 56.38.
She backed up her top time in the 100-yard butterfly with a strong showing in the 200-yard individual medley. Her time of 2:03.10 was good enough for second place overall and missed out on first place by just under a second.
"She is just a great athlete and is so strong mentally," Hokayem said. "In a meet like today, where you might be a little more tired, she goes out and swims tough. And she also swam with a lot of heart. She had a great meet today."
A pair of juniors also gave the Lady Cardinals some valuable points. In the 50-yard freestyle, Ainsleigh Winget took home a time of 24.30 and that was good enough for sixth place on the day. Right behind Winget was Merrill, who came on strong and finished seventh overall with a time of 24.35.
Merrill really came through for Greenwich in the 100-yard freestyle event, where she ended the day fourth overall with a time of 52.28. Winget also fared well in a second individual event. Her time of 59.32 in the 100-yard backstroke placed her 12th overall and was just behind Daniel Hand's Kayla Mendonca, who touched the wall with a time of 59.19.
"I felt very good out there today," Merrill said. "At LL finals I felt a little better, but now with the team and wanting to have the Open championship back with us, it was really a big push for me."
Keeping the momentum with Greenwich was sophomore Emily Warner. Competing in the 200-yard freestyle, Warner fought off some tough competition and ended the day seventh overall with a time of 1:54.39. Warner also competed in the 100-yard freestyle and took home 11th overall and a time of 53.37 and just beat out Hand's Allie Mascia, who took home a time of 53.49.
Lillian Clisham also wasn't to be denied at the state open finals. In the 200-yard freestyle, the junior's time of 1:56.41 placed her 13th on the day and she just missed out on 12th, as Laurelton Hall's Katherine Begg took a time of 1:56.37.
Competing in the longest event of the day, the 500-yard freestyle, Clisham had a top 20 performance, taking 15th overall and a time of 5:13.28.
Big Red also had top five finishes in all three relay events. In the final relay of the day, the 400-yard freestyle, the foursome of Merrill, sophomore Kortney Knudsen, Warner and Montesi took home a time of 3:28.06 and that was good enough for the silver.
In the 200-yard freestyle relay, Greenwich's Knudsen, Warner, Merrill and junior Louisa Bjerke finished third overall with a time of 1:38.91.
To start the state open finals, GHS competed in the 200-yard medley relay and the team of senior Emma Himes, junior Taylor Schinto, Montesi and Winget took fourth place with a time of 1:48.82.
While Big Red had some standout times, a plethora of other athletes also fared quite well.
Junior Kate Ennis ended the day 16th in the 200-yard individual medley, posting a time of 2:12.24. Fellow junior Schinto also took home a 16th place finish in the 100-yard backstroke, netting a time of 59.91.
In addition to her performance in the freestyle relay, Bjerke competed in the 50-yard freestyle and grabbed a time of 25.11 that was good enough for 20th. Freshman Christine Flood also grabbed key points, posting a time of 1:58.38 in the 200-yard freestyle that placed her 22nd on the day.
Also finishing 20th was Knudsen in the 200-yard freestyle, posting a time of 1:57.48. Knudsen fared one better in the 500-yard freestyle. Her time of 5:14.80 placed her 19th on the day.
Taking the top honors at the state open capped off what turned out to be a rewarding season for the Lady Cardinals. After faring well in the dual meet regular season, falling only once, Big Red took to the pool for competition at FCIAC and finished a disappointing fourth overall.
"We are really good about trying to stay focused on our goals for the season," Hokayem said. "FCIACs we were actually happy with our performance and thought we swam with times that were where I thought we were supposed to be. You can see that we were ready to swim fast and do what we needed to do to take care of business today. They did a great job and are phenomenal athletes. They are fun to coach."
However, the Lady Cardinals wouldn't back down. After a solid performance at class LL trials, Big Red easily came home with the class LL championship for the sixth straight season, netting an impressive 854 points and beating Ridgefield, the next closest team, by just under 300 points.
"This team improved so much over the year," Merrill said. "We had some ups and downs throughout the season, but by the end of the year we improved so much. We stayed together and were focused on what we wanted to do."
Tags:
class LL
,
ctdive
,
ctswim
,
FCIAC
,
greenwich
,
Greenwich Diving
,
Greenwich Swimming
,
Greenwich Swimming and Diving
,
Lorrie Hokayem
,
State Opens
,
Yale University