November 19, 2016
Cheshire Academy Defeats Brunswick 45-20 in NEPSAC Bowl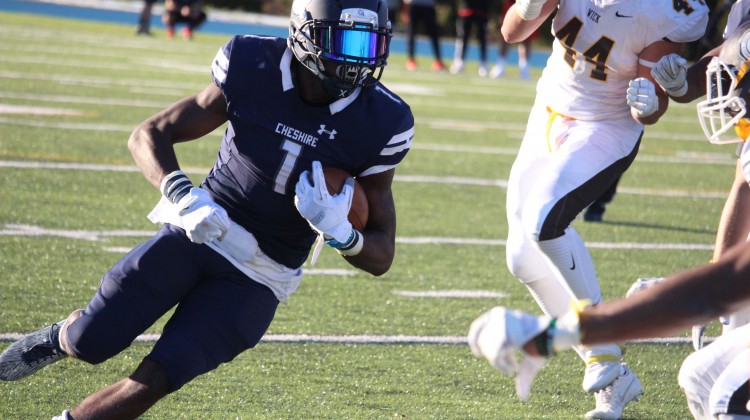 Cheshire Academy upended Brunswick 45-20 in the NEPSAC Wayne Sanborn Bowl on Saturday behind a core group of senior class talent and a defense that rattled the Bruins for most of the day.
"This feels unbelievable," said Cheshire Academy head coach David Dykeman. "I'm so proud of our kids and their effort. We started the season not how we wanted to, but to win eight straight, I just have so much respect for the young men in our program."
After losing their first two games of the season, the 8-2 Cheshire Academy team showed resilience in the physical and hard fought win over the Bruins. Brunswick finished their campaign with a record of 7-3. 
"I haven't slept in a week," Dykeman admitted. "For them to go out this way, I'm so proud of them."
Brunswick would fall behind early after Coby Tippett made his presence felt with his first of three touchdowns on the day. Tippett, former NFL player Andre Tippett's son, would take a screen pass for an eight-yard score to get things started for Cheshire Academy.
A Brandon Sebastian interception set up Cheshire Academy with a field goal try that split the uprights midway through the second quarter with a 10-point lead in tact for the Cats. 
C.J. Holmes would put an end to Brunswick's next drive with an interception of Nick Henkel on an athletic play. The Notre Dame recruit would have a full day of playing in the secondary, as well as taking handoffs occasionally.
With Cheshire Academy backed up inside their own 10, the Brunswick defense got into the action with a strip-sack fumble recovery in the endzone to put the Bruins on the board with three minutes left in the half. Lachlan Rosato held the ball high in the end zone as it was the defense who recorded the first points of the day for Brunswick.
"We knew we couldn't make any mistakes," said Brunswick head coach Jarrett Shine. "Our defense kept us alive for a little bit. We just couldn't get into a rhythm offensively, which is not usually like us."
The Cats would strike back after three plays of their own, featuring a 91-yard run from Tippett on the direct snap. The lead turned back to double digits at 17-7 in favor of Cheshire Academy.
A Brunswick three-and-out would set up Tippett's third score of the first half, this time spinning off tackles for nearly 60 yards on the ground to put the lead at 24-17 going into the half.
On offense, Brunswick couldn't get anything started as they committed two false start penalties to begin the second half.
Cheshire Academy would give Holmes the change-of-pace carries which resulted in a 11-yard score midway through the third quarter.
The Bruins again had to rely on their defense to gain some momentum. Linebacker John Fox took an interception for over 50 yards down to the 4-yard line for Brunswick. Just one play later, Knight crossed the goal line for the quick score.
Cheshire Academy would then unleash a time-consuming drive of nearly eight minutes which resulted in a 25-yard touchdown to Tarik Black.
A 75-yard drive from Brunswick was enough to retaliate for the moment, but a failed two-point conversion would keep the game a three-possession game.
Black would then take a screen pass for 60 yards on a third down play call to put Cheshire Academy on top 45-20.
"This feels great," said Black. "We put our blood, sweat and tears into this. When you're with these guys for as long as we have been, we create this bond as brothers. This one made us happy and I'm glad we came out with the victory. To share this victory with them feels awesome. It's been a great four years."
Jaydin Knight's two rushing scores were the only offensive production put on the scoreboard for the Bruins.
""We're a family and we're a unit," said Knight. "We stick together no matter what. We lost to a very talented team. We had an undersized line this year, but they did the best they could. We had a very tough line and we did the best we could today."
John Fox's interception return nearly to the end zone was a snapshot of a tough Bruins defense that gave opposing offenses trouble all year long.
"This is a really good team," said Fox. "We lost to Taft and then we came back and beat Salisbury, so that was a pretty big win for us. Coach has taught me a lot throughout my time at Brunswick, less about football and more about being a man. It's moral lessons that are bigger than football."
Shine reflected on a season of ups and downs with plenty of lessons along the way.
"We did a very good job of bouncing back from the adversity," said Shine. "When we lost to Taft, a lot of people didn't think we'd bounce back or thought the season was over. They rallied back and played very tough. We didn't play our best game at all times, but we stuck together as a family. We tried to make plays. It's hard to put into words right now. I think our kids are going to keep their heads up high and hopefully bounce back for a big year next season."
Quarterback Nick Henkel threw three interceptions in the loss but flashed signs of growth and maturity in his junior season.
"He [Henkel] is only going to get better," said Shine. "He made some really good plays. He's losing some weapons and we're going to have to find him some new ones. He's a talented player and he's going to have a fantastic senior season."
For the winning side, Dykeman and his group of seniors took in every moment of the victory afterwards, with the head coach giving praise to his defense and core group of playmakers.
"Our defense has played unbelievable all year and we challenged our secondary today," said Dykeman. "On Monday I stood them all up and told them this game was going to be all on them. Nick [Henkel] is an unbelievable quarterback. We knew we had to put him off-balance and we had to make plays. We had three interceptions and I can't be prouder of our guys. That is a phenomenal offense Brunswick has."
Dykeman said his senior class had started in over 45 games over their careers.
"It's bittersweet too," said Dykeman. "We have a lot of seniors that have been with this program a long time. They mean the world to me. I met Tarik Black when he was 5-foot-9 and 160 pounds. I met C.J. Holmes when he was 5-foot-7 and 145 pounds. One is going to Notre Dame and the other can go anywhere he wants. I'm so proud of them."
Tags:
Brunswick football
,
Cheshire Academy Football
,
NEPSAC Football