November 17, 2016
Young, a Hall of Famer, Local Legend Returns to Greenwich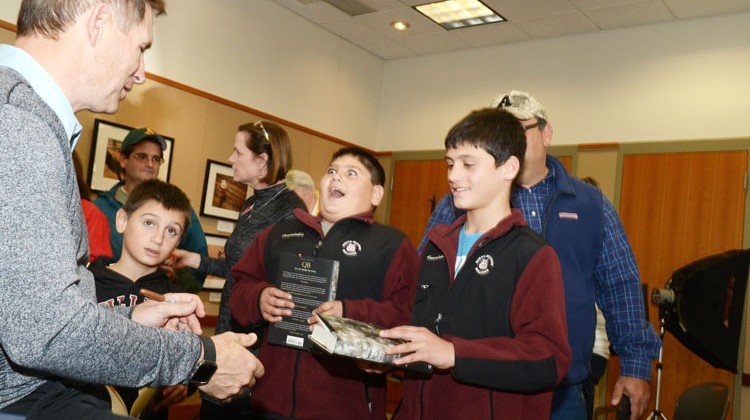 By Paul Silverfarb
Sentinel Editor
It's quite clear that Pro Football Hall of Fame quarterback and Class of 1980 standout Greenwich High School athlete Steve Young has made a lasting impact on the town he grew up in.
On a Monday at noon at the Cos Cob Library, the line ran from one side of the library to the other, as people young and old took an extended lunch break, called in sick, skipped school or traveled from places far from Greenwich to catch an up-close and personal glimpse of Young and get a copy of his new book "QB: My Life Behind the Spiral" (or other memorabilia) signed by the legendary 49er. 
"I love it today," Young said. "I am so sad we didn't schedule it right, because I would have loved to spend even more time here. I haven't been to the high school in decades. It was awesome. I was telling my wife that we need to get back here more often. It's a really special thing for me to be in Greenwich."
Despite the insanely busy schedule, Young took the morning to go back to his old stomping grounds, Greenwich High School, and spoke to around 800 students about how to deal with adversity and what it takes to be a leader.
From there it was off to the Cos Cob Library, where fans and some familiar faces waited patiently for their chance to meet Young.
The turnout was also music to the ears of Jean Gillespie, event coordinator at Diane's Books, who helped get the signing off the ground. Diane's Books had copies of "QB: My Life Behind the Spiral" on sale to be autographed.
"We love it," Gillespie said. "Any one that's advocating reading a book is good with us. We weren't sure about the turnout because it was in the middle of the day. We figured we would get some adults, but it was nice to see kids here. I won't ask how or why they are here, but they are here. It's really exciting any time a home town guy comes home."
The turnout even surprised Young. Although he was on a tight schedule and needed to get to New York to join up with the ESPN Monday Night Football crew by 2 p.m., Young started the signing early and stayed a little bit late. Nearly all the books that were available for purchase were sold.
"It was way more people than I thought," Young said. "I thought it would be 15 people, so it was great. It was fun. All the stories and the faces. It was like I see the person that I knew in your face, but it's been a long time. We're all changed."
One person that wasn't surprised with how Young is loved in town was Jeff Benedict, who wrote Young's memoir.
"For me personally, I was more excited for this event than all the events we've done so far, whether it was San Francisco, New York City, Salt Lake City," Benedict said. "That's because this is home. My favorite chapters to write in this book were the Greenwich chapters. That's where it started. The roots of the book are right here."
Benedict said that getting the book together and ready to roll took a lot of time, but it was a labor of love. While there were certainly moments in writing the book that were fun for Benedict, the author said that Young's book was the most rewarding to partake in.
"I've never worked on a book for almost six years," said Benedict, who grew up in East Lyme. "Usually it's two years or less. And the chance to write for (Young) was amazing. I grew up in Connecticut and when he was in Greenwich. I was four years behind him. I was a Mormon like him, and the only Mormon in my high school, and so was he. He was someone that made my life a little easier. But we never met. So to be asked to do this 30 years later is a great thing and one of the more pleasurable experiences I've ever had as a writer."
Benedict said that the book is unique because of the unprecedented access he had to Young.
"Most athletes, when they hire a writer to write their autobiography for them, they don't give them the space to go out and do interviews," Benedict said. "So it was more like me being a biographer. He turned me loose to interview. I did hundreds of interviews and he just let me go. Most athletes would not allow that. He didn't care. I was digging up medical records, going through all types of things and doing what a reporter would do. He let me do that."
Diane's Books got a phone call from Young's publicist, who said that the QB was going to be speaking at Greenwich High School to the students. Due to schedule constraints at GHS, they couldn't have him linger and do a signing with Diane's Books, so that's where the Cos Cob Library stepped up and open its doors.
"It was a very collaborative thing between the school, the publicist, the bookstore and the library. We will have extra signed copies at the store for people that didn't have a chance to get here today."
And people came out in force and Young was ready for all the signing. "QB: My Life Behind the Spiral" and footballs were in high demand for signatures. But there were plenty more interesting things for Young to sign.
A fellow classmate and GHS cheerleader had a T-shirt that she wore during the powder puff football game. Mark Bisanzo, CEO of Bruce Park Sports in Greenwich, had an old-school Tampa Bay Buccaneers mini-helmet ready for a signature. The Bucs signed Young to a contract in 1985 and he played two years for the team before being traded to the 49ers.
Greenwich High School football programs, San Francisco 49er sweatshirts, baseballs and other items once bare now have Young's signature. And the countless photos and selfies that were taken with Young. And Young was thrilled to sign and smile for every last one.
Another interesting artifact was from Tom Pastore, who grew up with Young in Greenwich. In fact, Pastore went to the same North Mianus School as Young and graduated high school with Young's sister.
During the 1998 NFC championship game between Young's 49ers and the Atlanta Falcons, Pastore, a huge Falcons fan, got sideline passes to go to the Atlanta sideline and as he went on the field, he saw Young and wished him well in the game while in a line to meet Dan Reeves, head coach of the Falcons at the time.
"The coach of the Falcons was looking at me looking at Steve Young and was like 'What's this guy doing on our sideline talking to the opposing quarterback?'" Pastore said. "I told Dan that I wanted him to sign my ball and as he was signing it. He was like 'What's the deal with you and Steve Young?' and I told him that I grew up with the guy. He was very hesitant to sign the ball, but he did.
The Falcons went on to win the game 20-18 but lost in the Super Bowl. Fast forward to Monday, as Pastore finally added Young's signature to the same football that was signed by Reeves back in 1998.
Another person thrilled to have the Hall of Fame quarterback back in town, even for just a few quick hours, was Chris Hunt, a long-time friend and former GHS baseball teammate with Young. Hunt said that Young has never forgotten his roots in town.
"Regardless of his great success in the NFL and the fact he left Greenwich many years ago, Steve credits both his athletic and academic experiences here as a second to none," said Hunt, who is president of the Greenwich-based global media and communications firm, Hunt Scanlon Media. "Especially at Greenwich High School, which Steve holds in such high regard."
Tags:
49ers
,
ctfootball
,
cthsfb
,
ESPN
,
ESPN Football
,
Football
,
greenwich
,
Greenwich High School
,
National Football League
,
NFL
,
NFL Hall of Fame
,
San Francisco 49ers
,
Steve Young
,
Tampa Bay Buccaneers