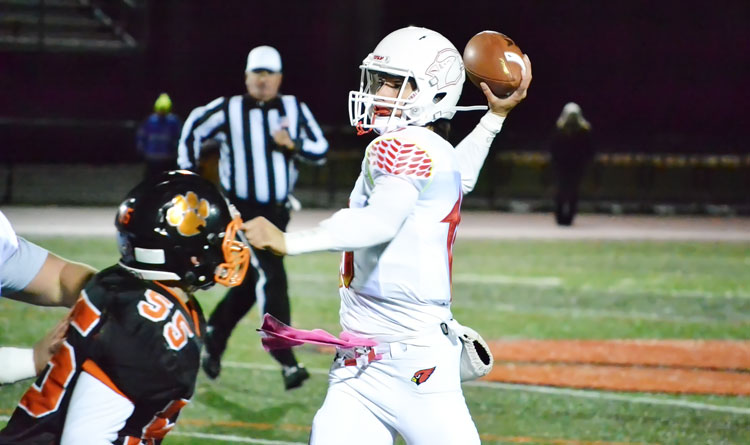 A frigid Tiger Hollow Stadium played host to a clash of FCIAC heavyweights on Friday night when Ridgefield defeated Greenwich 30-21, dropping the Cardinals to 6-3 on the season.
What first had the feel of a high-scoring affair soon turned into a battle of turnovers and untimely miscues that ultimately cost Greenwich a win and possibly contention for one of the eight state Class LL playoff sports.
"We just couldn't capitalize," said GHS head coach John Marinelli. "Unforced errors, day one things like protecting the football — not being able to get a handoff on one of them."
After causing the game's first two turnovers on defense, the Cardinals' offense would then concede four second half turnovers in inopportune situations.
"We played them tough defensively," said Marinelli. "Offensively, it's not like they stopped us. Unforced errors and stupid plays. We'll learn from it for sure. They had a couple short fields and we didn't capitalize on ours."
The game's first two drives resulted in a touchdown for each team. Ridgefield's Shane Palmer capped off a 85-yard drive with a 2-yard touchdown run for the Tigers as the visiting Cardinals got on the board just four plays later with a perfect pass from Connor Langan to his tight end Henry Saleeby. The 28-yard pass would jumpstart Greenwich to a favorable first half, minus the final two minutes of it.
Holding the tie game into the second quarter, Greenwich's Kevin Iobbi took a handoff from 11-yards out to put the Cards up by a touchdown. 
Ben Kraninger would fall on top of a mishandled Ridgefield handoff for a fumble recovery and Nicholas McIntosh intercepted Ridgefield's Drew Fowler at the line of scrimmage for the game's first two turnovers. 
The only problem for the Cardinals? Coming away with no points to show for either defensive play made.
Instead, Ridgefield's Fowler would call his own number and run for a 15-yard touchdown following Greenwich's failed previous two drives.
The Cardinals went for it on fourth down at midfield and ended up taking a sack on the play, setting up the Tigers with good field position. They would then set themselves up for a 43-yard field goal that went through the uprights with five seconds left in the half.
Out of halftime, Greenwich got their wide receivers Anthony Ferraro and Tyler Farris involved in sweep run plays which resulted in more gaps in the defensive front for running back Kevin Iobbi. His six-yard touchdown run in the Cards' first second-half drive put Greenwich on top 21-17 momentarily.
It would be just a minute later when Ridgefield's Patrick Lang found the endzone for a short touchdown run.
Chris Longo would have himself a field day as one of Fowler's main weapons at receiver. An 80-yard catch would set up Lang for his big score, and on the next Tiger drive Longo would be the recipient of the scoring play.
Once again, Greenwich gave great field position to the Tigers following a fake punt attempt that couldn't trick the Tigers.
Longo took advantage of the short field and his height to bring in a 20-yard touchdown, scoring the game's final points with 6:51 left in the third quarter.
"Senior night is the most emotional game of the year for all of us," said Senior wide receiver Chris Longo, who added that there was social media hype to the game. "To win this game by 9 points and to get us into states, emotions are flying right now."
Greenwich's following drives would result in four turnovers and a blocked field goal attempt.
"We probably left 28 points on the board," said Marinelli. "They did a great job when we got in the end zone."
Ridgefield's head coach Kevin Callahan said he and his team prepared well for this game, specifically the trickery that can be expected when playing the Cardinals.
"It was about using the right personnel," said Callahan. "We felt like if we had the right personnel on the field it wouldn't matter what they did because we had the skill kids on the ball to keep possession."
The Cardinals were never able to re-find their offensive groove and would be held scoreless in the fourth quarter, when a blocked field goal could have potentially made it a six-point game. The Tigers would play it smart in short-gain situational runs to keep the clock moving.
"Eventually, you get down and there's not a lot of time left," said Marinelli. "You can't just keep running the ball, you gotta start throwing it a little bit. Unforced errors left us without at least 21 more points on the board."
Up next for the Cardinals will be a Thanksgiving matchup with rival Staples High School at Cardinal Stadium.
"It will mean everything for our seniors," said Marinelli. "It's a chance to go out in a rivalry game and I gotta check the state playoff standings now. We need help now, but we're playing for a lot on Thanksgiving and possibly a chance to sneak in."