October 29, 2016
Greenwich High Boys', Girls' X-C Teams Compete at LLs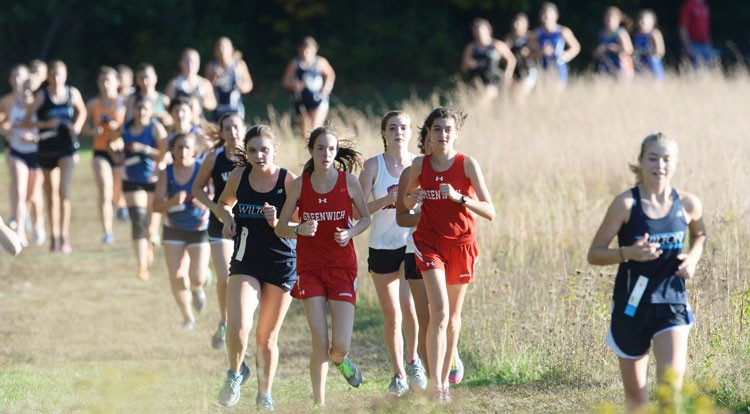 By Paul Silverfarb
Sentinel Editor
In a field of the best competition Connecticut had to offer in the Connecticut Interscholastic Athletic Conference class LL division, the Greenwich High School boys' and girls' cross-country team had a strong outing.
During the event, which took place at Wickham Park, the Greenwich girls' team took home sixth place overall with 214 points, just edging out fellow FCIAC foe Danbury High School, which grabbed seventh with 215 points.
Overall, the FCIAC took home three of the top four finishes on the day, as Ridgefield won the class LL crown with 57 points. Glastonbury was second overall with 68 points. Taking the bronze was Staples High School with a total of 141 points and not far behind was Trumbull High School in fourth with 148 points.
For the boys' team, Big Red ended the day 19th overall with 575 points and were 11 points better than Fairfield Ludlowe, which took home 20th.
In a dominating performance, Staples High School grabbed the class LL championship, posting 46 points. In distant second was fellow FCIAC opponent Danbury, which grabbed 83 points. Xavier picked up the silver with 136 points and Fairfield Warde finished fourth overall with 155 points.
On the girls side, they were once again led by Zoe Harris, as the freshman took sixth place overall with a time of 19:41. She just missed out on a top five finish, as Ridgefield's Tess Pisanelli ended her day fifth and Staples' Susannah Martin took fourth, both netting times of 19:39.
In 30th place overall and second on the team was junior Genevieve DeWinter, as she crossed the finish line with a time of 21:01. Only 16 spots away was sophomore Verna Yin, as she took home 46th place on the day with a time of 21:25.
Grabbing a top 60 time was Catherine Yang, as the sophomore posted a time of 21:52 that was good enough for 59th overall. Senior Kristen Lodato also had a great day, taking home 78th overall with a time of 22:06.
Leading the way for the boys' team was sophomore Alexander Kosyakov, as he crossed the finish line with a time of 18:24 that was good enough for 101st on the day. Only four seconds behind was teammate Georgios Karakadas, as the junior took 106th overall. Finishing a second behind Karakadas and in 108th place was junior Corey McDonald.
Senior Bastian Dequeker took home a time of 19:08 and 128th overall, while fellow senior Matt Collins was 137th overall and had a time of 19:24.
Tags:
CIAC
,
class LL
,
cross country
,
FCIAC
,
greenwich
,
Greenwich Track
,
Greenwich X-C
,
Wickham Park