October 29, 2016
Brunswick Football Unloads on Avon Old Farms, Wins 47-14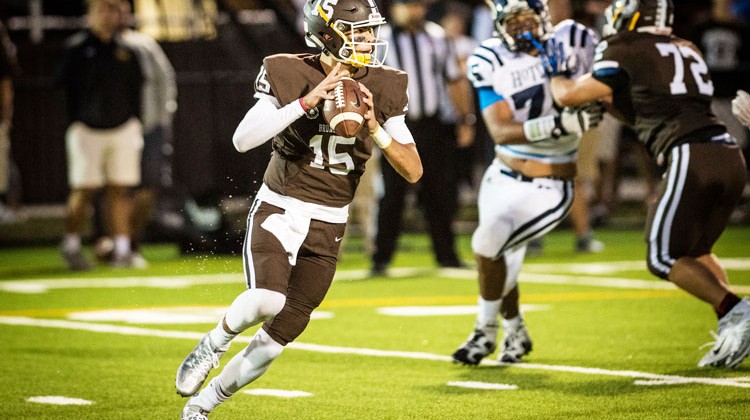 By Paul Silverfarb
Sentinel Editor
In a game that the Brunswick School football team needed to have, they came through in a big way on the road Saturday afternoon. Scoring early and often in the first half, the Bruins were firing on all cylinders against Avon Old Farms and came away with the 47-14 victory.
"This is good," Brunswick School head coach Jarrett Shine said. "Coming off two 40-point performances and holding both teams to 14 points gives our boys a lot of confidence going forward. Hopefully we can continue that. Defensively I think we did a much better job in the first half than we did in the second half. We made tackles and wrapped up players. Offensively we got going right away. That was something we talked about all season long and that was the difference in the game today."
After Brunswick's stunning 29-26 loss to Taft School, the Bruins have turned it up a notch on all sides of the ball. Last week on Homecoming, Brunswick cruised to a 40-14 victory over Salisbury School. Against the Winged Beavers on Saturday, Brunswick once again broke the 40-point total mark and also held Avon, a team with a high-powered offense, to 14 total points.
"After our loss to Taft, we knew every game was basically our season from here on out," Brunswick quarterback Nick Henkel said. "We had that mentally last week against Salisbury and thankfully, although we didn't have a full week of practice due to bad weather, we still were able to carry that momentum over to this game and we played a complete team game today."
To say the Bruins were lighting it up offensively is a huge understatement. Leading the way was Henkel, as the quarterback was basically unstoppable on the day. He finished going 23-for-32 for 369 yards and had five touchdowns on the day.
"I think we played fast and together," Henkel said. "When we play fast, they don't know what to expect. We knew they were playing some off coverage, so we could hit those quick passes to set up the deeper stuff."
In addition to nearly 370 passing yards, Henkel was also solid on the ground, rushing for 34 yards. In fact, one of his touchdowns was when he called his own number and scrambled 15 yards for the six points.
"He was solid today," Shine said. "He made plays with his feet as well. He was stepping up in the pocket, rolling out, scrambling and then finding his receivers. That's something that not all quarterbacks have the mental capacity to do."
One of Henkel's frequent targets on the day was Sean Amill, as the receiver caught eight passes for 134 yards and had a touchdown. Teammate Cornelius Johnson also saw plenty of action, as he grabbed the ball five times for 80 yards and found the end zone twice. Johnson also had the team's longest play of the day, a 41-yard strike from Henkel.
Henkel threw the ball 32 times on the day, but that didn't mean his backfield wasn't in on the action. Jayden action also grabbed the ball 32 times for 130 rushing yards and had a touchdown.
While the offense was on fire, Brunswick's defense was lights out. Leading the charge was John Fox, who was all over the field.
"This felt great," Fox said. "We had a great team win today from start to finish. Everybody played well, both offensively and defensively. It felt great to come out and get that win. We just played harder than them. Our offense moved the ball really well and defense we buckled down a couple of times and made some huge plays."
Also feeling great was Brunswick's ability to start the scoring for the contest. After forcing the Winged Beavers to punt on its opening possession, Brunswick got the ball on their 39-yard line.
Seven plays later, Henkel stepped back and found Kevin Dowley open in the middle of the field, who cut through the Avon defense and ran in the end zone for the 28-yard reception with 7:36 to play in the quarter.
That first touchdown was huge for Brunswick. Not only did it give them a quick lead on the road, but finally the Bruins didn't have to play from behind. That 27-yard touchdown reception also meant that it was the first time this season Brunswick scored first.
"Every game it seems like we get off to a slow start," Shine said. "I think we started playing physical football right from the beginning. It definitely felt good to start the game with that touchdown, no doubt about it."
Brunswick's second drive also produced the same result. Starting on its 49, Henkel found Amill for receptions of 15 and 12 yards, as well as an 11-yard strike to Sean Morris. A play later, it was Henkel scrambling out the pocket and finding Amill in the right corner of the end zone for the 12-yard score with 2:49 left in the first.
The scoring was far from over in the quarter. Getting the ball back with 1:54 left in the first, Brunswick moved the ball efficiently. Aided by a pass interference call on third down, the Bruins got new life on the Avon 28 and they made the Winged Beavers pay. Henkel found Morris in mid-stride at the 5-yard line and Morris ran in the rest of the way for the touchdown and 19-0 lead with 17.5 left in the quarter.
Midway through the second, Brunswick extended its lead to 27-0 keyed by two quick strikes from the Wick quarterback. Facing a third down and 13, Henkel found Morris for a 25-yard reception. On the next play, Henkel spotted Johnson in the middle of the field and fired a perfect shot to his receiver. Johnson took the ball, cut through the Winged Beavers' defense and outran everybody for the 41-yard touchdown reception.
With the offense in control, Brunswick's defense was all over Avon, as the high-powered offense was held off the scoreboard in the first half. With the score 33-0 and with less than 20 seconds to play in the first half, Avon was on the Brunswick 15.
However, Justin Knight was there for an interception with 15.1 seconds left to insure a scoreless first half.
"We knew they have a very explosive offense and their quarterback is good," Shine said. "They also run the ball pretty good, but defensively I couldn't be more proud of my team."
With the win, Brunswick upped its overall record to 6-1 on the season. However, a huge test for the Bruins will take place Friday night, as they travel to Trinity-Pawling for a game that can decide the league championship.
"This win was super important for us," Henkel said. "Avon has an explosive offense and our defense held them to 14 points. On offense we were able to run the ball for more yards than we have all season. That's a huge positive going into a game against Trinity-Pawling, which is going to be an absolute war."
The Pride enter Friday night's game a perfect 6-0 on the season, with victories over Avon Old Farms (21-14), Hotchkiss School (37-7), Salisbury School (37-13) and Taft (51-20).
"It's a huge game for us," Shine said. "Whoever wins this game gets control of the league, so to speak. We need to play some very physical football. They have a very powerful and explosive offense. I think that if we play our best game, I think we can beat any team in this league."
And both Henkel and Fox understand the importance of the Trinity-Pawling contest.
"It's going to be under the lights at TP, probably for the league championship," Henkel said. "It's going to be a crazy atmosphere, but we need to stay focused and make sure we are prepared to go up there and play."
"They are a really good football team, so we have to buckle down all week," Fox said. "We need to watch film, do what the coach says, follow the game plan and work hard in practice. If we do that, we can come out with that big victory."
Tags:
Avon
,
Avon Old Farms
,
Brunswick
,
Brunswick football
,
ctfootball
,
cthsfb
,
greenwich
,
Jarrett Shine
,
NEPSAC