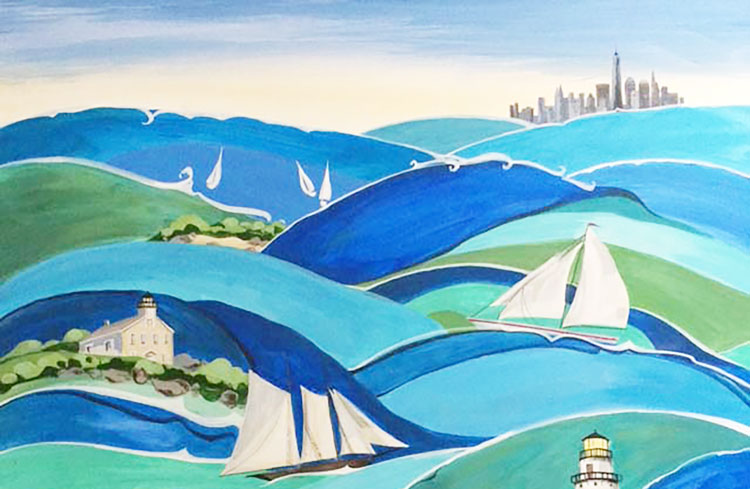 Hazel Jarvis will be showing her latest collection of paintings at Les Beaux Arts Gallery starting Sunday, Oct. 23 and running through Wednesday, Nov. 30. The exhibit features maps and landscapes of local scenes, new Orleans and the South West.
Greenwich landscape has found a new voice in Jarvis: "I really enjoy creating maps that try to give a sense of place rather than being cartographically correct. The narrative of the landscape is what interests me," she explains. A keen observer of nature's line and geometry with a twist of subtle, bright colors, she creates a visionary delight of a surreal psychedelic world reminiscent of David Hockney. The viewer is happily caught between figuration, storytelling and an illustration of utopia. Jarvis' paintings are to be experienced with joy.
Les Beaux Arts Gallery, is located in the Round Hill Community Church, 395 round Hill Rd. The Gallery is open Sunday, 11:30 a.m. to 12:30 p.m., Monday to Friday, 9 a.m. to 3 p.m., and closed Saturday. The Gallery will also be closed on Nov. 24 and 25 for Thanksgiving. For information, visit roundhillcommunitychurch.org or call 203-869-1091.