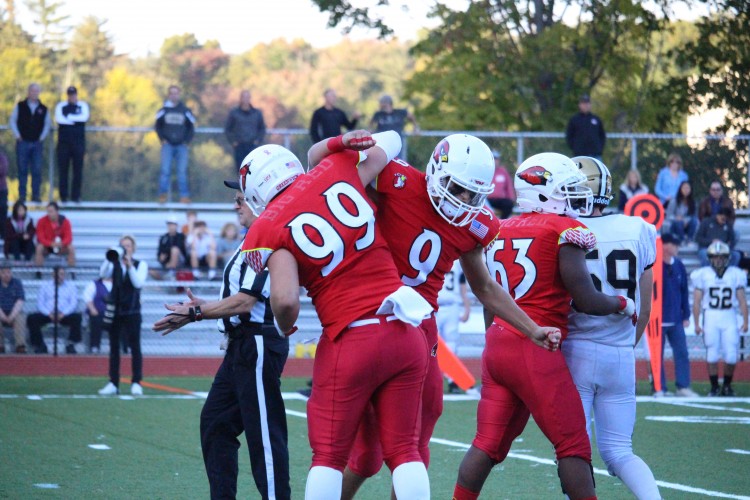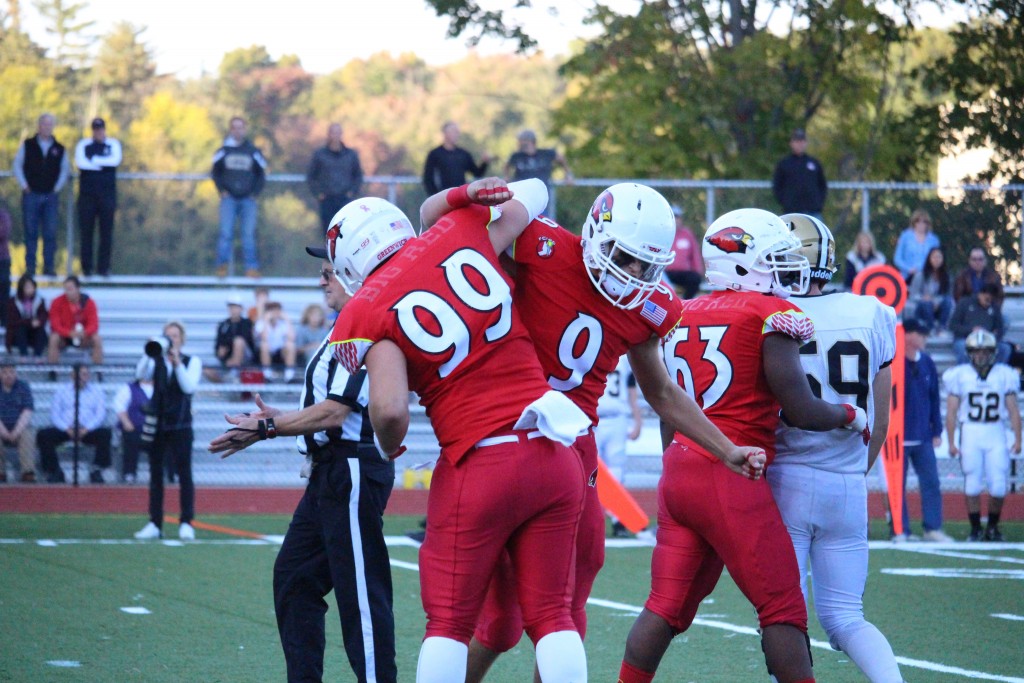 When the dust cleared from the high-scoring affair that was a 42-32 contest that ended in Greenwich's favor, head coach John Marinelli didn't need to say much to fire up his now 4-1 Cardinals.
"I get to go home next week!" exclaimed Marinelli to his team, referring to the upcoming and anticipated matchup with New Canaan High next weekend.
Surely, the same could be said without the 10-point victory over Trumbull on Saturday, but it was all the second-year head coach needed to say — and all he had the breath for — after a hardfought win in front of a homecoming crowd.
"It's a lot better than last year's feel," said Marinelli after turning the tables on Trumbull after the bye week.
An exciting back-and-forth first half saw Trumbull and Greenwich exchange three touchdowns apiece, as both teams took a 21-21 score into the half.
Indeed, another episode of the Kevin Iobbi show was underway as the Cardinals' senior running back was just getting warmed up with two first half scores for Greenwich.
"We knew we were wearing them down," Iobbi said. "Once that second half came, we were fresh and they were kind of tired." 
An extended halftime due to homecoming festivities churned out a slow start to the second half for both sides.
The Golden Eagles would connect on a 33-yard field goal out of the second half gate, while Greenwich would miss a field goal from similar distance on their following drive.
After forcing a Trumbull punt, the Cardinals would march 30 yards in four plays, capped off by a 19-yard touchdown pass from Connor Langan to Matt Morganti. In the first quarter, it was Morganti who found an open Langan on a trick play to start the scoring for Greenwich on the day.
On Trumbull's next drive, back-to-back sacks of quarterback John McElroy forced a 3-and-out, playing right into the Cardinals hands.
Six offensive snaps later, the Cardinals pushed their lead to 35-24 after a 16-yard pass to Matt Morganti down to the goal line, and then pushed in by Iobbi's third rushing score of the game.
It took eight plays for Trumbull to turn the ball over via a bad snap, with Greenwich coming out of the pileup with possession. But momentum didn't stay with the Cardinals for long, as Langan throw off his back foot while getting hit, resulting in an interception on the initial play out of the Trumbull turnover.
Two costly defensive penalties would assist the Golden Eagles in their march down the field, which ended in a 20-yard touchdown pass on fourth down to an open Peter Raverta. McElroy would find Danny Hoffmann for the two-point conversion to cut into Greenwich's lead and make it 35-32 with just under six minutes left in regulation.
With too much time remaining to run out the clock in its entirety, and with plenty of field ahead of them, the Cardinal offense played it smart by handing it off to Kevin Iobbi on four straight plays. After picking up the first down, Iobbi took the handoff from the Trumbull 42 and outran everyone on the field — effectively putting the game out of reach with the 58-yard touchdown run.
Iobbi's fourth rushing score of the game proved to be a message of loyalty from the senior running back to his head coach.
"This week we had some distractions," said Iobbi. "Coach Marinelli did a heck of a job of keeping us focused and keeping us ready to play. He kept the noise outside the locker room. I told him I was playing for him today. He shouldn't be taking the heat that he's taking right now."
Marinelli credited his running back's daily grind in practice for the big plays he was able to contribute on offense.
"He works on his craft and on all the small things everyday," said Marinelli. "That's why the big things happen for him. I feel bad for our receivers sometimes because they get to watch the Kevin Iobbi show. Against Darien, they had their moments. They are going to have to start keying in on Kevin and our receivers are going to have to make some plays. We're in a comfortable situation on offense. We have to go back to work on our defense a little bit."
Now 4-1, the Cardinals have proved they can get it done with their ground game and have been improving with their aerial attack. On Saturday, it was Matt Morganti who had a breakout game with key receptions to go with his touchdown pass and reception.
"No one really knows who he is," said Marinelli. "They take away our outside guys and the middle of the field is open. We were able to open things up with the run game for our intermediate and middle passing game, which Matt had a lot of success with. Matt wants to be out here and win. He's another kid who works hard in practice."
Morganti, a senior, gave praise to the gameplan constructed by the coaching staff for what he called a "huge win."
"We go at it every single day in practice," said of his receiver teammates. "We make eachother better just by competing with each other for all four years. They kind of get a bit of the attention and I just like to prove myself. Those guys are amazing, you saw what Anthony could do against Darien. Connor has been my quarterback in my freshman and my sophomore year. We've had that kind of connection. In the offseason we would go out and throw with our receivers and it's really starting to show for us."
Hoffmann, McElroy, running back Markeese Woods, and Raverta each crossed the goal line for Trumbull in the loss.
Next up for Greenwich(4-1) will be the second-ever rendition of the Marinelli Bowl, when Lou and John Marinelli meet at James Dunning Field on October 21 at 7:00 pm for a showdown against New Canaan(4-0)
"Everyone knows what the game is about," Marinelli said. "I'm not going to try and downplay the hype. It is what it is. It's not about the two coaches next week, it's about the kids on the field. If I can spark it a little bit, and try to get a rise out of my guys, I'll do what I can."