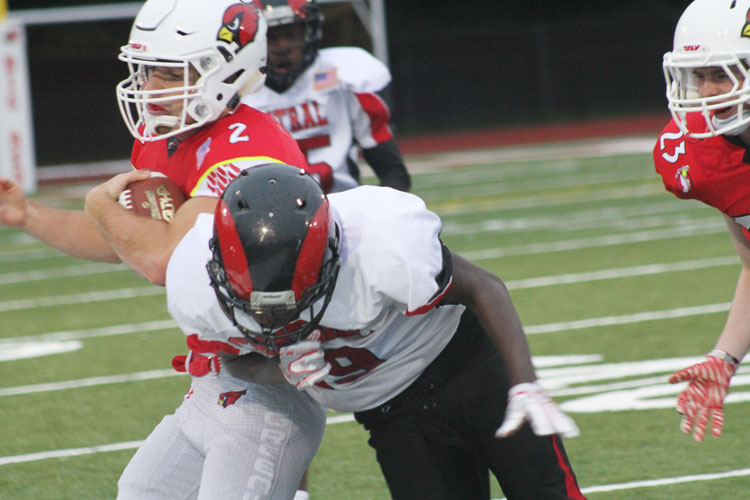 It was a tale of two halves on Friday night when Greenwich High hosted Bridgeport Central, starring senior running back Kevin Iobbi on offense and a much-improved second half defense for Big Red.
Greenwich (3-1) took down Central (0-3) by a score of 49-22 behind Iobbi's four touchdowns (all in the first half) while pitching a shutout in the second half.
For GHS head coach John Marinelli, it was the front five who led the way throughout the game, as the Cardinals wore out the Hilltoppers with nearly all running plays in the second half of play.
"Our offensive line was by far the best unit on the field today," said Marinelli.  "So were the running backs."
Iobbi led the way with scores from 49, 48, 19 and one-yard out. He finished with over 270 yards on the ground to lead Greenwich to the home victory.
"I have to contribute a lot of it to the O-Line," said Iobbi. "We got great movement up front all game. What we preach is that we just need a little bit of space and us running backs will do the rest. It showed today."
Bridgeport Central hung around for the first half, as they took a brief 8-7 lead early in the second quarter, but it didn't last long — only 33 seconds on the game clock to be exact.
Two plays after the Central touchdown, courtesy of Chard Felix, it was Iobbi who found his groove from near midfield and took a draw play for 49-yards to give Greenwich the lead back.
From there, Central and Greenwich continued to trade blows as Iobbi's third score of the game was followed by a Hilltopper score when Rodny Bonhomme caught a 50-yard pass from quarterback Mauricio Woods. The ground attack continued as Iobbi's fourth score showed the dominance in the trenches as a big gap was made for the 48-yard scoring dash.
"He always wants to play," Marinelli said of his running back, who tallied 231 yards in the first half alone. "Iobbi is a fierce competitor and he has unbelievable vision. He's one of the leaders of this team. As he does well, we do well. We have to find more ways to get him the ball."
Central wouldn't go away, however, as Woods flashed his athleticism with a seven yard QB keeper score, bringing the Hilltoppers within six points. Greenwich would respond just before the half with a Cole Hartley two yard rush, giving the Cardinals a 35-22 lead at halftime.
When Big Red came out for the second half, as light rain started to pick up at Cardinal Stadium, a different defense showed up right from the second half whistle.
Sam Colandro and Jack Feda brought defensive pressure and forced a turnover on downs on Central's first drive out of the half, which led to a 14-play time consuming drive led by the ground game. In fact, the 14-play drive consisted of only run plays and ended with a Tysen Comizo touchdown from one yard out.
"The receivers, they weren't here today," said Marinelli. "Hopefully they have a good couple of weeks and get back into it. We just felt like we wanted to give the big boys up front their payday."
Comizo would score again on a 21-yard run, putting Greenwich up for good at 49-22 in the fourth quarter. The defense limited the Hilltoppers in the second half to two punts, a turnover on downs while recovering a fumble via Peyton Larkin.
"We knew the weather was going to be like this coming into this week," said Iobbi, citing the lack of the ground game against Darien last week. "We wanted to establish the run. We're a running football team even though Coach Marinelli loves to throw the ball. We go as the run goes."
Greenwich heads into the bye week with a home date with Trumbull up next (10/15).
"We got to work on the little things," said Marinelli, who prefers the term 'Teaching Week'. "We had some false start penalties. We'll be working on situational stuff we can get better at. It couldn't come at a better time. I think Central played hard. Those kids gave us a lot of trouble. We weren't doing our assignments. Kids were trying to make plays instead of playing the scheme. We'll correct that."
Bridgeport Central falls to 0-3 and will get things going again after their bye week against Norwalk.
"We expect to be better offensively," said Central head coach Michael Farrell. "We didn't play the way we wanted to in our first two games, but some things we did very well tonight."
Friday night will be remembered as the Kevin Iobbi show in the first half followed by a much more stout defensive game, although words of playing up and down to competition were lingering post-game.
"You gotta give Bridgeport Central a lot of credit," said Iobbi. "They came in here and weren't afraid. They didn't care who we were or who we almost beat last week."