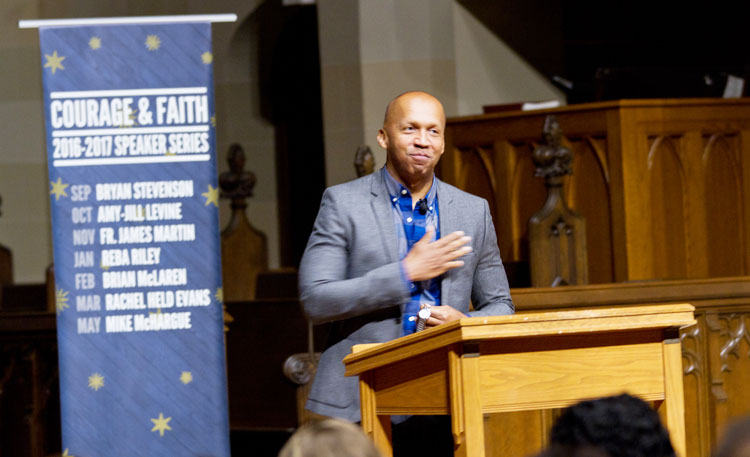 By Anne W. Semmes
Sentinel Columnist
Last Saturday night there was a whopper of a crowd at Christ Church Greenwich—500 plus—that came to hear the phenomenally in-demand attorney Bryan Stevenson speak on the work that has made him revered: his fight to free the condemned on death row, his work to end the highest incarceration in the world—some 2.3 million Americans—and his pursuit of racial justice.
The talk was sponsored by the Courage and Faith speaker series, which imports top talent to address challenging subjects. Stevenson, an attorney who created the Equal Justice Initiative based in Birmingham, has been called by Desmond Tutu America's Nelson Mandela and is a grantee of the MacArthur Foundation's "genius" award.
Stevenson's readable book, "Just Mercy," brought the crowd from all over town. He stood before the altar—not in a pulpit—as he spoke hard truths about our history. "We are post-genocide," he said, noting the death of millions of Native American Indians that came with our colonization. He moved on to "the need to change the narrative of racial difference started centuries ago at the time of slavery."
The statistics flowed darkly one after another. "One in three black babies are destined to go to jail," and "There are at least 23 states where there is no minimum age for which children can be tried as adults."
But Stevenson can bring humor too, especially when he talks about his grandmother and mother who truly helped shape him to be the hero he is. He's real and profound when he tells the stories of those he rescues from the executioner.
He had a checklist for all his listeners to enlist them in changing the narratives. "We need to do five things," he said. 1. "Identity… We need an identity to make a difference, to work on being a change agent." 2. "Proximate… We need to get closer to people, people in addiction, people who are suffering, who are in despair in our community." 3. "We need to change the narrative… We've allowed narratives where children are not children. But all children are children!" 4. "We've got to stay hopeful. You cannot make a difference without hope." 5. "We have to be willing to do uncomfortable things. You have to put yourself in an uncomfortable position to be a witness."
Stevenson ended his talk by saying, "I represent broken people." It's why he does what he does, he said, "because I'm broken too." But he added, "There is powerfulness in being broken. It's the broken who can understand our humanity. We just need to be in fellowship with the poor, with the incarcerated. We need more compassion, more justice in our country."
Bryan Stevenson is a busy man and may not have learned all that goes on in the hub of Christ Church Greenwich. There is an interreligious atmosphere that resonates. There is that cordial relationship Christ Church has with its neighbor Temple Sholom, sometimes trading rabbi with minister to speak on special occasions. Then, eight years ago, Christ Church welcomed the churchless Trinity Church to use its Parish Hall for its church services during the summer months.
The news is that Christ Church's Rev. Dr. Jim Lemler, his vestry, staff, and parishioners have extended their hospitality to Trinity Church that suddenly lost its Central Middle School academic-year Sunday meeting space. The door has been kept open for Trinity to continue using Christ Church's Parish Hall on Sunday while Trinity works out their next step.
In the basement of a connected building, Neighbor to Neighbor continues to feed and clothe the less fortunate in our community. There's now the opportunity to elevate this service to higher ground, to be more visible as a sign of compassion in our community. The hope is—when the plan comes before the town next week—the greater good will be considered.
And there's the emotional support group that meets at the Church on Wednesdays at noon presided over by Dr. John Tamerin, the psychiatrist who years ago opened up his backcountry home every Friday afternoon for those suffering from bipolar disorder for mutual support. He has partnered with the church's pastoral psychotherapist, Mary Cattan, to bring support to those brave enough to share their life challenges and pain. But as Tamerin has noted, "It is far more than a pain group, it is far deeper than a conversation; it is holy in its own way and entirely suitable to be taking place in a house of worship."
Yes, Bryan Stevenson, where you were hosted, where you shared your inspirational message and received a standing ovation, could be called holy ground.
Editor's Note: In the print edition of the Sept. 30 edition of the Greenwich Sentinel, the photos used on page six were taken by Joanne Bouknight. In print it says they were taken by Anne W. Semmes. The Sentinel apologizes for the error.