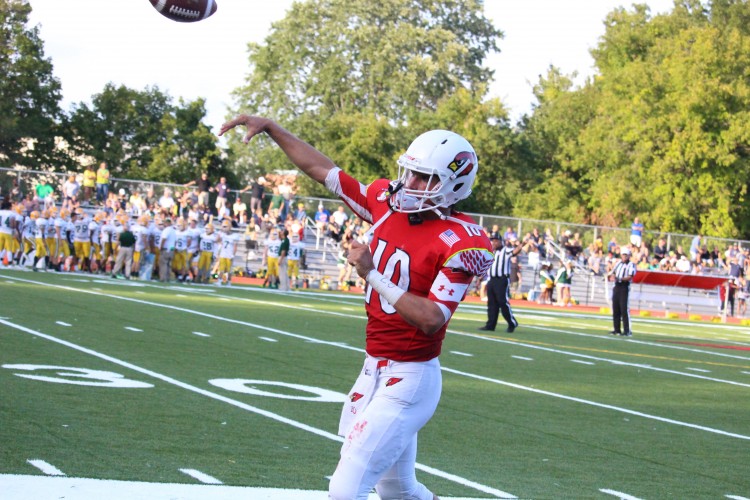 By Evan Triantafilidis
Sentinel Reporter
Oh what a difference a week of practice makes.
While the outcome, the all-important 'W', remained the same from last week's contest with Westhill, Greenwich High (2-0) came out firing on all cylinders Saturday night as they rolled over Trinity Catholic (0-2) 41-20 in their home opener.
Leading the way was Cardinal quarterback Connor Langan, who accounted for four passing touchdowns to four different receivers and a rushing score in the victory.
"In the preparation and the week of practice we had, we worked on what we did wrong against Westhill," said Langan following the win. "When we come together, this is what happens."
Langan got well acquainted with his offensive weapons early and often.
After both sides forced a turnover on downs to start the game, Langan escaped the pocket on first down from the 39-yard line and found an open Tyler Farris who showed off his speed all the way to the house for the score. Trinity Catholic got called for roughing the passer on the play, but the damage was already done. 
On Greenwich's next drive, the running game from Kevin Iobbi and Cole Hartley paced the offense before Langan found an open Matt Morganti for a 29-yard touchdown pass on the 11th play of the drive.
"I have all the confidence in the world in him [Langan]," said Marinelli. "He's an incredible athlete. He's going to put us in good situations. You can't micro-manage him, you gotta just let him do his thing. The more reps he takes, the better he is going to be."
"We knew this was a big game," said Langan. "It means a lot for the seniors. I'm really proud of them."
Up 14-0 early, the Cardinal defense brought pressure to the Crusader offense, forcing Trinity Catholic into punting the ball away or a turnover on downs on each of their first half possessions.
An attempted fake punt from the Crusaders wouldn't fool the Cardinals, as the former GHS player, Frank Alfano, was brought down well behind the line of scrimmage on a fourth down attempt.
Greenwich would reap the rewards of fantastic field position, as Langan found his receiver Jeremiah Harris for a 10-yard gain before a 15-yard score on a stop-and-go route to put the Cardinals up 21-0.
Langan to Harris 15-yard TD vs. Trinity Catholic #cthsfb pic.twitter.com/KW4gnuNZS9

— Evan Triantafilidis (@EvanTria47) September 18, 2016
The defensive front from Greenwich wouldn't budge as they kept the Crusaders off the board for the entire first half.
Trinity Catholic would fight right back out of the break with a three-play drive resulting in a 21-yard rushing score for Nick Melia Jr. The extra point would miss, making the score 21-6.
Big Red's first possession of the second half was saved by a fourth down conversion made by Langan who connected with Morganti to put Greenwich inside the redzone.
From there, Langan took the snap out of the shotgun and dumped it off to Iobbi in the flat who did the rest. The 10-yard touchdown pass put Greenwich ahead 29-6 after a two-point conversion on a fake field goal extra point attempt. 
Langan to Iobbi 10-yard TD vs. Trinity Catholic #cthsfb pic.twitter.com/eKnfSbtaMD

— Evan Triantafilidis (@EvanTria47) September 18, 2016
The trickery didn't stop there for the Cardinals, as they were able to recover their following onside kick and obtain the ball with excellent field position yet again.
Cole Hartley got extended reps at running back, as he led the ground attack on the drive before Langan called his own number from five yards out for his own rushing score. The 36-6 lead would be the largest of the game for Greenwich. 
Langan 5-yard rushing TD vs. Trinity Catholic #cthsfb pic.twitter.com/lN45eJ98Um

— Evan Triantafilidis (@EvanTria47) September 18, 2016
"Westhill didn't go our way in the passing game," admitted Langan. "I've been playing with these guys since freshman year and we came together today."
Trinity Catholic quarterback Nick Granata got in on the scoring action with a 3-yard rushing score on a QB draw, getting his team within 36-13, but it was the Greenwich defense that was able to play a well-rounded game solid play from Zhaire House in the defensive backfield and edge pressure courtesy of Sam Colandro.
"It's 100 percent practice," said Colandro, when asked what the difference was between the first two games. "We worked 15 times harder and we knew they were hungry coming off a loss. We made sure we were hungrier."
A field goal from Zach Moore added three points to Greenwich's lead at the end of the third quarter.
Granata would find an open Dominick Svrcek for a 12-yard touchdown pass, but it would be too little too late for a Crusader comeback.
On a high snap, Trinity Catholic elected to kick the football out of the back of the endzone, conceding a safety and adding the final two points to Greenwich's total.
"Good practices, sure tackling and offensively we're starting to click," said Marinelli, when asked what adjustments were made since last week. "Our offensive line and our running backs played well. We see it clicking and that's what the difference is."
Iobbi finished with 14 carries for 83 rushing yards to go along with a pair of receptions and 20 yards and a receiving score. 
Hartley got most of the reps in the backfield in the second half of play with 12 carries for 99 yards, including a big 61-yard run.
Senior captains Paul Williams and Mike Ceci came up big on the defensive side to go along with Zhaire House and Jeremiah Harris as defensive backs
Marinelli credited Trinity Catholic for their tough play, but knew his team was prepared for battle with a full week of dedicated practice.
"They did some good things on defense too, I think we just came ready to play," said Marinelli.  "They do such a great job, Donny [Panapada] and all those guys deserve a lot of credit for what they do. They're going to be a good team down the line."
For Greenwich, next week calls for a date with the reigning FCIAC and Class LL champ in Darien.
"Well…we got [Andrew] Stueber," said Colandro following the game. "We're just looking to compete even harder. Coach has a saying of 'If you lose, you have to look at the positives. If you win, you have to push harder.'"
First Quarter
G – Farris 61-yard pass from Langan (Kick good)
Second Quarter
G – Morganti 29-yard pass from Langan (Kick good)
G – Harris 15-yard pass from Langan (Kick good)
Third Quarter
TC – Melia, Jr 20-yard run (Kick no good)
G – Iobbi 10-yard pass from Langan (2-point XP good)
G – Langan 5-yard run (Kick good)
TC – Granata 3-yard run (Kick good)
G – Moore 24-yard Field Goal
Fourth Quarter
TC – Svrcek 12-yard pass from Granata (Kick good)
G – Safety