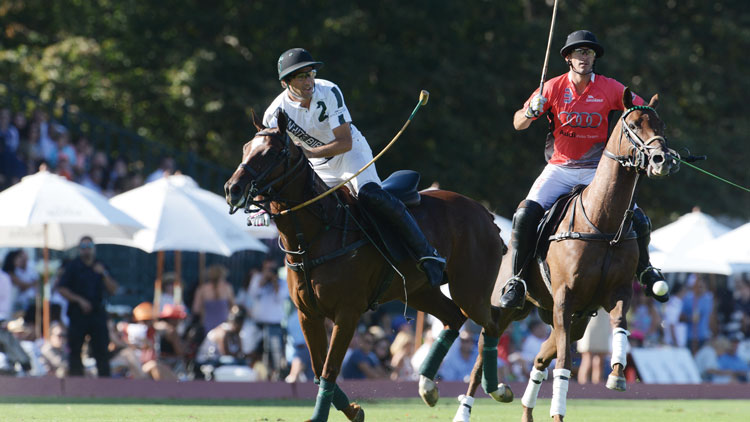 By Liz Leamy
Sentinel Correspondent
A sports field can be a place of both reversal and redemption. So it was last Sunday, when Greenwich's White Birch team edged out Audi, the fierce Florida-based polo team, 12-11, in sudden death overtime to claim the 2016 East Coast Open title.
White Birch's win was particularly significant since last year it was defeated by Audi, also in overtime, 14-13, in the finals of this prestigious annual 20-goal tournament.
This year, more than 5,500 spectators attended this sold-out event that was presented for the second consecutive season by the U.S. Polo Association and the Greenwich Polo Club in accordance with Audi of America and its 20 tri-state dealers. It is scheduled to be aired as a taped broadcast on NBC Universal Sports tomorrow, Sept. 17, at 3 p.m.
This year, the White Birch and Audi contingents once again staged an unforgettable match on all fronts.
In the end, White Birch wound up clinching the coveted East Coast Open Perry Cup as Santino Magrini, the talented and 15-year-old White Birch one-goaler, managed to knock in his team's winning point during the tie-breaking seventh chukker.
Magrini, who already stands at more than six feet in height, appeared elated upon making the point, triumphantly raising his mallet over his head and circling it in the air as if in thanks for his good fortune.
The young player was then immediately congratulated by his teammates, including Hilario Ulloa and Mariano Aguerre, both of who are premiere nine-goalers; each gave him big hugs and thanks along with loud cheers.
"It was tough out there, and I just tried to play my best," said Magrini. "I'm very happy."
His colleagues appeared to be just as thrilled. "It all worked out well and it was great to be out there," said Aguerre, the team's veteran superstar whose expertise was much of the reason White Birch was able to make such a dramatic comeback during the second half of the match. (During the first half, White Birch trailed Audi by five points, with the latter leading the game, 9-4.) "I think this was probably one of our greatest comebacks and greatest wins."
Polo experts on hand at this match agreed.
"This was a terrific game," said Dr. Horace Laffaye, a renowned polo historian and author based in the Greenwich area. "White Birch staged a tremendous comeback and played with great determination."
White Birch's incredible rebound was anything but easy. Throughout the afternoon, they fiercely dueled against Audi, also regarded as one of the most powerful teams in American high-goal polo today.
During the first three chukkers, Audi, helmed by Marc Ganzi, its high-energy patron, went out blazing on all eight cylinders, hitting in nine total goals.
Ganzi, along with all of the other members of this Wellington-based team, including Sebastian Merlos, the renowned Argentinian nine-goaler and Nic Roldan, the electric eight-goaler, played with great skill throughout the entire match.
"We came out strong and played hard today," said Roldan, who was named as the Most Valuable Player at the conclusion of the match.
Although Audi clearly owned the first half of the match, it became apparent in the second that White Birch was regaining their momentum.
Just minutes into the fourth chukker, Magrini knocked in a "golazo," or big goal, that helped White Birch inch closer to Audi, which was still ahead at that point, 9-5.
This seemed to be a turning point for White Birch, as from that moment on, they began to score a rash of goals that put them right back in contention. (Upon scoring his goal, Magrini let out an emotional "Braveheart"-like cheer that generated smiles and good energy among all of those around him, which made for one of the most memorable moments of the afternoon.)
By the sixth chukker, White Birch had tied Audi at 10-10. Further into this chukker, Audi then scored another goal, putting them ahead of White Birch, 11-10.
White Birch answered back by knocking in another point to even up the match at 11-11. (Ulloa, ranked at a very rare 10 goals in Argentina, was a key player for his team, as he scored nine of his team's 12 total points.)
This tied score, resulting in the overtime chukker in which Magrini wound up sealing his team's victory with a winning goal.
"He played great," said Magrini's father, Matias, the eight-goaler who helped lead the Greenwich-based Airstream team to the semi finals in this tournament. "It was an incredible match and there was a lot of adrenaline out there."
Aguerre agreed. "[Santi] was unbelievable," said Aguerre. "It was tough, especially during the first half. It didn't represent how we play, so it was great to have everyone get out there [in the second half] and do so well."
At the conclusion of the match, Aguerre (whose charge, Machitos Versuit, was named Best Playing Pony) and the entire White Birch brigade cheered, smiled and hugged one another over their hard-won victory.
Prior to this, however, there had been a bit of a lull during the tail end of the sixth chukker when Peter Brant, the White Birch patron who founded the Greenwich Polo Club in 1981, fell off of his horse, causing him to refrain from playing for the remainder of the match. (Justin Daniels, who played for White Birch in the past, stepped in at the last minute as the substitute for Brant.)
Amid the drama and momentary uncertainty of the afternoon, everything somehow seemed to all work out at the end of the day, as members of White Birch and Audi enthusiastically stepped up to receive their awards on the podium.
During this ceremony, all of the players, including Brant (who appeared to have recovered by this point), seemed excited at the prospect of being part of this tournament, as they smiled, waved to the crowd and congratulated one another upon being honored with their awards.
"This will be a final to remember for years to come," said Mercedes Bassani, a Greenwich resident who has attended matches at the Greenwich Polo Club for many years.