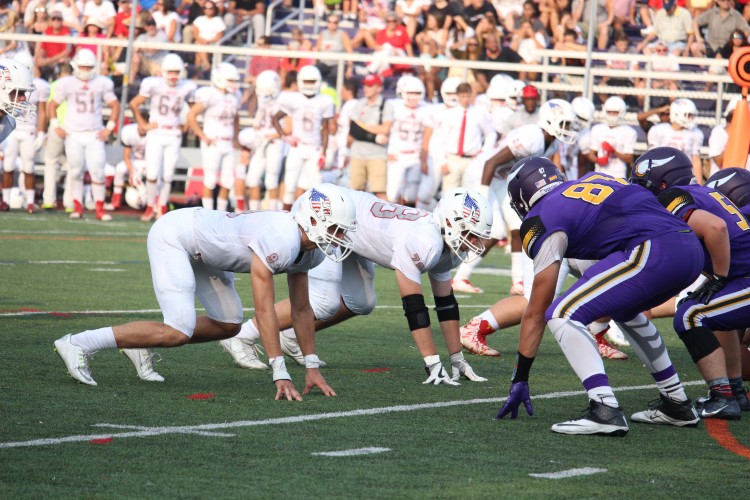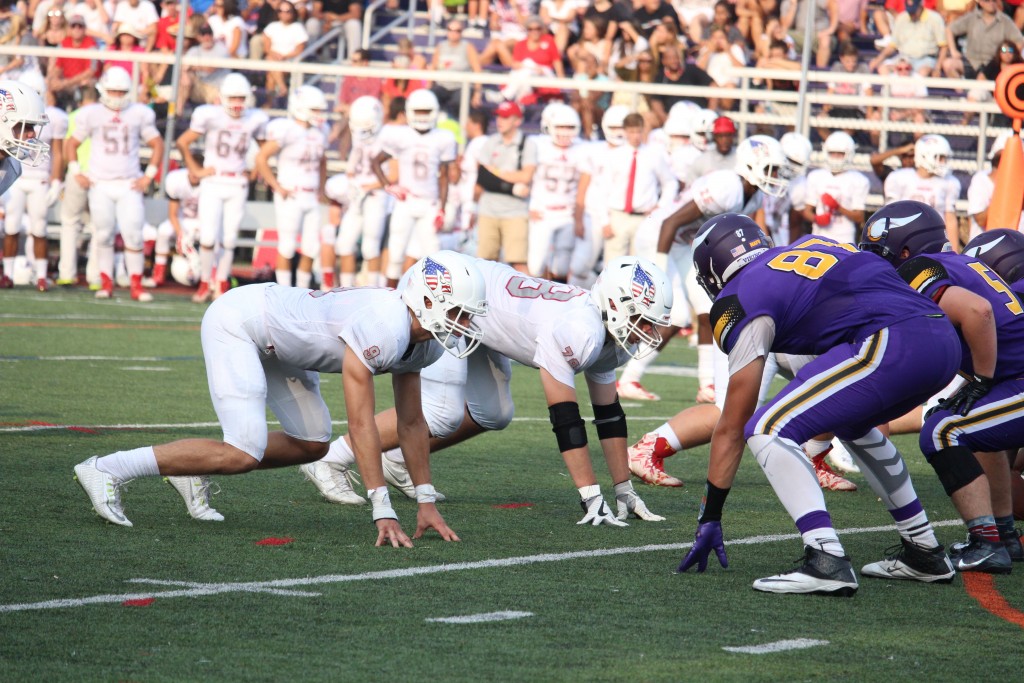 By Evan Triantafilidis
Sentinel Reporter
The Greenwich Cardinals kicked off their season in dramatic fashion Saturday afternoon as a go-ahead touchdown in the final minute of play pushed Big Red to 1-0 with the 22-16 win over Westhill.
Behind three rushing scores from Kevin Iobbi, including a clutch five-yard run to take a last-minute lead, the Cardinals escaped with the narrow road victory on their final offensive possession.
"It felt great," said Iobbi following the game. "We practice the two-minute drill everyday. Something just clicked and we executed in the final two minutes. I'm proud of us."
With 2:37 left in the game and trailing by two, the Cardinals tough defense forced a Westhill punt and the offense then took over at their 35 yard-line.
A costly late-hit penalty would cost the Vikings' defense on a crucial third down play, allowing Greenwich to set up a new set of downs from midfield with just over two minutes remaining.
A short Iobbi run followed by a 13-yard reception by Matt Morganti put the Cardinals in field goal range, but head coach John Marinelli was not going to send out his kicker who had already missed his only two tries of the game.
While Connor Langan didn't find much success throwing the ball on the day, no play from the senior quarterback was bigger than a third down conversion courtesy of a scramble and run up the middle for 11 yards and the important first down.
The Cardinals fought both the clock and the Vikings' defensive front as Iobbi eventually found the endzone with 48 seconds left in the game. 
"They told me coming in that they were going to ride me," said Iobbi, who tallied 27 carries and just under 200 yards (194). "I told them I was ready and took it on. It's awesome. A wins a win. It was under pressure and it gives us better experience down the road."
While Greenwich came out of Saturday's contest with the win, the game started with the Cardinals digging themselves a hole from the very beginning.
After the opening kickoff, Greenwich's first play from scrimmage resulted in confusion and ultimately a safety for Westhill. 
Thirteen seconds into the game, the Vikings captured the lead and early momentum with a quick 2-0 lead.
"We called the right play, but our quarterback looked the wrong way," said Marinelli. "He kind of froze and didn't know what to do."
After forcing Westhill's first punt of the game, Iobbi led a 9-play, 53-yard drive to give Greenwich a 7-2 lead. A 22-yard reception from Tyler Farris on third down was the key play to keeping the drive alive.
A trade of punts would end up in Westhill with good field position after a high snap and shanked punt, but on the first play of the second quarter, Westhill would fumble the ball right back into the hands of Greenwich on the Cards' 6-yard line.
A pair of 20-yard runs from Iobbi would put Greenwich in Viking territory, but Langan would throw an interception as he rolled left trying to find an open receiver.
After an 84-yard pass down the left side of the field from Westhill quarterback Blake Newcomer, it would be Tarik Rivers, senior running back, who punched it in from two yards out to make it 9-7 in favor of Westhill.
On the ensuing kickoff return, Iobbi proved he could nearly do it all with a big return to the Vikings' 23-yard line. After taking a breather for two plays, Iobbi would score from three yards out to put Greenwich back on top 14-9.
With time running out in the first half, Westhill's Newcomer called his own number and ran it in himself with 18 seconds left in the second quarter.
Going into the break, Westhill had momentum and a 16-14 lead. Another interception off the hands of Langan just before the halftime whistle would keep their hopes high.
Westhill would go for it on fourth down on their first drive after the half, and would turn it over on downs after a sack by senior linebacker Paul Williams.
Greenwich's first field goal attempt would miss on their next drive and after forcing a Westhill punt, their second attempt at a 34-yard field goal would come up short. A costly delay of game penalty may have been the difference on the kick.
Zhaire House came up with a big tip drill interception to give Greenwich the ball again, but the two-point game would come down to the very end after both defenses forced turnover on downs in the fourth quarter.
A stout Greenwich defense would give the Cardinals a final opportunity to win the game and Iobbi would prevail — after Langan's clutch third-down conversion — with a score from five yards out. A Zhaire House interception (his second) ended the game as the Cardinals took a knee and escaped with the win.
"Iobbi was ready," said Marinelli. "And he better be ready for it next week. He's incredible. We'll be riding him as long as our season goes."
While Marinelli praised his offensive line and his defensive unit, he says the offensive display will need to improve over the season to compete in the tough FCIAC conference.
"I saw a lot of mistakes," said Marinelli. "Defensively, we played awesome. Offensively, we got to better and protect the football. We're obviously going back to the drawing board with what we're doing because I did a terrible job calling plays today."
"This was one of the worst offensive showings in one of my offenses, ever," added the second-year GHS head coach. 
For Westhill, who finished with two wins last year, head coach Frank Marcucio said his team looked great on both sides of the ball.
"We're a very good football and no one gives us any credit," said Marcucio. "My coaching staff and the kids have worked their butts off. It's tough to have this situation and be in the game to the end like that."
"It wasn't like we had bad mistakes," said Marcucio. "Rivers played really well. I thought Wyklend Turenne played a great game. We just have to get ready for the next game in this league."
Greenwich will head into the second week of the season with a home date against Trinity Catholic while Westhill will travel to play Bridgeport Central next week.
"I think Greenwich came in here not ready to play us," added Marcucio. "Our first play of the game was a safety. I think they underestimated us. This is a very good football program."
First Quarter
W—Sacked Greenwich in endzone. Safety
G – Kevin Iobbi 7-yard run (Kick good)
Second Quarter
W – Tarik Rivers 2-yard run (Kick good)
G – Kevin Iobbi 3-yard run (Kick good)
W – Blake Newcomer 2-yard run (Kick good)
Fourth Quarter
G – Kevin Iobbi 5-yard run (Pass good)