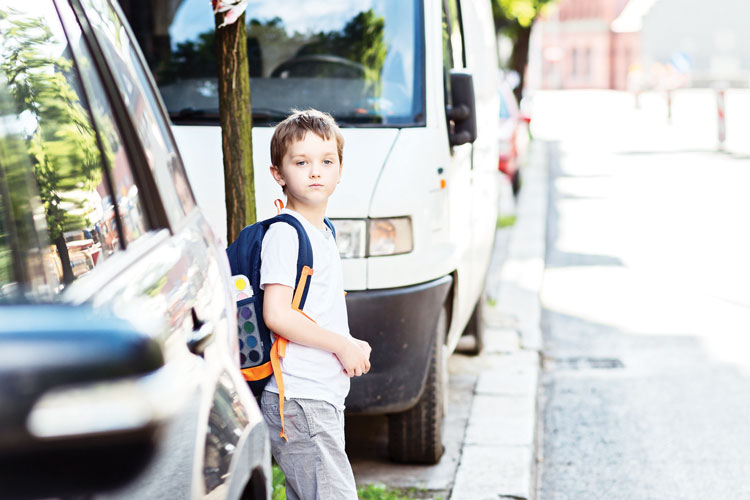 Each school in the Town of Greenwich has its unique issues regarding traffic during student drop off and pick up. Most of our schools are in areas where the roads, on street parking, and school parking lots cannot easily support the additional influx of traffic during peak times.
The annual problem is a result of an increase in student population over the years and the tendency for today's parents to drive their children to school. The results are heavy traffic congestion, delays, and frustration.
In an effort to improve safety in the vicinity of schools within the Town of Greenwich, the Department of Public Works has installed 25 school zone speed limit signs with flashing beacon assemblies at the majority of public schools. An additional five signs are planned to be completed at the public schools by the end of the calendar year. School zones at the private schools are in design with a target completion of summer 2017.
The newly marked school zones will also have additional signs and pavement markings to notify drivers they are within the reduced speed limit zone. The flashing beacons will be activated during school drop-off and pick-up hours as allowed by the Office of the State Traffic Administration. The speed display signs will provide feedback to drivers on their speed within the school zone.
The Greenwich Police Department will deploy officers to those areas where collisions have historically occurred. By studying crash data, they have identified those areas and behaviors that result in accidents during school drop off and pick up and will be out to dissuade those behaviors.
Parents are encouraged to send their children to school on the bus or to walk if they are in walking distance to school. Information on bus routes can be found on the Board of Education website. If you choose to drive your child to school, remember you share the roads with school buses, pedestrians and bicyclists, and most of all young children that don't always recognize a dangerous situation and may act unpredictably.
A couple of quick reminders:
• Slow down and pay attention to what's happening outside of your vehicle. Set a good example for your child and don't drive distracted
• Leave your home early enough that you won't feel rushed
• Don't double park; it blocks visibility for pedestrians and vehicles
• Do not load or unload children across the street from the school
• Carpool to reduce the number of vehicles at the school
• Do not block the crosswalk and always yield to pedestrians
• Never pass a vehicle stopped for pedestrians
• Remember the Crossing Guard is there to keep all the children safe
It is illegal in Connecticut to pass a school bus that is stopped to load or unload children. If the red lights are flashing and the stop arm is extended, ALL traffic in both directions must stop
It is important that all roadway users, motorized and non-motorized, obey the traffic laws and exhibit behavior that is respectful, courteous and safe. We all play a part in making all our streets and sidewalks, not just school areas, safe places for everyone.