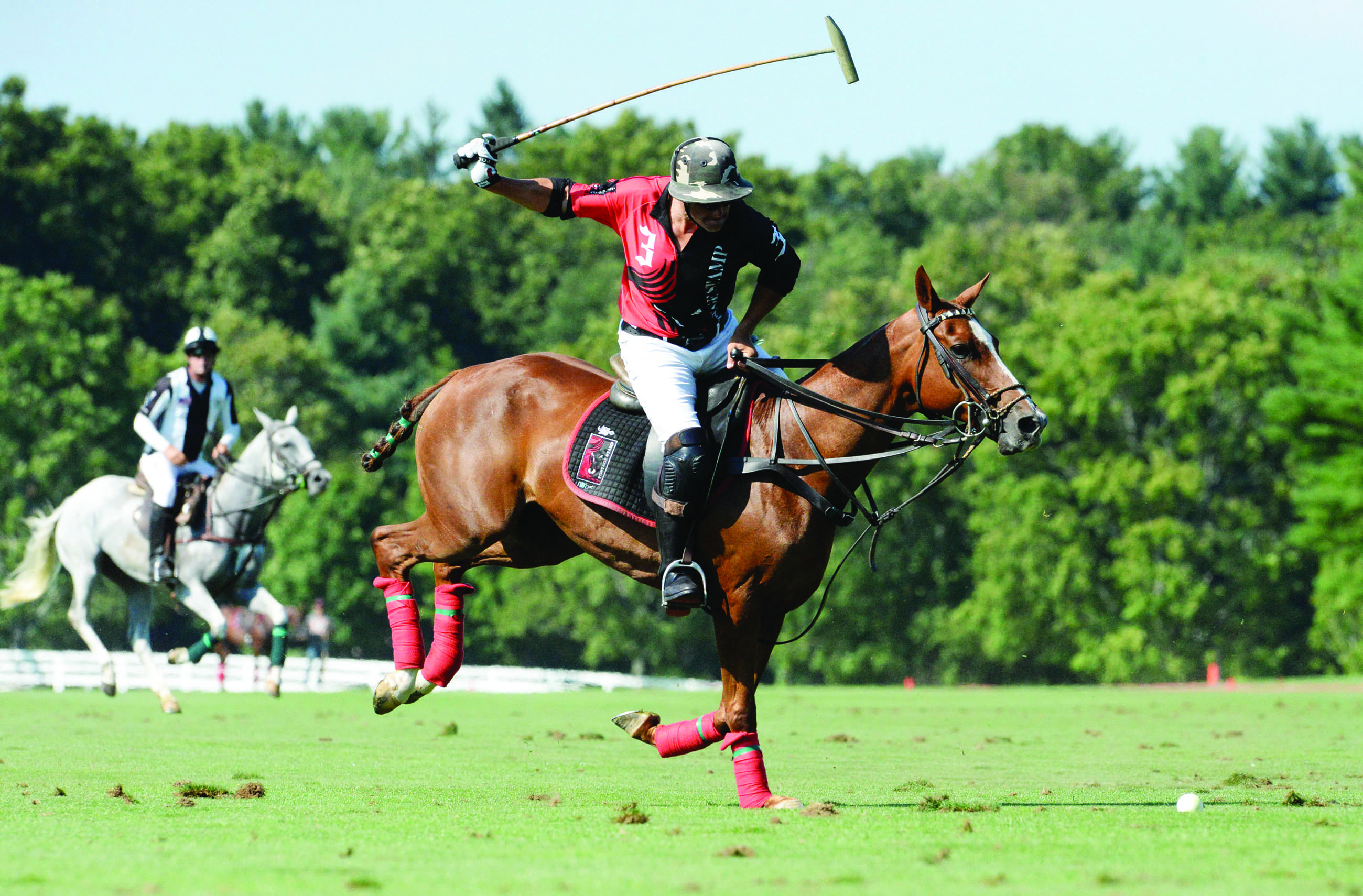 By Liz Leamy
Sentinel Correspondent
It is said that elite athletes are natural-born competitors who thrive on the "art of the game."
Last weekend, the art of the game was much in evidence among the eight premiere high-goal polo teams taking part in this year's East Coast Open, the national-level annual summer tournament that for the second year in a row is being hosted by the Greenwich Polo Club in conjunction with the U.S. Polo Association, in partnership with Audi of America.
Last Sunday, more than 3,500 spectators showed up at Conyers Farm, said to be one of the most picturesque polo playing venues in the world, to watch some of the sport's best players go head to head against one another in a combative first round showdown of this 20-goal tournament, the main summer event in high-goal (world class) polo.
In this showdown, the venerable Postage Stamp Farm, led by the electric Argentinian seven-goaler, Salva Ulloa, bested Tupungato, 12-7, in a fierce match that kept the Conyers Farm crowd on the edge of their seats right from start to finish.
"We were really focused today," said Salva Ulloa, the amicable number-three player, who knocked in nearly half of his team's 12 goals and was named most valuable player at the conclusion of the match.
"It was great to play in front of the crowd. The [Greenwich Polo Club] and everyone here has been incredible," said Ulloa, adding he also liked playing in front of such a large crowd, which is much of the reason the Sunday afternoon matches have always so popular, particularly among the players.
According to Brandon Phillips, the Canadian-born five-goaler of Postage Stamp Farm, the team went out and did their job.
"For our first match, we did exactly what we wanted," he said. "I think we were quick out there and it was a good outing."
Ulloa, meanwhile, said he enjoyed playing in a challenging tournament that features so many highly competitive teams, horses and players, including his own brother, Hilario, a nine-goaler on White Birch, a top-seeded team of the event.
"It's a tough tournament, but that's why we're here," he said.
Peter Brant, the White Birch patron who founded the Greenwich Polo Club in 1981 and who was instrumental in helping to bring the East Coast Open to Conyers Farm in 2015 and this year as well, remarked on the tournament's high standard.
"The East Coast Open offers competition at the top level of the sport featuring the best teams, players and horses," said Brant. "With the U.S. Polo Association, we've ushered in a new era for this storied tournament, with teams coming from around the country to compete at Greenwich Polo Club. We are delighted to host all of the teams and expect a great tournament."
Greatness certainly seems to be the buzzword of this prestigious tournament, of which the final match will be televised on NBC Universal Sports on Saturday, Sept. 17 at 3 p.m.
This tournament is a main event because it features eight high-goal polo teams comprised of numerous renowned world-class players.
Three nine-goalers (the maximum—and very rare—rating is ten) are listed on the tournament roster, including Mariano Aguerre and Hilario Ulloa, both of White Birch.
The third, Sebastian Merlos, is the number three charge for Team Audi, which last year narrowly edged out White Birch in sudden-death overtime to take the East Coast Open Perry Cup.
According to some of the top brass at the U.S. Polo Association, the national governing body of the sport, based in Lake Worth, Fla., this is a win-win event for everyone.
"The East Coast Open is a fantastic event that exposes the sport of polo to the New York City metropolitan area, one of the greatest sports markets across the country," said Joe Meyer, chairman of the U.S. Polo Association.
Naco Taverna, the fierce Argentinian six-goaler who scored five of Tupungato's seven goals at last Sunday's match, said he is very happy to be part of this tournament.
"All of the teams and players are good and the horses are excellent," said Taverna. "It was tough today, but we'll keep getting out there and play the way we know we can." (Tupungato scored the majority of its points in the second half of the match, making for an exciting comeback.)
In typical fashion, there was a great deal of exciting activity taking place along the sidelines.
Geoffrey Zakarian, the celebrated chef, restauranteur, author and Food Network star who has been on such popular television shows as Chopped, Iron Chef America, and The Next Iron Chef, and is the proprietor of The National Greenwich, was on hand with his lovely wife, Margaret, and their three children, who all seemed to be enjoying their afternoon.
Zakarian, who lived in Greenwich with his family several years ago, was also there to help support his ever-crowded National pop-up bar and to sign copies of his latest book, "My Perfect Pantry: 150 Easy Recipes from 50 Essential Ingredients."
At the last minute, Zakarian was asked to throw out the celebratory first ball of the match, a task he managed in his characteristic winning style.
"It's great up here, the polo is incredible, it's beautiful weather and everyone seems to be having such a terrific time," said Zakarian. "What's better than this?"
Jeff O'Geary, vice president and general manager of Saks Fifth Avenue in Greenwich, agreed.
"This is the most beautiful place and also one of phenomenal exposure," he said.
O'Geary was on hand at the match to represent Saks Fifth Avenue, as he helped front this store's show-stopping black and white-themed tent that featured a gorgeous chandelier and lounge area.
Representatives from Saks Fifth Avenue were also on hand at the Greenwich Polo Club to promote their store's soon-to-be-revealed freestanding shoe store, slated to open on Lewis Street in early September.
"It is our first time up here and we are very excited. The whole environment is fantastic."
The representatives of Audi of America and its 29 tri-state area dealers also seemed to be thrilled to be part of the tournament.
"This is a great sport, and we're really lucky to be able to [help] sponsor this event and have our own team," said Jane Buslovich, Audi Eastern Region and Experience Analyst at Audi of America, which had a huge white tent with a colorful display of luxury cars, plus cocktails and tasty food offerings. "This is such a perfect place. It's so scenic and beautiful. It is where we need to be."